Event round-up – Future Visions: AI and Semiconductors
The Future Visions series explores the next-generation technologies at the cutting edge of research and development that are set to disrupt industries, challenge incumbents, and act as a catalyst for growth. Attendees have the opportunity to learn about the latest advances in technology from those at the heart of its development, equipping them and their business to take action and realise the potential of future technologies.
Previous topics have included metaverse, neuromorphic computing, and photonics.
On 21 September 2023, techUK hosted the latest webinar in our Future Visions series. Part of our Supercharging Innovation campaign week, it convened experts across the fields of AI and Semiconductors to discuss the latest advancements and opportunities in this space. We also explored the industries that have the potential to be disrupted by this new combination of technologies, such as robotics and manufacturing.
The panel included:
Eric Breckenfeld, Director of Technology Policy and Engagement, NVIDIA
Sally Doherty, Chief Marketing Officer, Graphcore
James Lewis, CEO, RED Semiconductor
The session was chaired by Katherine Holden, Head of Data Analytics, AI and Digital ID, techUK
You can watch the full webinar here, or read our summary of the key insights below:
Please note that the below is a summary of the event, and readers are encouraged to watch the webinar to understand the full details of the discussion.
The session opened with introductions from our speakers.
Sally explained that Graphcore have designed their own processor specifically for AI, called an IPU (Intelligence Processing Unit). They have also invested in a software stack that is easy and efficient for developers to use. The company has more software engineers than silicon engineers. They have also invested heavily in systems, which includes hardware such as the cards and servers behind the cloud. Graphcore are focused on all aspects of AI, be that training, fine tuning and inference. The latter two are gaining in traction.
Eric talked about the origins of NVIDIA, with the company beginning by designing graphics chips and then moving into the architecture that graphics demand over time. Pushing forward powerful AI platforms requires three things: algorithms (which have been around for decades), data (the Internet age has brought far greater data availability) and sufficient computing power and efficiency (this power has come online in the past 8 years or so). Efficient parallel processing has unlocked the new set of applications in Large Language Models (LLMs) and Generative AI. The recent attention around the supply chain is separate to the attention around AI and LLMs.
James outlined RED Semiconductor's approach as a start-up, with the crux of their computer science architecture being the vectorisation of instructions. This resulted from computer scientists and software developers getting frustrated about having to learn multiple architectures and instruction sets to create solutions. Heterogeneous computing enables people to learn a simple instruction set, subsequently increasing productivity in development and reducing time to market. The hardware architecture that RED Semiconductor are building internalises as much of the required processing as possible, sitting 'at the edge' (of the network, meaning no connection to the cloud is required). Their next step is to move into silicon.
The speakers moved onto some of the latest technological advancements in AI and Semiconductors.
AI algorithms: Generative AI has had a huge impact in a very short period of time. Lots of work is going into improving efficiency as these take up a significant amount of compute power. Solutions include driving to locations 'at the edge'. Almost every day there are advances in algorithmic techniques to improve efficiency.
Semiconductors: Wafer-on-wafer technology ('stacking') means companies (such as Graphcore) can stay on the same 7 nanometre (nm) production run and use different packaging techniques to extract better performance. This can take place instead of moving to lower process nodes. Companies will then move to these nodes over time. Overall, innovation is persisting, despite the slow-down of Moore's Law.
Packaging: We're just beginning to explore how this can improve system performance, as Sally mentioned in her intro.
Emerging technologies: Our speakers explained that their companies are currently exploring many emerging technologies, including photonics, neuromorphic computing, and quantum. True leadership in these areas is still to be determined and the manufacturing volumes of these are currently very small.
The discussion then touched upon policy, in particular the National Semiconductor Strategy.
National Semiconductor Strategy (NSS): Whilst it's good that we have a strategy, we should look to match the level of funding committed by the US and EU. The NSS should also be more closely aligned with the UK's AI Strategy. For example, tenders that require the use of GPUs will exclude certain companies, such as Graphcore. This will likely hold back innovation.
Scope and flexibility: There is a broad spectrum from a specialised chip for almost every application all the way to everything going through GPUs. It is therefore crucial that policy stays current and doesn't artificially limit where we can go.
Eric explained that the value of a country's investment in semiconductors varies at different points of the supply chain.
Supply chain choices: Whilst other countries or blocks may be outspending the UK, one key question is around which part of the global supply chain of chip design, research, manufacturing, packaging, and applications the UK should focus. The price of admission is different for each of these. The US Chips Act, for example, aims to incentivise leading and trailing edge fab (fabrication plant) capacity, which will be incredibly expensive to achieve given current levels of capacity. The UK could achieve lots of impact for far less money, perhaps through better support for design, research, or advanced packaging. The UK, US and Canada are world-leaders in computer science education, meaning that they could leverage this expertise in a cost-effective manner through partnerships.
Responding to several questions in the chat, our speakers turned their attention to the skills needed to make the most of these technologies, the value of international collaboration, the 'valley of death' often faced by industry, and the rise of 'open source'.
Diversity of skills required: These skills go far beyond engineering and include mathematics, anthropology, and materials science. We should support people, wherever they are from, to grow and scale innovations and ultimately have an impact on the market. Many students in STEM (science, technology, engineering, and maths) subjects are organically self-selecting courses and deciding to study AI and machine learning. In the long term, as AI tools become more powerful and accessible, how do we ensure that these skills are being effectively incorporated into the curriculum? Many students are using generative AI to complete their coursework regardless.
By 2030, if I look at the 30,000 best semiconductor designers in the world that have come out of university in the past ten years, what country were they born in and what country are they working in? This is an open question, and we have the opportunity to help decide the answer to that - Eric Breckenfeld, NVIDIA
International collaboration: As a fabless semiconductor company, Graphcore has long been reliant on fabs in Taiwan, plus packaging companies and IP from different countries. There must also be an international approach to the standards behind and governance of AI. The UK is already working towards doing this on AI safety (with techUK hosting one of the four official pre-Summit events ahead of the Government's flagship AI Safety Summit in November). The UK continues to work closely with the EU and its research organisations and is not excluded from EU research funds. Only Taiwan has significant leading-edge capacity.
One of the reasons that the semiconductor space has been advancing so quickly, particularly on the artificial intelligence and algorithmic side, has been because of international collaboration - Sally Doherty, Graphcore
The valley of death: Many semiconductor companies encounter the 'valley of death', in which after receiving funding for development, they struggle to receive the necessary funds to adequately scale, prototype and pilot. These are all necessary stages ahead of commercialisation - techUK's upcoming Supercharging Investment in Space panel discussion and networking event looks to tackle this challenge for the UK's space sector. Strategies such as the US Chips Act have targeted this issue and we should look to avoid the situation in which companies feel compelled to 'sell up' to a larger company to scale.
I think there are probably quite a lot of start-up opportunities that are being drawn away from their absolute core competence and twisting or manoeuvring their pitch into something they feel is much more mainstream to get them to the next stage of investment. Perhaps we need more investors with diverse approaches to investing - James Lewis, RED Semiconductor
Other sources of investment: Traditionally, venture capital has been very US-focused. The industry is increasingly searching for investments in Europe and the UK. The Government's R&D tax credits have provided long-term security and stability for industry.
The move to open source: There has already been a surge in open source LLMs and in the future there could be one in hardware too. There has already been a small shift towards this, however the current geopolitical climate may inhibit further progress. The use of AI, for example in design tools, could mitigate this to come extent.
The speakers closed by discussing the industries in which they anticipate we will see the greatest levels of disruption in the future.
Labour: Humans will increasingly work alongside machines, particularly with the growth of augmented reality technologies which due to the requirement for such devices as headsets will require the use of AI 'at the edge'. Other sensor technologies, including photonics, will become increasingly important due to this shift.
Business: Over the next five years, AI will become far more pervasive across a much broader range of companies across the globe. Not only will the early adopter and movers see benefits, but so too will a significant proportion of the wider market.
Science: This sector will likely be an early adopter as it has its own dedicated funding to pursue new technologies (without having to generate a profit or revenue), plus the problems are sufficiently valuable to demand greater levels of attention and investment. AI for science is already breaking down field-defining problems in a matter of months.
Whilst we are currently using AI to tackle the most valuable problems, over time the minimum cost of a problem to merit tackling with generative AI will only come down. We will subsequently see numerous sectors impacted, from agriculture to education. Those industries with the greatest amounts of capital, such as finance, will likely adopt these breakthrough AI technologies first.
---
You can keep up-to-date with techUK's work on these technologies by visiting our AI page and UK Semiconductor Hub.
---
Click below to view our other Supercharging Innovation series:
---
techUK – Supercharging UK Tech and Innovation
The opportunities of innovation are endless. Automation, IoT, AI, Edge, Quantum, Drones and High Performance Computing all have the power to transform the UK. techUK members lead the development of these technologies. Together we are working with Government and other stakeholders to address tech innovation priorities and build an innovation ecosystem that will benefit people, society, economy and the planet - and supercharge the UK as a global leader in tech and innovation.
For more information, or to get in touch, please visit our Innovation Hub and click 'contact us'.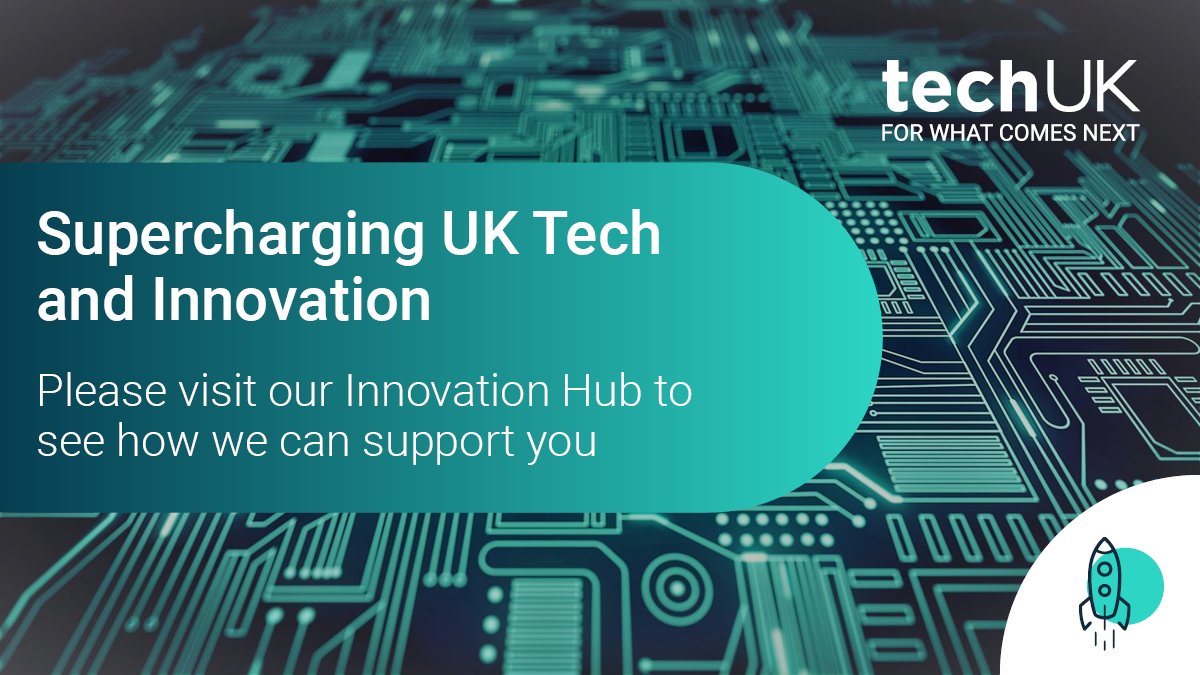 ---