Event round-up - Supercharging Investment in Space
This panel and networking session explored how the UK can improve access to growth capital for space SMEs looking to scale.
The Supercharging Investment series brings together the UK Venture Capital and investment community with UK innovators and UK Government to address the challenges holding back sustainable investment stream around specific emerging technologies. The first iteration of this series explored Quantum technologies and the formidable opportunity these technologies may unlock.
On 30 October 2023, techUK hosted an expert panel consisting of the UK Space Agency, world-leading space SMEs, and prominent VCs. After a Q&A, attendees had the opportunity to participate in a networking session in which they mixed with our speakers and other finance industry stakeholders over pizza in the techUK offices.
The panel included:
Heather Britton, Head of Space Applications and Data, UK Space Agency
Harry Morgan, Investor, 7percent Ventures
Maureen Haverty, Principal, Seraphim Space
Manny Shar, Managing Director, Orbit Fab
Dan Terrett, Co-founder, ODIN Space
The discussion was chaired by Rory Daniels, Programme Manager for Emerging Technologies, techUK
You can watch the full panel discussion and Q&A here:
---
Please note that the below is a summary of the event, and readers are encouraged to watch the webinar to understand the full details of the discussion.
Overview of the UK's space investment landscape
The session opened with an overview of the UK's space investment landscape, delivered by Heather Britton, Head of Space Applications and Data at the UK Space Agency (UKSA). Heather's team runs the European Space Agency's (ESA's) Business Applications for Space Solutions programme and works on internationalising SMEs and supporting domestic SMEs in accessing growth capital.
The UK's space sector is growing rapidly. Since Heather joined UKSA in 2022, the organisation has sought to enable commercialisation, subsequently hiring an Investment Director and forming an Investment Directorate. Between 2020 and 2022, the number of unique investors into the sector increased from 274 to 558 whilst thirteen of the largest venture capital (VC) firms and 8 of the largest private equity (PE) firms have invested in space sector organisations. As a result, we have seen investment into the space sector double over the past twelve months compared to the previous period. Satellites and the downstream use of satellite data, which enable everything from navigation to communications, support 17.7% of the UK's GDP. Space activity is perceived as being high risk, very technical and capital intensive. For example, many space companies must launch a product into orbit to demonstrate its feasibility. These perceptions are holding back the growth of and investment in space companies.
Despite the UK having four of the world's top-10 universities, which has resulted in a thriving spin-out sector, it remains a better place in which to found a space company than to grow one. As a result, the UK's space sector is very bottom heavy, with a disproportionately large number of SMEs. The UKSA is looking to change this as only by having a greater number of large space companies can the UK attract investment from private equity firms and sovereign wealth funds and ultimately lead in the global space sector. This begins with the unlocking of growth capital.
The Treasury's announcement earlier this year that it will tap into pension schemes to support institutional investment into UK science and tech companies will help. The UK is already a global leader in active debris removal and space sustainability and our industry-led Space Sustainability Standard will enable the UK to lead on the regulation underpinning this. The UK also has the City of London and we should work with insurers and investors to develop leading commercial space finance capability. Finally, the UK continues to pursue the goal of being one of the leading providers of small satellite launches in Europe by 2030, with launches expected from Scotland soon. Last week, it was revealed that British astronauts will soon be flying to the International Space Station (ISS) on a private mission following a deal between the UKSA and Axiom Space.
In summary, space is commercial, competitive, and crowded.
---
Speaker introductions
Maureen Haverty is a Principal at Seraphim Space, a global space VC firm with around USD $250m under management. They invest in companies from seed to pre-IPO and aim to identify the next global leaders. Prior to Seraphim, Maureen spent six years in Silicon Valley and was COO at Apollo Fusion before moving to corporate development at Astra.
Harry Morgan is an Investor at 7percent Ventures, a deep tech VC who invest in pre-seed and seed rounds. They specialise in getting founders through key technical inflection points before they raise series A funding. Harry founded a company before joining 7percent, as has every employee at the VC firm. Ten of the firm's 100-strong portfolio are directly in space.
Manny Shar is the Managing Director for the UK and Europe at Orbit Fab, which is building the in-orbit propellant supply chain. Headquartered in Colorado, Orbit Fab are pioneering in-space refuelling to move us away from the current single-use paradigm and were the first private company to resupply the ISS. Manny was previously Head of Analytics at BryceTech, a leading space industry analytics company.
Dan Terrett is a Co-founder at ODIN Space, which is addressing the challenge that over 99% of space debris is completely invisible by building the tools to track it. ODIN's data enables anybody exposed to debris to manage such a risk, including satellite operators, investors, regulators, and insurers.
---
Recap: What are the UK's main strengths and weaknesses when it comes to space SME investment?
Taking action: On space debris, the UK has put money where its mouth is, investing in the Active Debris Removal programme. Orbit Fab subsequently established its UK office after seeing that a requirement for the Chaser spacecraft was that it must be refurbishable. In addition, ODIN Space was attracted to the UK's strong focus on sustainability. The UK is clearly aiming to lead by example.
The City of London: Seraphim has an investment trust listed on the London Stock Exchange, which enables it to invest in its growth stage companies. This is unique to the UK and does not exist in the US. There are good vehicles which VCs can utilise to invest out of.
Tax advantages: Whilst schemes such as the SCIS and EIS are great at getting companies off the ground, the appetite in terms of risk scale starts to become limited in later stages of fundraising.
The focus of companies: Early on, many UK companies focus on markets that are too small, in particular their local market. This is common amongst British, French, and German companies who believe that they can achieve massive scale this way. This is not true in space, which is a small market predominantly based in the US. Local investors are often willing to overlook this, however as companies look to raise a growth stage investment round, international investors are not as the company has not capitalised upon its available market. As a member of Five Eyes, it is relatively easy for UK companies to sell into the US market and Department of Defence.
Disincentives: UK tech transfer offices take four times the amount of a company compared to those in the US and double those in Europe. This disincentivises investing as both a pre-seed or seed and later stage investor whilst leaving UK founders with less freedom to run their own companies.
SME resources: A lack of internal resource can lead to significant trade-offs, for example between exploring US funding or securing non-diluting grants in the UK. To combat this, ODIN Space has chosen to do as much as possible with as little as possible, successfully getting their tech working in space and launching their first traction-generating product for less than £1 million. They go all-in after deciding on an opportunity and will then pivot quickly depending on the outcome.
Strategy: The National Space Strategy in Action updates on progress since the publication of the original strategy. Government investment in space is scattered thinly rather than focused in a few key areas. The Space Sector Plan, which is currently under development, intends to set out which capabilities the UK should develop with the aim of more strategically investing in these.
---
Responsibilities: What role should Government, VCs and industry play in improving the UK's space investment landscape?
Contracts vs grants: SMEs should be supported to move beyond Government grant funding. If a Government agency is not willing to buy a product, then why should a commercial customer do so? Grants make assumptions about what the market wants and whether the company can deliver, distorting the market and leading to local champions that have simply been picked by the Government. Contracts work best when Government can be one customer among many. For example, the US Government uses the SpaceX Dragon crew and cargo vehicles for missions to the ISS. Other Governments are also customers. This approach could be scaled to smaller scenarios, including missions to remove space debris and refuel satellites. The UK offers contracts through the ESA and the UKSA is currently exploring how to invest more creatively and innovatively.
Due diligence: There are significant disparities between the due diligence processes of various VCs. VCs should focus on clarity at the start of the process as this would provide much needed certainty for SMEs around due diligence timelines and other requirements.
Problems and solutions: VCs will typically pass on an investment if they see solutions looking for problems rather than problems looking for solutions.
Software vs hardware: We must shift the focus of the UK's VC landscape from B2B SaaS (business-to-business software as a solution), which is iterative with a fairly low capital intensity, to hard tech. Space will largely require a hard tech solution and we must define what this hard tech is.
VCs accepting more risk: We should look to move towards larger pre-seed funding rounds in which much lower levels of dilution are accepted. This should enable more pre-seed stage companies to reach the necessary technical inflection points without having to raise numerous seed extensions. Having to do so signals to series A and B investors that the company does not know how to manage their finances effectively.
Data insights: Space data can often be opaque as raw data must first be converted into insights for companies to utilise. Stronger collaboration between industry and academia could begin to address this challenge and even enable non-space sectors to adopt more space solutions.
---
Concrete actions: What are the quick wins and what longer term action is required?
Win customers early: Companies should engage with as many customers as early as possible, even giving their product away free to secure a flight test. Many start-ups do this effectively. Concentrate on building a very healthy business and then go to investors. Acting now before you talk to investors will ensure that you can show some proof of delivery and result in a better chance of receiving investment.
Execution over intent: Many space start-ups will prioritise letters of intent (LOIs). VCs will often see through this and will prefer to see evidence of execution in a company's pitch deck.
Appetite for risk: In the US, there is a greater willingness to take risk and award contracts to small companies, even if the capabilities have not been fully proven or tested, or if the market is unknown. This is particularly crucial in the in-orbit servicing and manufacturing sector, which is an emerging market with a very sharp growth curve still to come. The UK should be willing to emulate the US's approach and vision. Government has a crucial role to play in leading the charge.
Incremental contracts: The standard US funding model involves the awarding of small contracts followed by increasingly larger contracts over time, provided the execution criteria are met. Replicating this stepped approach would enable UK space start-ups to build out their technology over time towards a solution that scales and makes a difference.
Communication: Government could do more to communicate the benefits of space and encourage businesses to speak the language of investors, particularly those without a space background. Translating what academics are saying will be crucial if the UK is to unlock much larger quantities of growth capital. The UKSA is exploring additional education programmes for investors and academics.
Composition of VCs: Whilst the UK's VC landscape is comprised of many individuals with MBAs and legal backgrounds, this can come at the expense of there being enough operators, particularly at the early stage. It is hard to convey the difficulties of a hard tech company at pre-seed stage to somebody who has not been through that journey. Onboarding the best VC partners at an early stage will enable companies to build resilient business models that will get them through to series A. There should be more operators, at least at advisory board level.
Mansion House reforms: Whilst many in the VC community have welcomed the proposals (for 5% of the UK's pension funds to go into VC by 2030), this should be targeted towards specific, strategic verticals in which the UK has sovereign capability and strong academic intellectual property. The list of planned investors indicates that this will not be the case.
Scale of funding: The inclusion of pension funds in the UK's space VC landscape is a great opportunity to increase the scale of funding for SMEs. Approximately 20% of US pension funds contribute towards VCs. US universities have extremely large endowments and are very heavily tilted towards VCs, with proportions as high as 25%. European pension funds provide an amount of VC funding - around USD $2 trillion - that is comparable to the US. Even an increase of a few percentage points in European investment would be significant.
Focused investment: The UK typically spreads investment thinly across many sectors, meaning that any one sector is out-invested internationally. More targeted and meaningful investment could strengthen certain priority sectors, however we should take care when deciding which sectors are not considered a priority. Where within a sector is the UK already strong (for example, downstream applications) and where can we capitalise upon areas in which other countries are not doing enough? (the US is not funding space applications particularly well).
Economic realism: In the current economic downturn, the UK's space sector must acknowledge that it is competing for investment with other sectors. These may be better marketed and understood. UK space SMEs should take this into account when approaching VCs.
The panellists then took questions from attendees before breaking out into a networking session in the techUK members area.
---
Interested in how the UK can be a world-leader in generating investment for space SMEs?
Mark Garnier MP, Chair of the UK's Space APPG, has written an insight on the subject for techUK. Click here to read more.
---
Are you a space company looking to make the most of the UK's Space Cluster ecosystem?
Join this free webinar, taking place on 5 December and run in collaboration with Space Hub Yorkshire, to hear from a range of regional and national stakeholders at the forefront of Space Hub-industry engagement.
Attendees will have the opportunity to put questions to our expert panel. Sign up here.
---
Click below to view our other Supercharging Innovation series:
---
techUK – Supercharging UK Tech and Innovation
The opportunities of innovation are endless. Automation, IoT, AI, Edge, Quantum, Drones and High Performance Computing all have the power to transform the UK. techUK members lead the development of these technologies. Together we are working with Government and other stakeholders to address tech innovation priorities and build an innovation ecosystem that will benefit people, society, economy and the planet - and supercharge the UK as a global leader in tech and innovation.
For more information, or to get in touch, please visit our Innovation Hub and click 'contact us'.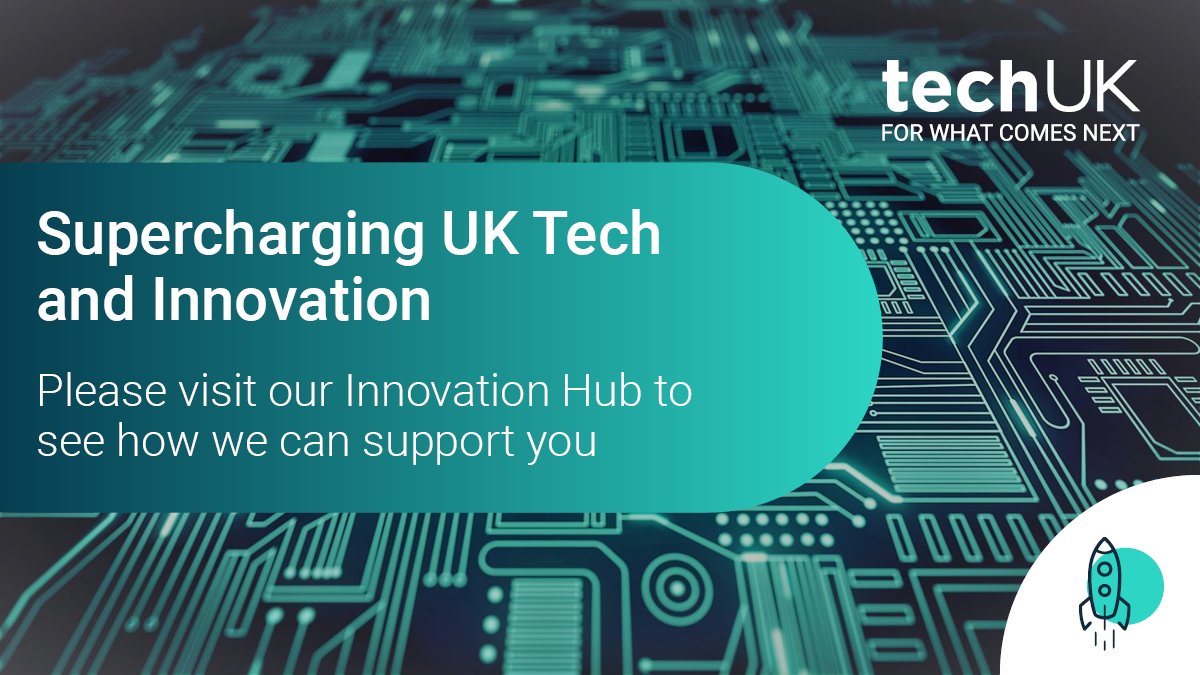 ---