How the Treasury can boost space SMEs and make the UK a Space Finance Hub
This was published in advance of techUK's Supercharging Investment in Space event, which took place on 30 October 2023. You can view the recording and read the round-up here.
---
---
You won't hear a Conservative MP say this very often: Gordon Brown was a great Chancellor. There was a lot I disagreed with, but a few things he did well. Independence of the Bank of England was one. Another was special tax breaks for investing into the UK film industry. Despite film finance tax breaks being abused by tax avoiders, films like the Harry Potter series can trace their UK roots back to Gordon Brown taking tax action to support the UK film industry.
The UK tax system is about far more than just raising revenue. For sure, it pays for all those public services we hold dear, but if that was only what it is all about, we could move to a Hong Kong style flat tax rate. The reason we have such a complex system is that we try to drive behaviour as well as raise revenue. And the genius behind Gordon Brown's film finance tax breaks has been to multiply the tax revenue from film profits at the far smaller cost of tax giveaways to investors.
We've seen this type of thing before. The Patent Box, for example, rewards companies with tax breaks on products patented in the UK. Things like this and the fintech regulatory sandbox have meant the UK is the 3rd biggest global tech economy, with more unicorns than the rest of Europe combined. Our universities are hotbeds of innovation and attract some inward investment
But we have so much more that we can offer.
The City of London is still one of the globe's premier finance hubs. With some of the highest concentration of wholesale financial markets, combined with the world's leading wholesale insurance market, and a common law legal system used the world over, all overseen by a well-tested and highly respected regulatory regime, we in the UK have a lot to offer tech businesses seeking finance.
However, whilst this huge achievement is being delivered in wider tech, we are not doing as well as we hoped in the space sector. Don't get me wrong – we have strong and innovative businesses. But our space strategy in 2013 set a target of 10% of the world's space sector by 2030. Since then, we have been overtaken by Italy.
Of course, we could take the approach of other countries, that includes endless subsidies and grants. That is important and we have innovation funds for all sorts of sectors, including space. But we fail to think laterally.
All tech businesses need research, innovation, support. But they also need finance. And that is where the City comes in, supported by the wisdom of Gordon Brown.
If we are serious about our space sector, we need to expand the remit from launch, satellite operations and downstream delivery to finance, insurance, legal services. And if we are serious about maintaining the City of London as a global financial services hub, we need to help it secure the world's brightest space financiers. And that is why the Treasury needs to help develop a symbiotic relationship between the UK space sector and the UK finance sector.
Of course, deciding what is space and what is wider tech is important, but this can probably be resolved through a simple test of whether the use of the technology requires a space flight license of one form or another. Or space designated spectrum.
Whilst Gordon Brown's tax break for investors in films was good, does it necessarily work in this instance? It would certainly help raise capital but since the objective here is to bring in the world's brightest and best to support space finance, a tax break in the City would probably be more helpful. This could range from tax breaks on corporate finance fees on space related bond and equity primary market issuances. This would have the effect of bringing all space capital raising to the UK, and relevant, surrounding services – legal, for example – would benefit from increased work whilst still paying tax. The effect on Treasury revenues would likely increase with the right tax break.
Importantly, this goes beyond the simple measures of grants and subsidies. Make no mistake, these grants are important, and it is good that the UK offers support. After all, de-risking (or, at least, reducing risk) is important for those tech and space tech angel investors who need both some financial support, together with the clear signal that the UK is keen to see our tech sector be successful.
Tentative conversations with Treasury officials have raised the question: why is space tech any different from ordinary tech? The simple answer is that it is a lot more expensive, and challenging, to test space tech. Despite the commercialisation of space that has come from investors such as Elon Musk and Jeff Bezos, resulting in a colossal drop in launch costs, it is still tricky for a start-up to hitch a ride on the appropriate launch to test their tech in the harsh environment of space. And anyway, the UK wider tech sector is in rude health and could easily benefit from the wider opportunities as the City concentrates more on space tech and its spin offs.
Importantly, we need to remember that very few businesses – tech, space or otherwise – start as anything other than an SME. We have, in this country, an amazing number of bright people with clever ideas. The space sector has its fair share of these entrepreneurs.
The City needs these innovators as much as the innovators need the City. Growing SMEs are the life blood of the financial services customer base. Angel investors get them started, but the City takes them to the big financial markets, where they can become the next generation of unicorns. Securing this symbiotic relationship between space and the City is vital.
Clearly, more work needs to be done in this area. Finding the right tax intervention is more complex than simply sticking a finger in the air and guessing what might or might not be suitable. But if global Britain wants to continue to be a financial superpower, it needs to align itself with where the global economy is headed. After all, every financial transaction is timed using the PNT systems on navigation satellites. The City already uses, and needs, space tech.
---
---
---
---
techUK – Supercharging UK Tech and Innovation
The opportunities of innovation are endless. Automation, IoT, AI, Edge, Quantum, Drones and High Performance Computing all have the power to transform the UK. techUK members lead the development of these technologies. Together we are working with Government and other stakeholders to address tech innovation priorities and build an innovation ecosystem that will benefit people, society, economy and the planet - and supercharge the UK as a global leader in tech and innovation.
For more information, or to get in touch, please visit our Innovation Hub and click 'contact us'.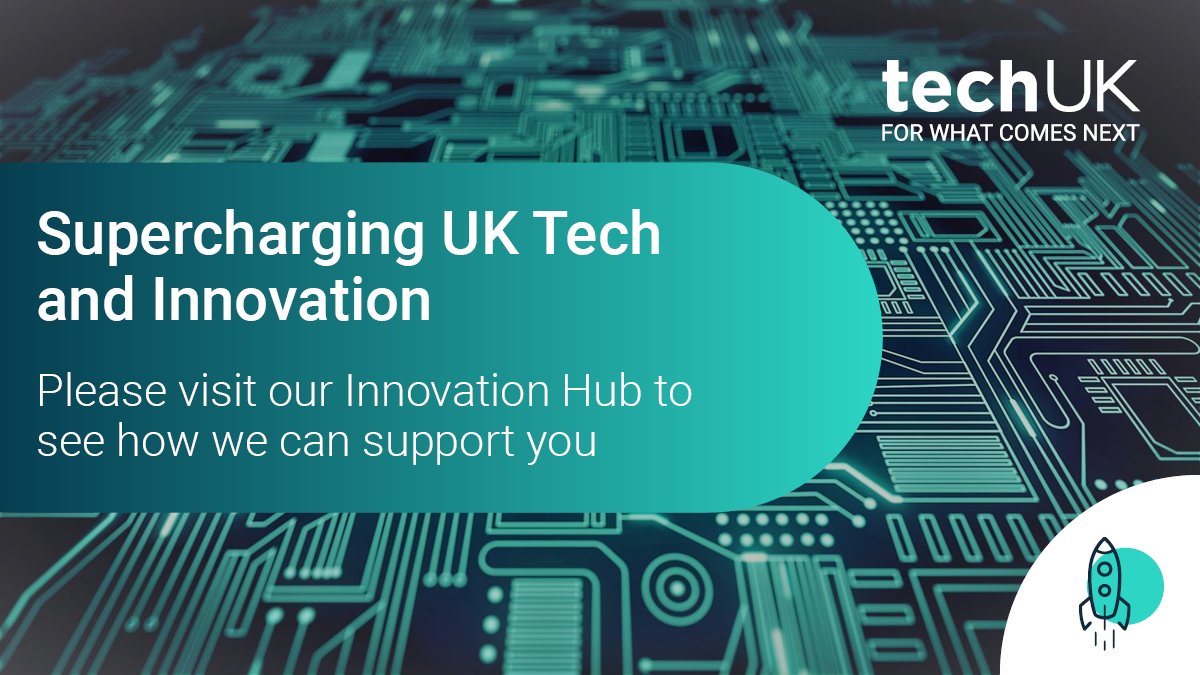 ---