Moving beyond the Clusters: How UK space companies can make the most of international collaboration
---
---
By Gareth Gibson, Market Access Officer at Flanders Investment & Trade
Gareth leads the Edinburgh office and represents Flemish business interests in both the North of England and Scotland. Assisting businesses in both the UK and in Belgium secure new opportunities, and overcome the new regulatory environment, covering all sectors, with a focus on the Flemish specialties: space, manufacturing, digital, life sciences, and renewable technologies.
---
When you think of internationally renowned space regions; Cape Canaveral, Baikonur, Bremen, Silicon Valley, even Glasgow… Leeds and Antwerp aren't always first to mind.
Flanders, though, achieved a remarkable €320 million turnover in the space sector in 2020, with a significant portion dedicated to ESA activities. This success is thanks to over 1,400 highly qualified technicians, engineers, scientists, and talented individuals who call Flanders their home. Flanders has seen the rise of over 100 space businesses making a name for themselves internationally. Companies like MAGICS, Arcsec, easics, ICsense, CMOSIS, EpiGaN, and Septentrio have been at the forefront of innovation, contributing to the advancement of space technology worldwide.
Flanders' involvement in NASA's Artemis I lunar mission, where it provided 300 sensors, demonstrates the power of international collaboration. Space missions require specialised components that often come from various parts of the world. The ability to create a space ecosystem that encourages collaboration can thus result in more efficient and successful missions.
Why is international collaboration in the space sector important? The challenges of space exploration are vast and complex, often beyond the capabilities of a single nation or region. It requires expertise, resources, and knowledge sharing. Flanders serves as a model, showing how regions can leverage their strengths and engage in mutually beneficial partnerships. UK space companies, particularly in regions like Yorkshire, should embrace this approach. Instead of relying solely on domestic networks and clusters, they should actively seek out international connections and collaborate with regions that complement their expertise.
On the 9th of October this year, we hosted the inaugural Flanders-Yorkshire Space Summit in Leeds, a collaboration between Flanders Investment & Trade and Space Hub Yorkshire (SHY). It was an intimate gathering of around 40 people from different fields and sectors, both public and private, with a shared desire for increased activity and international collaboration in space. The Summit was a great success, with interesting presentations, audience participation, and very in depth conversations throughout. The immediate outcome of the Summit was several Yorkshire businesses arranged to meet Kris Vanderhauwaert at Space Expo Europe in Bremen, where they also met with Flemish space businesses, expanding their horizons and further developing their international reach with warm introductions.
Our, small, free-to-attend event in Leeds, along with many others like it, has had a proportionally large impact on the direction and opportunities of businesses, and it is the purpose of organisations like Flanders Investment & Trade and SHY to facilitate that space where like-minded businesses can come together.
How you utilise the platform for your business' benefit, is up to you.
One key insight from the summit was the potential for more extensive international connections amongst regions. Rather than Brussels to London, we can be engaging Flanders to Yorkshire. Clusters like SHY can help businesses discover regions you may not have considered, and open doors to places your competitors may be unaware of.
The future of space exploration is a collective one. Let's work together to reach the stars and make space a place where boundaries disappear, and discovery knows no limits.
Please get in touch with Gareth at [email protected] if you'd like to re-ignite your European trade or enhance it by establishing yourself in the technological and logistical hub of Europe.
---
---
---
techUK – Supercharging UK Tech and Innovation
The opportunities of innovation are endless. Automation, IoT, AI, Edge, Quantum, Drones and High Performance Computing all have the power to transform the UK. techUK members lead the development of these technologies. Together we are working with Government and other stakeholders to address tech innovation priorities and build an innovation ecosystem that will benefit people, society, economy and the planet - and supercharge the UK as a global leader in tech and innovation.
For more information, or to get in touch, please visit our Innovation Hub and click 'contact us'.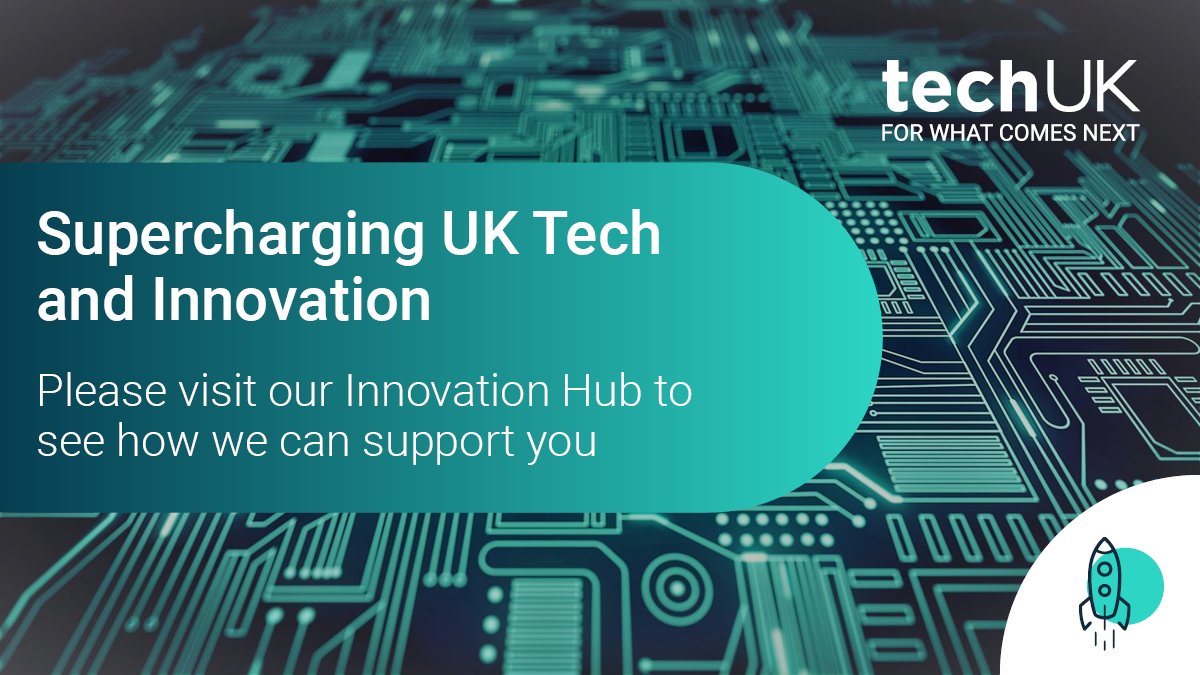 ---