Meet the Innovators: Jo Lee, Head of European Markets at Piece Future
---
Building upon the success of our Supercharging UK Tech and Innovation campaign, techUK is continuing to explore new ways to build an innovation ecosystem that will benefit people, society, economy and the planet.
The Meet the Innovators series aims to celebrate the work of members in promoting a healthy UK innovation ecosystem.
---
Can you tell me about Piece Future? What does it do and who does it work with to achieve this?
Founded in 2016, Piece Future is an innovation-driven IP investment bank that amplifies and optimises the value of IP assets for tech-rich MNCs. With presence in Singapore, Japan, the UK and the US, our team of experienced IP wealth advisors offers 360° IP management services ranging from IP portfolio management, IP investment, IP commercialisation, IP strategy development, IP risk assessment to IP valuation.
To complement our IP services, we have carefully curated a unique open innovation challenge, IPHatch®, that enables emerging (deep)tech startups to expedite their technology growth journey sustainably by integrating commercially viable patents originated from MNCs into their current business strategy. Moreover, we will unlock additional value-added benefits for our IPHatch® winners, such as exclusive access to our network of startup ecosystem partners including government bodies, research institutions, accelerators, incubators and VCs in 9 locations (Hong Kong, Indonesia, Japan, Malaysia, the Philippines, Singapore, Thailand, Vietnam, and the UK).

What is a specific, tangible example of Piece Future promoting a healthy innovation ecosystem in the UK? Which of the ingredients of innovation do you provide? (enabling, accelerating or applying innovation)
A prime example would be introducing IPHatch® to the UK market in November 2022. With the support of various ecosystem partners such as City of Glasgow College, the Institute of Innovation and Knowledge Exchange, Startup Grind, Tech Nation, we are committed to knocking down barriers for (deep)tech startups, from technology adoption to market penetration, so they can focus on bettering their product to give back to the community.
On top of the patent/s they could win from our corporate partners such as Nokia and Panasonic, IPHatch® programme offers invaluable benefits such as a 5-year incubation programme, business mentorship, basic market research and legal support, funding advisories, and IP consultations and roadmapping, all provided at no cost once startups are admitted into the programme.

What is your role in this?
One of my key foci at the moment is to build a close-knit network of ecosystem partners who share our vision and mission to support and nurture these tech startups, whilst keeping an eye out for expansion opportunities into other European markets for our upcoming 2024 edition. It is also within my remit to tailor the IPHatch® programme to reflect and address the unique needs of tech startups in different UK locations, and onboard new multinational corporations in the UK and Europe that are keen to contribute their IP assets to emerging tech startups to make a social impact collectively.

What innovation challenges has Piece Future's work addressed and how has it addressed them?
One of the significant innovation challenges we address is helping startups build a comprehensive IP and technology roadmap in their early stage without incurring excessive costs in drafting and filing. By giving startups direct access to readily available patents available in our programme, they can work on improving their products immediately and
capitalise on the resources multinational corporations commit to them. This will not only accelerate their innovation journey, but also enhances their intellectual capital for future fundraising purposes, making their businesses more appealing to investors.

What's Piece Future's long-term vision for the innovation ecosystem?
On the outlook, we are optimistic about how IPHatch® could disrupt the current open innovation model in an effective and positive way, and we are eager to celebrate our ecosystem members' success in solving real-world problems and making a lasting social impact with the multifaceted resources we have to offer.

How do you think techUK membership may enable you to achieve this?
With techUK's extensive network and outreach, we are hopeful that we can expand IPHatch® to every corner of the UK and beyond, getting the message across to more tech startups and facilitating innovation on a much broader scale.

What else is needed to achieve the UK's vision of becoming a Science and Tech superpower? What more can Government do to deliver this?
To fortify UK's existing status as one of the world's Science and Tech powerhouses, we would suggest that the government collaborate and strategise more closely with underrepresented tech ecosystem players to understand the needs and challenges they face. From how I see it, the government should address the increasing demand of tech adoption and commercialisation, provide practical education support for startups to scale sustainably, and introduce more financial incentives to attract and retain talents.

Finally, what one piece of advice would you give to other techUK member companies looking to promote a healthy innovation ecosystem?
We can't emphasise enough the importance of cultivating connection, collaboration and inclusivity. Innovation only flourishes when stakeholders from diverse background come together to share ideas, expertise, and resources; it is crucial to create synergies between different industries and nations to build a truly eclectic support community with a focus to drive innovation forward globally.
techUK members interested in contributing to this series should reach out to [email protected].
---
Click below to view our other Supercharging Innovation series:
---
techUK – Supercharging UK Tech and Innovation
The opportunities of innovation are endless. Automation, IoT, AI, Edge, Quantum, Drones and High Performance Computing all have the power to transform the UK. techUK members lead the development of these technologies. Together we are working with Government and other stakeholders to address tech innovation priorities and build an innovation ecosystem that will benefit people, society, economy and the planet - and supercharge the UK as a global leader in tech and innovation.
For more information, or to get in touch, please visit our Innovation Hub and click 'contact us'.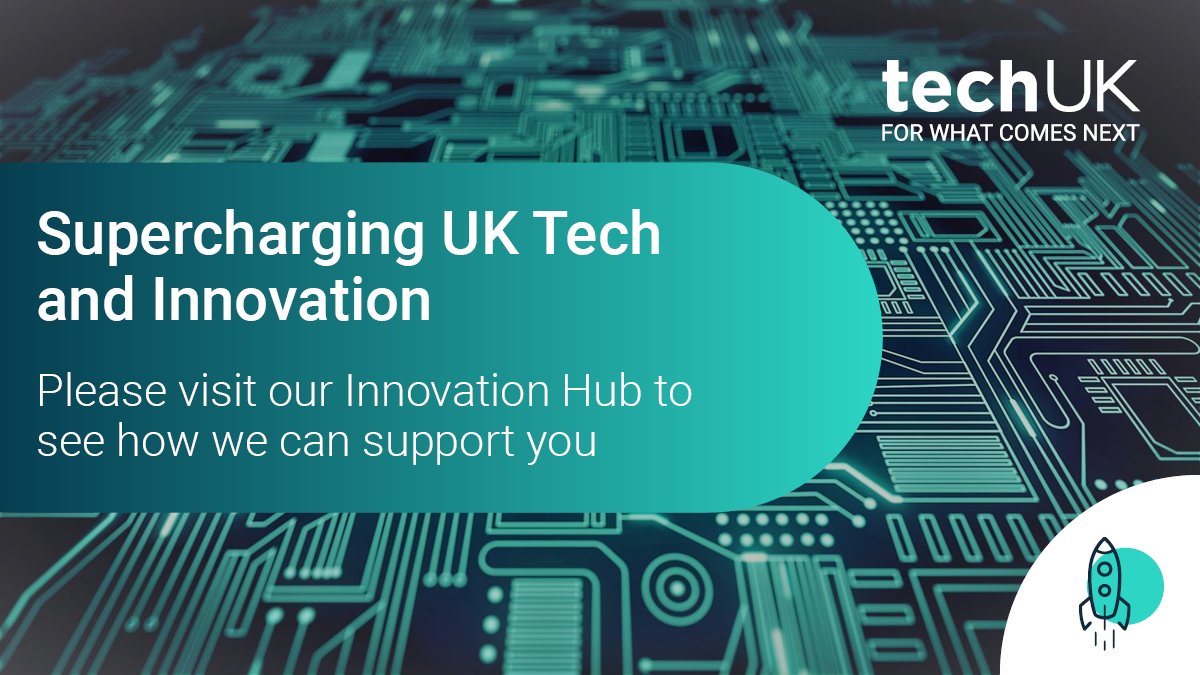 ---