Institutions of Innovation: Launch insight
The past few years have seen substantial change across the UK's innovation landscape, with the creation and merging of departments, formation of new agencies and offices, and transfer of remits and responsibilities.
In March 2021, the Government published the Integrated Review. This set out the UK's high-level approach to national security and international policy whilst stating the Prime Minister's ambition to have secured the UK's status as a Science and Tech Superpower by 2030. techUK has since explored what this vision means in practice, holding events, publishing insights, and organising a Supercharging Innovation campaign week (this September) ahead of a summit in November.
On the back of the Integrated Review, the Government established a new Office for Science and Technology Strategy with the aim of supporting the National Science and Technology Council and National Technology Adviser to drive forward Whitehall's science and technology priorities from the centre. This was closely followed by the publication of the UK Innovation Strategy, which techUK held a follow-up webinar on a year later.
Then, in March 2022, the Government announced a £39.8bn R&D budget for 2022-2025 – the largest ever – to deliver on the 2021 Innovation Strategy and achieve its ambition to increase total R&D investment to 2.4% of GDP by 2027.
And in February of this year, a machinery of government change saw the merger of DSIT and BEIS, resulting in the creation of a dedicated department for innovation in the Department for Science, Innovation and Technology (DSIT). The department has since published the International Technology Strategy and Science & Technology Framework, both of which underpin its work.
Despite these changes, many institutions have continued to operate as normal, including UKRI and Innovate UK, the Government Office for Science, the Centre for Data Ethics and Innovation (created in 2018), the Advanced Research and Invention Agency (created in 2020 and later the subject of a techUK webinar on how its CEO can drive forward success), and the British Business Bank.
The challenge
It's clear that the general trend has been one of increasing focus, investment, and opportunity for industry to collaborate and engage with a wide range of institutions across the UK's innovation ecosystem.
This should leave the UK with innovation institutions that are open to dialogue, responsive to the evolving needs of industry and, ultimately, equipped for the future.
However, years of continual change has come at the cost of familiarity, with many innovators reporting that they now find the landscape more challenging and time consuming to navigate.
Such barriers to innovation will be felt most acutely by start-ups, scale-ups and SMEs, which tend to have less established relationships with institutions and extremely limited resources. This is not to say that large organisations are immune, particularly as many tackle challenges such as inflationary pressures and skills shortages.
How the series works
techUK aims to tackle this challenge head on by launching a new series of monthly interviews with the institutions driving the UK's innovation policy.
Called 'Institutions of Innovation', this series will begin to piece the new landscape together, setting out who the key actors are, what they do, where they sit and how industry can best engage with them.
The interviews will sit on techUK's Innovation Hub, the go-to central resource for stakeholders innovating across UK tech.
As with all the Tech & Innovation programme's work, this series builds upon techUK's mission to enable, accelerate and apply innovation across the UK. It also puts into practice our recommendation for greater stability and long-term thinking around R&D investment, as set out in our UK Tech Plan.
---
You can find each month's Institutions of Innovation interview, along with our other Technology and Innovation series, by clicking the following links
Click below to view our other Supercharging Innovation series:
---
techUK – Supercharging UK Tech and Innovation
The opportunities of innovation are endless. Automation, IoT, AI, Edge, Quantum, Drones and High Performance Computing all have the power to transform the UK. techUK members lead the development of these technologies. Together we are working with Government and other stakeholders to address tech innovation priorities and build an innovation ecosystem that will benefit people, society, economy and the planet - and supercharge the UK as a global leader in tech and innovation.
For more information, or to get in touch, please visit our Innovation Hub and click 'contact us'.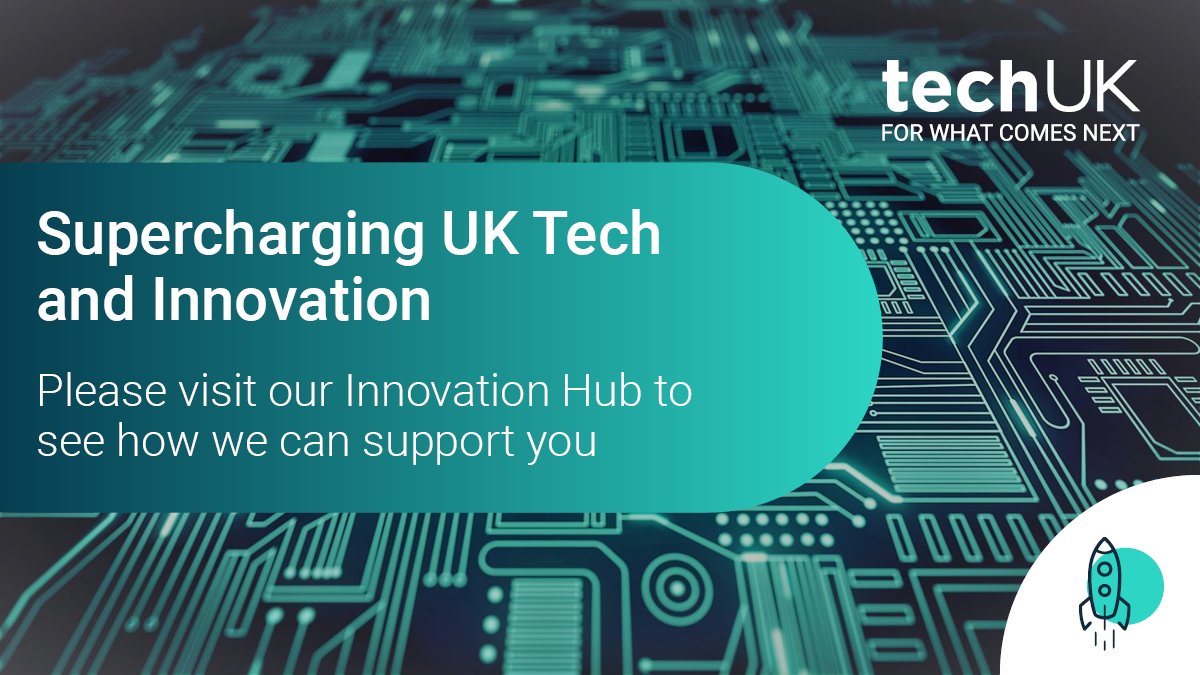 ---