techUK's new campaign is exploring how we supercharge the UK as a global leader in tech and innovation
UK Government has expressed an ambition to make the UK a "science and tech superpower by 2030" – a long-standing an oft-repeated statement through Government strategies including the Integrated Review, or the more recent Autumn statement, as well as cascades of speeches from ministers & Government Representatives alike. More recently, this has underpinned announcements around the new Department of Science, Innovation and Technology – the UK's foundation from which "to deliver the UK's most innovative economy in the world".
The rhetoric is set, but the ambition – what does it actually mean to be a science and technology superpower – will require addressing several multi-layered and long-standing challenges facing the UK's society and economy, while concomitantly opening pathways within Government to support pioneering innovation. This will certainly require moving beyond the political fray; it will require recognising areas of particular strength in UK innovation, and crucially, applying that innovation to the UK economy.
For this to happen, we need to ensure we get the ingredients of innovation right. We need to ensure the UK has investment into emerging technologies that have the potential to drive progress; a strong foundation of infrastructure, skills and investment to accelerate the appetite for innovation; and the mechanisms to apply this technology to create real-world change. These are the three ingredients for innovation that the techUK campaign will address in more depth.
To explore this innovation opportunity and each of the above ingredients in turn, we are hosting this launch event at the techUK office 21 March 15:00-17:00. We will gather industry leaders to share their expertise and their experience as to how the UK can leverage its strong innovation heritage for modern day challenges.
More specifically this event will discuss:
Defining the UK's "Innovation Challenge"
Where are UK particular strengths, and how do we support them?
How do we better fund innovation in the UK so that the brightest minds, ideas and businesses can thrive?
Why is applied innovation, and how can we get better at this in the UK?
Finally, how can we ensure that innovation is equitable: How can we create opportunity for all to contribute and benefit?
This is just the start of the conversation. This new campaign will continue to address these areas and more through events, roundtables, insights, whitepapers that will bring together the UK tech sector behind the common ambition to supercharge the UK as a global leader in tech and innovation
The agenda will be published soon
Speakers include:
Visit our new Innovation Hub for more insights, events, and to sign up to our newsletter.
---
techUK – Supercharging UK Tech and Innovation
The opportunities of innovation are endless. Automation, IoT, AI, Edge, Quantum, Drones and High Performance Computing all have the power to transform the UK. techUK members lead the development of these technologies. Together we are working with Government and other stakeholders to address tech innovation priorities and build an innovation ecosystem that will benefit people, society, economy and the planet - and supercharge the UK as a global leader in tech and innovation.
For more information, or to get in touch, please visit our Innovation Hub and click 'contact us'.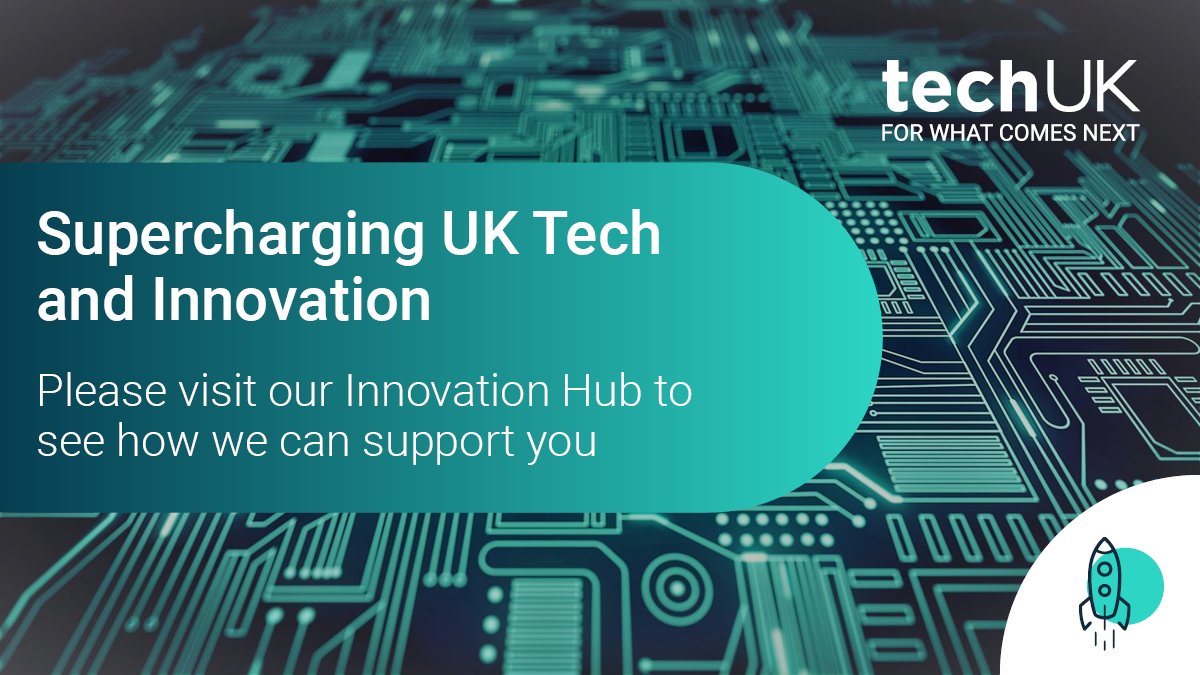 Technology and Innovation updates
Sign-up to get the latest updates and opportunities from our Technology and Innovation programme.
---
Keen to learn more? Get in touch: