Meet the Innovators: Sam Armondi, Co-Founder and MD at Thought Quarter
---
Building upon the success of our Supercharging UK Tech and Innovation campaign, techUK is continuing to explore new ways to build an innovation ecosystem that will benefit people, society, economy and the planet.
The Meet the Innovators series aims to celebrate the work of members in promoting a healthy UK innovation ecosystem.
---
Can you tell me about Thought Quarter? What does it do and who does it work with to achieve this?
We're proud to be the tech partner of changemakers. We fuel their missions by combining strategy, design, and software development. Together, we create a better world.
What is a specific, tangible example of Thought Quarter promoting a healthy UK innovation ecosystem? Which of the ingredients of innovation does it provide? (enabling, accelerating or applying innovation)
We enable innovation through the 'Discovery' part of our process. This often includes user research, data analysis, and solution framing so we can understand the real challenge we're aiming to address. We come up with various "how might we" scenarios and validate those against available data.
Our client, Livin, approached us with a brief to help them drive digital adoption amongst older, less "digitally-savvy" users. Through user research we discovered that the real barriers for adoption weren't technical or digital, so no amount of change was going to resolve their challenges and deliver the brief.
Instead, we reframed the brief to better serve the needs of other demographics. This included making online rent payments more accessible, improving property rental journeys, and giving internal teams increased control over individual content topics. Over the project lifetime, the completed work resulted in Livin receiving a net benefit of over £2m.
We accelerate innovation using design sprints to rapidly prototype solutions. For example, we're currently supporting a client, along with UKRI, to develop a prototype of a B2B high-end architecture product. Rapid prototyping is particularly favourable with changemakers as it allows them to road test a functional prototype with users. From there, we can collect learnings which inform the final product. By accelerating innovation, we reduce costs and set a solid foundation for the growth of the product.
We apply innovation by leveraging our software development skills to implement next-generation technology that helps our clients change the world. For example, one of our clients is using machine learning to pre-empt faults in low-carbon heating installations. The data is collected using IoT technology, analysed using ML and AI, and upcoming faults can be fixed before they become apparent.
And what is your role in this?
As Managing Director, I'm the initial interface between ambitious individuals and our services. My work varies, but typically I support them to identify the challenge they're looking to address, discuss potential approaches, and advise which of our services is most suitable. It's my job to provide clarity in the early stages of our partnership.
What challenges has Thought Quarter's work addressed and how has it addressed them?
Because we're an agency, we're extremely fortunate that we get to address lots of different challenges across a range of high-impact areas including clean energy, housing, community volunteering, energy efficiency, and the circular economy.
Throughout all our work, the recurring challenge we address is digital inclusivity. To us, inclusivity means creating digital products and services that can be used by anyone, on any device, in any setting.
I'm passionate about this because I believe digital inequality is one of the key blockers on our "tech for a better world" mission – unless everyone can use it, how can we achieve our goals?
To address that challenge consistently, we've invested a lot of time, effort, and money in building a user-centric design approach that understands the needs of users, captures the best way of addressing those needs, and delivers functional and beautiful interfaces.
What's your long-term vision for the sector or ecosystem? What else is needed to achieve the UK's vision of becoming a Science and Tech superpower?
I would like to see the tech sector become much more accessible to people from all walks of life. Although a lot of progress has been made, I'm hopeful that in the next 10 years every child will be able to learn coding in primary school, advance their skills in secondary schools, and see software development and associated disciplines as a career choice that is open to them if they want to pursue it.
How has your techUK membership enabled you to achieve this? What have you enjoyed, valued or learned during the process?
I've really enjoyed the events where very broad stakeholder groups have come together including industry, infrastructure, and government. The openness to discussion from all participants has been really refreshing.
Finally, what one piece of advice would you give to other techUK member companies looking to promote a healthy innovation ecosystem?
Lead, don't follow. It's easy to sit back and complain about talent shortages, skill availability, market maturity, a lack of funding, and so on. Instead, make a new way. Train young people, find new markets, evolve your business model. You don't need someone to path the way, be a changemaker.
techUK members interested in contributing to this series should reach out to [email protected].
---
Click below to view our other Supercharging Innovation series:
---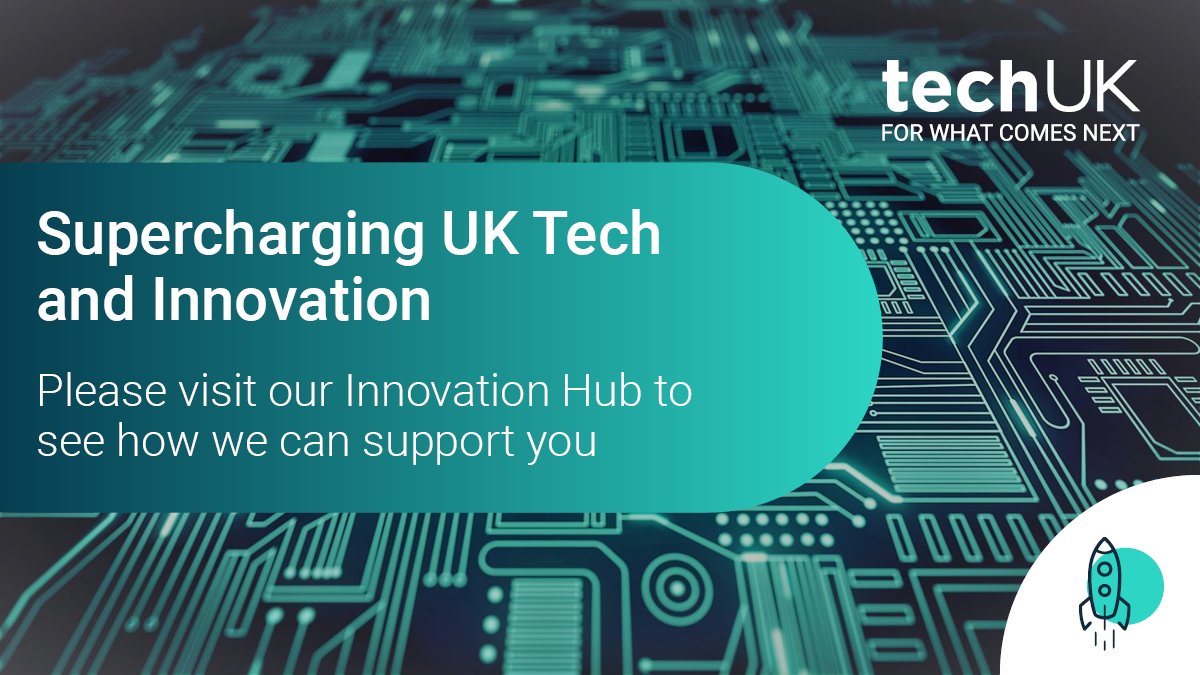 techUK – Supercharging UK Tech and Innovation
The opportunities of innovation are endless. Automation, IoT, AI, Edge, Quantum, Drones and High Performance Computing all have the power to transform the UK. techUK members lead the development of these technologies. Together we are working with Government and other stakeholders to address tech innovation priorities and build an innovation ecosystem that will benefit people, society, economy and the planet - and supercharge the UK as a global leader in tech and innovation.
For more information, or to get in touch, please visit our Innovation Hub and click 'contact us'.
---