Space Based Solar Power – Second Generation Green Energy
Recent by-elections, colourful protests, and the granting of oil and gas licenses in the North Sea have thrown back into the spotlight the issue of Net Zero. As a new member of the House of Commons Energy Security and Net Zero Select Committee, it is fascinating to immerse oneself into the debates and arguments surrounding this vitally important topic.
These include simple propositions, such as "the wind will be blowing, and the sun will be shining somewhere", which ignore the fact that to have a global grid capable of delivering energy from wherever it is a windy, sunny day is an immense challenge. Indeed, to secure that vast capability might require more mineral resources needed to deliver than is available globally.
The reality is, to achieve net zero and move on, both economically and environmentally, we need the next generation of green energy production – space based solar power.
The concept has been around for years. Energy beaming has been known about since the first radio waves were invented in the 1880s, and we have been beaming energy from space for years – every Sky TV dish on a home bears testament to that fact. Similarly, we've had solar panels generating power in space since the US satellite Vanguard 1 was launched in 1958. And orbital launch has been around since Sputnik 1 in 1957. But what has changed is the cost of launch. Thanks to space entrepreneurs such as Elon Musk and Jeff Bezos, launch costs are down 95%, and look set to drop further. The era of space commercialisation is well and truly upon us.
Recent independent studies conducted for the UK Government and European Space Agency have confirmed that Space Based Solar Power is now technically and economically viable and could be developed to deliver Gigawatt scale power by 2035 and commercialised at scale in time to make a substantial contribution to our energy mix by 2050.
Last year's ESA Ministerial meeting saw the UK commit £3 million to their Solaris programme, whilst here in the UK, DESNZ and UKSA have committed £6 million to a space based solar power innovation programme. Meanwhile, with help from the Satellite Applications Catapult, the Space Energy Initiative brings together dozens of organisations from industry, academia and government, to develop and commercialise space based solar power. One UK company - Space Solar – is leading with proprietary technology, and expects to deliver clean, dispatchable energy by the end of the next decade. Such is the interest in this opportunity, the UK Space Agency, the European Space Agency, and the Department for Energy Security & Net Zero are coming together in October for an online, two-day conference on energy from space, and why it is so important.
There are various ideas regarding delivery of space energy, but in the main they constitute large satellites orbiting 36,000 km above the equator in geostationary orbit. Basking in permanent sunlight, the UK designs are modular, built from tens of thousands photovoltaic cells. Each unit converts electricity into microwave energy and beams it back to earth using phased ray technology. The beam is benign and safe, comprising a per square metre energy density about a quarter of the midday sun. On the ground – or, more likely, at sea – will be large rectifying antennas converting that energy back into electricity and delivering it into the grid.
Importantly, whilst this is certainly an engineering challenge, it is not a physics challenge. There is a great deal of engineering development needed to realise an operation system – robotic assembly in space, maximising the energy beamed, controlling such vast structures in orbit. But whilst the obvious benefit of permanent solar energy – day and night – from space is compelling, the wider environmental benefits are legion.
The carbon footprint is estimated to be just half that of terrestrial solar[1], and as we move to an increasingly space constrained future, the area of the receiving antennae is just 8% of the size of an offshore wind farm with similar output. The solar panels employ High Concentration Photovoltaics which use a tiny fraction[2] of the PV required for terrestrial solar, greatly reducing mineral resource usage.
And crucially it can provide both baseload and dispatchable power, complementing the intermittent wind and solar generators, bringing resilience and reducing overall energy system costs.
Each satellite can move its beam from one receiving antenna to another. Should we in the UK be enjoying an unusually windy and sunny day, one of our satellites can move its energy beam almost instantaneously to an alternative antenna elsewhere across the third of the globe visible from geostationary orbit. This energy beaming capability removes the necessity for resource and cash expensive interconnectors. It can also be a game changer for developing nations and the 775 million people who don't currently have access to electricity[3]. With the ground antenna being relative low cost, and no need for global interconnectors, satellite operators can sell excess energy seamlessly to developing nations
Right now, the UK is one of the leading players in this arena. Engagement from government ministers in both the Department for Science, Innovation and Technology and, crucially, The Department for Energy Security and Net Zero has been healthy and optimistic. Civil servants engage regularly with the Space Energy Initiative.
Its still early days. There is a lot of engineering to be done, but power delivery is expected to be in the order of below £50/KWh. The wider benefits to decarbonisation include hugely reduced demands on resources to deliver more efficient photovoltaics, plus reduced copper demand for the grid and interconnectors. Meanwhile, the UK's space strategy is delivered through factories producing the modular elements of the satellites, in orbit robotics brings us proprietary technology, and design engineers are exploring how to recycle these structures into the next generation of in-orbit power generators. After all, sustainability is not just about the Earth.
This is an opportunity for the UK to lead in Gen2 green energy production.
Supercharging Innovation Week 2023
techUK members explored the emerging and transformative technologies at the heart of UK research and innovation. This week was designed to investigate how to leverage the UK's strengths and push forward the application and commercialisation of these technologies, highlighting best practice from academia, industry and Government that is enabling success. You can catch up via the link below.
---
techUK – Supercharging UK Tech and Innovation
The opportunities of innovation are endless. Automation, IoT, AI, Edge, Quantum, Drones and High Performance Computing all have the power to transform the UK. techUK members lead the development of these technologies. Together we are working with Government and other stakeholders to address tech innovation priorities and build an innovation ecosystem that will benefit people, society, economy and the planet - and supercharge the UK as a global leader in tech and innovation.
For more information, or to get in touch, please visit our Innovation Hub and click 'contact us'.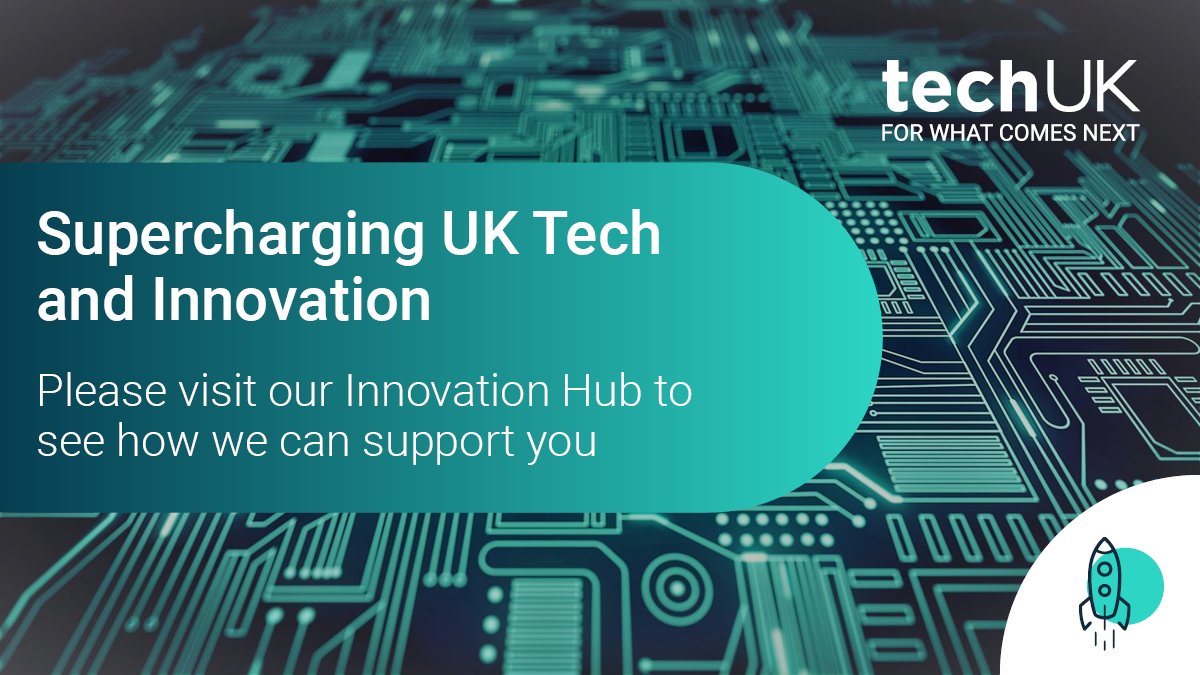 ---
---
[1] Life Cycle Analysis of SBSP by the University of Strathclyde, 2022
[2] HCPV in space uses only one hundredth of one percent of the mineral resource compared to terrestrial PV
[3] International Energy Agency, 2022