Shaping the future of Space-to-Space relay Communication
Forging connectivity: the crucial element for unlocking potential in space.
As the satellite communications industry continues to hone and advance its capabilities and delivers ever more effective direct-to-Earth communication services, there is a new and exciting frontier emerging, which has been a focus of mine for a number of years, outer space.
Space-based communications – communicating between two objects through the vacuum of space – is going to become one of the most important factors for the safe, secure and sustainable use of the space environment. Space-to-space relay systems can connect a growing array of assets – from satellites, to space stations, to rockets in flight, this new frontier for space communications technology can connect across multiple orbits and ensure that wherever an asset is, we can ensure it is connected. Over the coming years and decades, in-space communications systems will be instrumental in supporting everything from space hotels to space-based manufacturing.
The horizon for space-to-space communication spreads across a wide range of applications: from enhancing launch vehicle telemetry to be available anywhere anytime, to reducing latency for tasking and commanding Low Earth Orbit (LEO) satellites, enabling real-time space operations for in-orbit manoeuvres, or simply providing uninterrupted communication to future space stations, scientific modules or even the nascent space tourism sector.
Viasat is well suited to unlock this capability. Our established and growing constellation of Geostationary (GEO) satellites orbiting at approximately 36,000 km (about 22,000 miles) above the Earth are capable of delivering global coverage to any asset navigating any of the orbits below the geostationary satellites' field of view.
Current data relay users have to cope with sporadic access to communication systems, leveraging a network of ground stations spread out across the globe, each providing different performances, availabilities and contractual frameworks. This creates inconsistency and a lack of a reliable, continuous connection for telemetry, tasking and access to data.
As part of the various space-based concepts and services we're developing at the moment, Viasat is aiming to address these constraints. Our satellites in GEO are now capable of allocating on demand, in real-time, and globally, flexible capacity to any moving assets in space. This type of capability can support a range of customers including launch vehicle providers, LEO satellite operators, crewed space vehicles, or debris removal space tugs. It's a very exciting space ecosystem that we're capable of addressing and we're thrilled to see the support of various institutional agencies across the world helping us push the frontiers of what satellite communication can do for safer mission critical operations in such a harsh environment.
And, we believe the UK is in a strong position to play an important role in unlocking this nascent but rapidly growing in-orbit market.
One of the first services we developed was 'InRange', designed for the booming launch market. Launch providers typically use downrange stations on land or on ships to maintain telemetry through the various stages of a launch vehicle flight. But these are expensive to maintain and constraining. Using Viasat's L-band constellation, InRange is aimed at simplifying launch providers operations and improving coverage, by enabling continuous communication from the rocket to our GEO spacecrafts, while unlocking optimum rocket trajectories at a reduced cost. In some cases InRange could help in reducing orbit raising requirements for the satellite to be launched or increasing the total payload mass the rocket can lift.
Developed by Viasat's team in the UK, InRange offers the country's space sector the opportunity to become a leading connectivity provider for the rapidly growing global launch market. InRange can also be positioned to support the connectivity requirements of UK launches. This will bolster the resiliency and responsiveness of UK launch operators making the UK an ever more desirable launch destination for smallsat customers.
This programme has attracted the attention of large institutions, starting in the UK, with the UK Space Agency funding some of the key enabling building blocks of InRange in 2020 as part of a partnership with the Japan Aerospace Exploration Agency (JAXA) and Mitsubishi Heavy Industries. In the USA, NASA has announced that it will retire their in-house Tracking Data Relay Satellite (TDRS) service and expect industry to provide commercial equivalent solutions moving forward, positioning InRange today as the sole alternative launchers solution available for data relay from Space.
InRange satellite data relay illustration
Additionally, other than launch, Viasat is also focused on developing its own data relay capabilities and services for LEO satellites, known as Real-Time Space Relay (Ka-band) and InCommand (L-band). In fact, Viasat already supports a commercially operational in-space relay capability through a joint solution with Addvalue called IDRS (Inter-satellite Data Relay Service) that provides an always on, always available connectivity service to smallsats using our global L-band service. Many satellites operating in LEO routinely use IDRS to task to collect data, such as Earth observations or space situational awareness, that must be sent back to Earth in real-time. Having real-time data transport capability means operators no longer have to wait until their satellites fly over a ground station to uplink or downlink their information. This reduces operational complexity and latency from hours to seconds. Every second counts, whether it is responding to a major issue if the satellite needs to report an urgent anomaly, is tumbling in space or needs to get tasked to take a picture of a natural disaster within seconds or minutes.
Leveraging Viasat L-band and Ka-band network of GEO satellites, the company's latest innovations are designed to enable assets in lower orbits (LEO, MEO etc) with a Viasat compatible terminal onboard the moving asset to relay their onboard data. Here again the potential ecosystem of in-space communications needs is vast, with not only LEO satellites but also space tugs, in-orbit servicing, debris removal, in-orbit manufacturing or for space situational awareness and collision avoidance purposes. Viasat's space relay developments have also obtained grant funding from NASA to enable commercial capabilities to help replace TDRS and upon their completion will further expand the company's portfolio of space data relay solutions.
The list goes on and the in-orbit economy is only at its beginning. Space was once closed to commercial players and addressed only by the science and exploration community. Today, we're pushing the boundaries of these uncharted frontiers and changing the economics of Space-to-Space communication.
Supercharging Innovation Week 2023
techUK members explored the emerging and transformative technologies at the heart of UK research and innovation. This week was designed to investigate how to leverage the UK's strengths and push forward the application and commercialisation of these technologies, highlighting best practice from academia, industry and Government that is enabling success. You can catch up via the link below.
---
techUK – Supercharging UK Tech and Innovation
The opportunities of innovation are endless. Automation, IoT, AI, Edge, Quantum, Drones and High Performance Computing all have the power to transform the UK. techUK members lead the development of these technologies. Together we are working with Government and other stakeholders to address tech innovation priorities and build an innovation ecosystem that will benefit people, society, economy and the planet - and supercharge the UK as a global leader in tech and innovation.
For more information, or to get in touch, please visit our Innovation Hub and click 'contact us'.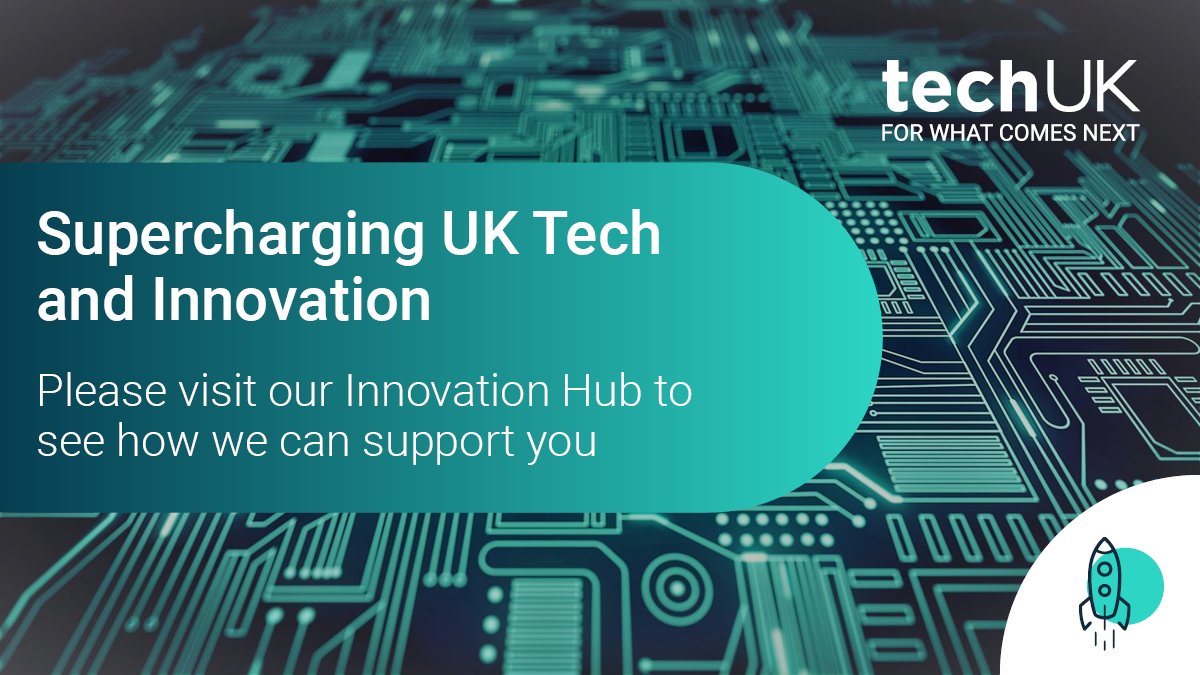 ---