UK Government R&D Tax Credits and VC funding: Navigating the complex landscape of innovation finance 
In an age defined by rapid technological advancements and groundbreaking innovations, Research and Development (R&D) stands as the lifeblood of national progress and global leadership in applied research and innovation. With its rich history of scientific achievements, the UK is uniquely poised to excel in this dynamic landscape.
However, as global investment trends, particularly in Venture Capital (VC), undergo a transformation, the need for recalibrated strategies has never been more pressing. This article not only highlights the pivotal importance of substantial R&D investment but also makes a resounding call for policy reforms to elevate the UK's standing on the global innovation stage.
Government Investment: A call for visionary strategy
The UK government's commitment to R&D is commendable, with ambitious funding goals of £20 billion per year by 2024-25 and a trajectory toward £22 billion by 2026-27 (1). These initiatives lay a solid foundation for the nation's innovation-driven future. Government support takes various forms, including grants, funding programs, and tax credits. For instance, the R&D Tax Scheme, in operation since 2000, has played a vital role in encouraging investment in UK innovation, contributing significantly to the nation's economy. In 2020 alone, an astounding £61.8 billion flowed into R&D in the UK (2).
However, it is imperative that this funding is utilised wisely. A pressing concern is the rampant errors and fraud in the R&D tax credit scheme (4.9% of the total value in 2021/2(3), diverting funds towards unintended recipients. The government's recent revisions to the R&D tax credit scheme (4) are welcome steps in the right direction, but more must be done to ensure that every penny is effectively utilised.
The transition towards a unified Research and Development Expenditure Credit (RDEC) (5) scheme promises a streamlined approach, fostering a more cohesive ecosystem. Furthermore, the prospect of enhanced relief rates for R&D-intensive companies is a step in the right direction, acknowledging the transformative power of research and innovation.
Pursuing excellence: A resounding call for greater R&D investment
R&D expenditure as a percentage of GDP offers crucial insights into a nation's innovation commitment. While the UK has achieved its 2.4% target (6), it lags behind countries like Germany, the United States, and South Korea. The government's R&D expenditure remains below the OECD average, highlighting the need for accelerated investments to match international benchmarks. Increasing R&D expenditure is not just an economic necessity; it is a strategic imperative to bolster the nation's competitive edge.
Venture capital funding: Confronting challenges, embracing opportunities
The need for government investment in innovation becomes even more apparent in light of the challenges facing the UK's economy, resulting in a decline in equity finance investment. Venture capital investment in the UK has encountered hurdles due to factors such as overvaluations, the impacts of Covid-19 and Brexit, and rising interest rates.
This decline has led to a slowdown in the creation of tech unicorns. In 2022, the growth rate of UK tech unicorns, companies valued at over $1 billion, plummeted to just 4 per cent (7), compared to the previous year's impressive 41 per cent growth rate. This decline can be attributed to reduced venture capital availability and companies adjusting their valuations to raise funds.
However, amidst these challenges, a glimmer of hope shines through in climate tech investment. Climate tech received a remarkable £6.54 billion (8) in venture capital investment in 2022, offering a strategic avenue for targeted funding.
Even in the face of fluctuations, the UK's startup ecosystem has shown remarkable resilience, raising $30 billion by the end of 2022. The UK's ability to weather a 28% decline in venture capital investment, compared to a global decline of 32%, underscores its adaptability and innovation prowess (9).
Bridging the equity finance gap: Sector-specific potential
A closer examination of the UK's equity investment market reveals intriguing trends deserving of attention. While the market has witnessed a decline in deal numbers and values, certain sectors present promising growth opportunities. AI and cleantech sectors, with their impressive deal counts, underscore the potential for strategic investments.
Private equity and venture capital firms continue to play a significant role in driving investment activity, participating in 40.3% of all deals (10). Crowdfunding platforms have displayed adaptability, experiencing a 56.1% increase (11) in the last quarter, signalling a dynamic sector with untapped potential.
Climate tech revolution: Paving the way for sustainability
Amidst the challenges and opportunities, climate tech emerges as a transformative force in the UK's innovation landscape. The UK's position as the second-largest hub for climate tech startups and scaleups globally (behind the US) showcases its potential for addressing pressing global challenges. The impressive $10 billion raised in Europe by climate tech companies in 2022, with $6.54 billion attributed to UK companies (12), underscores the sector's growth trajectory.
As climate tech investment matures, the UK's capacity for innovation becomes increasingly evident. With over 5,200 climate tech pioneers (13) operating in the UK, the nation's commitment to a sustainable future is undeniable.
While climate tech has proved remarkably resilient, it is not completely immune to economic downturns. The first half of 2023 saw a 43% dip (14) in investment compared to the same period in the previous year. This underlines the critical role of government support in R&D.
Even-proof sectors like climate tech, investment fluctuations can happen. In such cases, consistent government support, like R&D funding, provides stability and encourages meaningful innovation. It's a powerful reminder that the government plays an essential role in fostering an innovation-friendly environment.
Looking ahead to a holistic ecosystem for Startups and SMEs: A policy imperative
To boost the UK economy with applied R&D, collaboration between the government, tech sector, and businesses is crucial. Creating a supportive ecosystem for startups and SMEs, including mentoring and regulatory support, is essential for building the UK as a global research and innovation hub. Policy reforms are needed to drive R&D investment and secure the UK's position as a leader in sustainable technology. Let's seize this opportunity and propel the nation into a new era of innovation and progress.
Supercharging Innovation Week 2023
techUK members explored the emerging and transformative technologies at the heart of UK research and innovation. This week was designed to investigate how to leverage the UK's strengths and push forward the application and commercialisation of these technologies, highlighting best practice from academia, industry and Government that is enabling success. You can catch up via the link below.
---
techUK – Supercharging UK Tech and Innovation
The opportunities of innovation are endless. Automation, IoT, AI, Edge, Quantum, Drones and High Performance Computing all have the power to transform the UK. techUK members lead the development of these technologies. Together we are working with Government and other stakeholders to address tech innovation priorities and build an innovation ecosystem that will benefit people, society, economy and the planet - and supercharge the UK as a global leader in tech and innovation.
For more information, or to get in touch, please visit our Innovation Hub and click 'contact us'.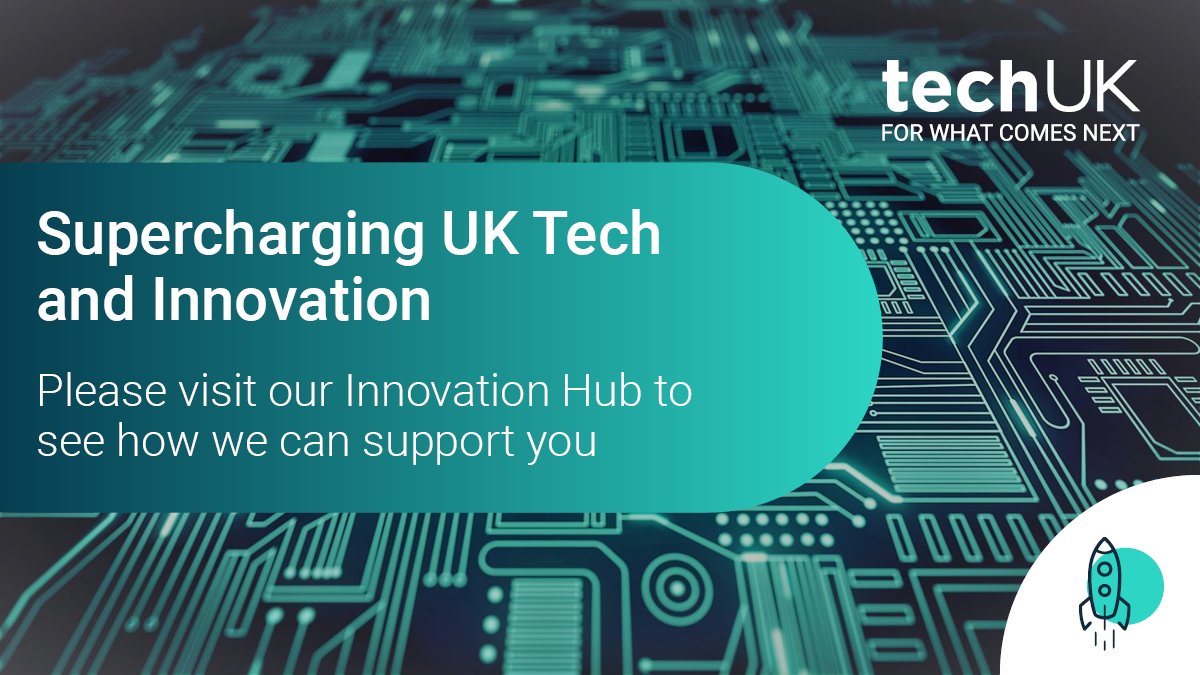 ---