Innovation, Education, Community & Collaboration: Applying technology to the legal sector
The law and legal services are considered an effective vehicle not only for enforcing individual rights and protecting interests of the society but also enabling economic activity. Research suggests that the global legal sector is on track to become a trillion dollar industry by 2025. The economic value of English law and the UK's legal sector is significant on a global scale, making the legal industry an attractive target for technological disruption.
Industry bodies such as Law Society of England and Wales have long highlighted the opportunity brought by technology to accelerate the growth of the UK's legal services market and ensure its global leadership as well as improving outcomes for legal consumers. The new world of tech-enabled legal sector emerged from the shadow of its older sister, Fintech, waiting to be unlocked.
Among many examples of how technology transforms the practice of law are digital tools that use machine learning, data analytics, blockchain, and automation to streamline legal processes, extend access to justice, improve the consumer experience of legal services and more. On LawtechUK website, you can access case studies to learn more about how machine learning transforms legal practice and read more about the technology-powered opportunities to improve access to justice.
In 2019, to capture this opportunity, Ministry of Justice and the LawtechUK Panel of legal and technology industry experts created LawtechUK, a pioneer initiative to drive transformation of the legal sector through technology. Now in its 4th year, under the joint stewardship of CodeBase and Legal Geek, LawtechUK launched a number of programmes, aiming to modernize the legal industry and enhance its use of technology to improve efficiency and accessibility.
For the new phase of delivery, CodeBase, LawtechUK delivery partner and the UK's largest tech incubator, developed an innovative model for supporting entrepreneurship and digital transformation in the legal services at all stages of development across the UK. The free programme of work is tailored to the requirements of all key actors in the lawtech development chain: from aspiring entrepreneurs and early adopters to seasoned investors and sophisticated purchasers of technology.
For those taking their first steps in lawtech, Lawtech Fundamentals is the market's first free online course, which equips anyone interested in founding or working in a lawtech startup with the knowledge and tools to get started in the sector. The course contains a mixture of written and video content and will include case studies of best practices and personal insights from lawtech founders about their experiences during the early stages of their startup journeys. Crucially, it targets general principles of building a venture as well as idiosyncrasies typical to the legal ecosystem.
For early stage founders committed to getting a product to market, Lawtech Builder is a cohort-based programme, aimed at early stage founders and lawtech innovators, who are ready to move beyond ideation and launch an MVP to the lawtech market. Over 12 weeks, founders test the viability of their idea and learn how to launch their concept into a business. A similar format is adopted in Lawtech Scaler, tailored to the needs of scaleups and founders ready to scale or exit.
Perhaps most unique of all is Lawtech Bridge, a cohort-based collaborative scheme, bringing together startups and established legal businesses (e.g. law firms, in-house legal teams etc) to connect and share the tools, insights and mindsets to drive innovation. This first-of-its-kind model, tested and developed by CodeBase in other sectors, embodies the ideal of collaboration in a market traditionally perceived as radically competitive, and demonstrates that the largest impact is made when all market players act towards better outcomes not only for oneself but also for the industry.
LawtechUK's initiatives demonstrate that collaborative and holistic approach to driving innovation yields strong results, particularly with strong and equal engagement from all market players as well as public bodies. For example, legal sector regulators who the world's first Regulatory Response Unit under the umbrella of LawtechUK have significantly contributed to solving perceived regulatory challenges facing legal innovators. The Regulatory Pathfinding scheme, which enables startups to submit their regulatory queries for consideration, complements the educational offering to ensure well-rounded experience throughout the entrepreneurial journey and tangible impact for the legal sector.
We look forward to sharing our insight in driving transformation in a regulated sector housing a traditional profession with the market in the form of case studies and data-driven impact analysis.
About LawtechUK
LawtechUK is a Ministry of Justice backed initiative dedicated to driving digital transformation in the legal sector. Delivered by CodeBase and Legal Geek, LawtechUK's objectives are:
Increase innovation and adoption of lawtech in the delivery of UK legal services
Support the growth of the lawtech sector in the UK
Enable English and Welsh law and the UK's jurisdictions to become the foundation for emerging technology
About CodeBase
CodeBase is a tech ecosystem support organisation that has supported over 500 startups and scaleups, who have collectively raised over £4 billion. Codebase is committed to promoting collaboration in tech innovation, across startups, scaleups, corporates, governments, academia and the third sector.
About Legal Geek
Legal Geek is a global community of legal professionals and lawtech enthusiasts dedicated to promoting innovation and technology in the legal industry. Founded in 2015, Legal Geek has quickly grown to become one of the world's largest lawtech communities, with events and initiatives held across the globe.
About Ministry of Justice
The Ministry of Justice (MoJ) is a government department responsible for upholding justice and the rule of law. It plays a central role in the administration of justice, overseeing the legal system, courts, prisons, probation services, and other justice-related matters. The Ministry of Justice works to ensure access to justice, protect the rights of individuals, and maintain a fair and effective legal system in the United Kingdom.
Supercharging Innovation Week 2023
techUK members explored the emerging and transformative technologies at the heart of UK research and innovation. This week was designed to investigate how to leverage the UK's strengths and push forward the application and commercialisation of these technologies, highlighting best practice from academia, industry and Government that is enabling success. You can catch up via the link below.
---
techUK – Supercharging UK Tech and Innovation
The opportunities of innovation are endless. Automation, IoT, AI, Edge, Quantum, Drones and High Performance Computing all have the power to transform the UK. techUK members lead the development of these technologies. Together we are working with Government and other stakeholders to address tech innovation priorities and build an innovation ecosystem that will benefit people, society, economy and the planet - and supercharge the UK as a global leader in tech and innovation.
For more information, or to get in touch, please visit our Innovation Hub and click 'contact us'.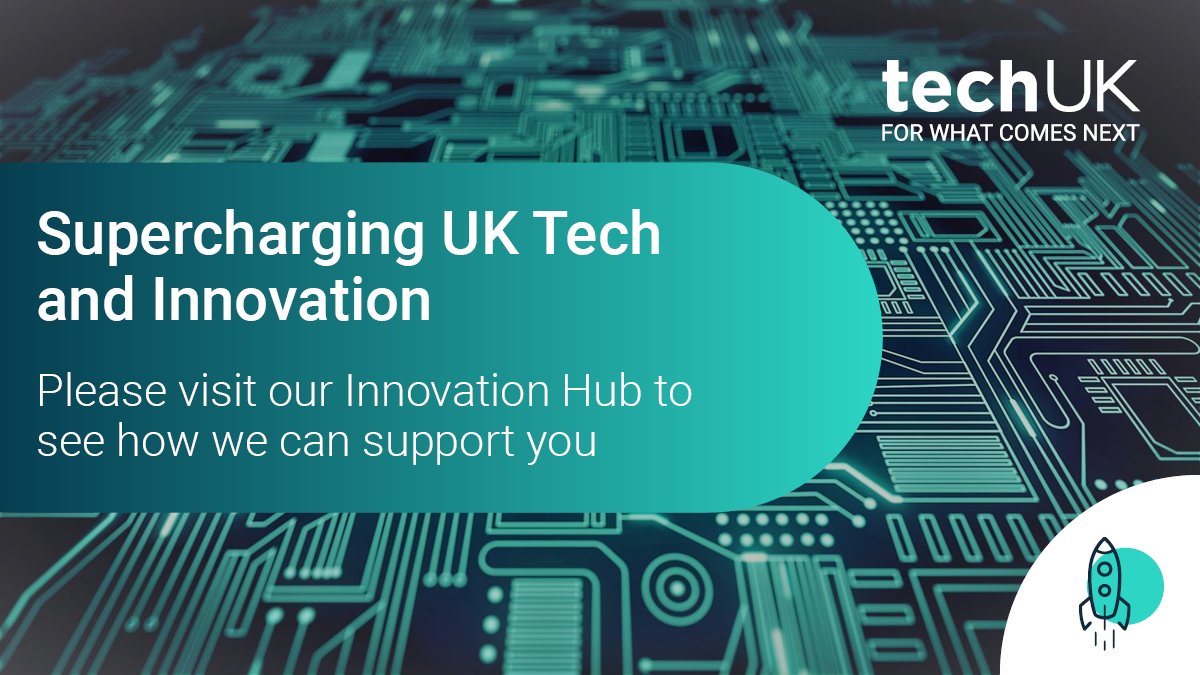 ---