How the UK is growing into one of the most innovative and attractive space economies in the world
For decades, the UK has been at the cutting-edge of pioneering space technologies, from manufacturing small satellites that have revolutionised satellite constellations to developing scientific instruments for groundbreaking international missions, such as the James Webb Space Telescope.
Today, our way of life on Earth depends on space. Satellites help us to predict the weather, keep people and businesses connected and products moving, and monitor our planet's health. They underpin the UK's financial system and critical national infrastructure.
At the UK Space Agency, we have ambitious plans to harness space science and technology to forge a greener, smarter and more inclusive society. There are significant opportunities to build on high-growth areas, such as Earth observation and satellite broadband, and to establish early leadership in emerging markets such as in‑orbit spacecraft servicing, active space debris removal, and the new lunar economy.
These advances are powered by innovation, turning new ideas into mission-ready technology and marketable digital applications.
Catalysing more investment in space innovation is crucial for two main reasons.
Firstly, it brings us new ways of furthering our understanding of the Universe and examining how our own planet is changing.
Secondly, the potential economic benefits are huge. The space sector already generates £17.5 billion for the UK economy each year, and we've attracted more private investment in space than any country outside the US since 2015. But this is a global race to deliver new and improved technology and services in a rapidly expanding sector – and we must continue to innovate. If we stand still while everybody else is running, we will quickly lose the race.
Space is a team sport, and success means working together.
We collaborate with partners across government, industry and academia to deliver the aims of the National Space Strategy - to build one of the most innovative and attractive space economies in the world, and grow the UK as a space nation.
Our new plays an important role in this, identifying key technologies we need to develop in order to extract maximum value from the increasing commercialisation of space exploration.
We want to lead the world in modern space regulation and ensure innovative space businesses can access private finance through space-oriented venture capital funds, such as Seraphim Space Investment Trust, supported by the British Business Bank.
Through initiatives like our Space Cluster Development Programme, Space Clusters and Infrastructure Fund and the , we are making sure that opportunities, investment and growth are spread more evenly across the whole of the country.
International collaboration is also crucial to innovation and growth. As well as being a founding member of the European Space Agency - which opens up access to resources and knowledge from around the world, and gives UK scientists, engineers and businesses the chance to participate in major space missions - we are forging new partnerships further afield, building on the success of the UK‑Australia "Space Bridge".

We recently announced the first projects to receive a share of our £20 million International Bilateral fund dedicated to supporting links with global space agencies and businesses, so that we can develop new technologies together that will advance our capabilities in space and benefit life on Earth.

This is a hugely exciting time for the UK in space, and there are more opportunities for businesses – and particularly techUK members - to get involved than ever before. It is only by working together that we can unleash the innovation needed to stay at the forefront of the new space race and cement the UK's role as a science and technology superpower.
Supercharging Innovation Week 2023
techUK members explored the emerging and transformative technologies at the heart of UK research and innovation. This week was designed to investigate how to leverage the UK's strengths and push forward the application and commercialisation of these technologies, highlighting best practice from academia, industry and Government that is enabling success. You can catch up via the link below.
---
techUK – Supercharging UK Tech and Innovation
The opportunities of innovation are endless. Automation, IoT, AI, Edge, Quantum, Drones and High Performance Computing all have the power to transform the UK. techUK members lead the development of these technologies. Together we are working with Government and other stakeholders to address tech innovation priorities and build an innovation ecosystem that will benefit people, society, economy and the planet - and supercharge the UK as a global leader in tech and innovation.
For more information, or to get in touch, please visit our Innovation Hub and click 'contact us'.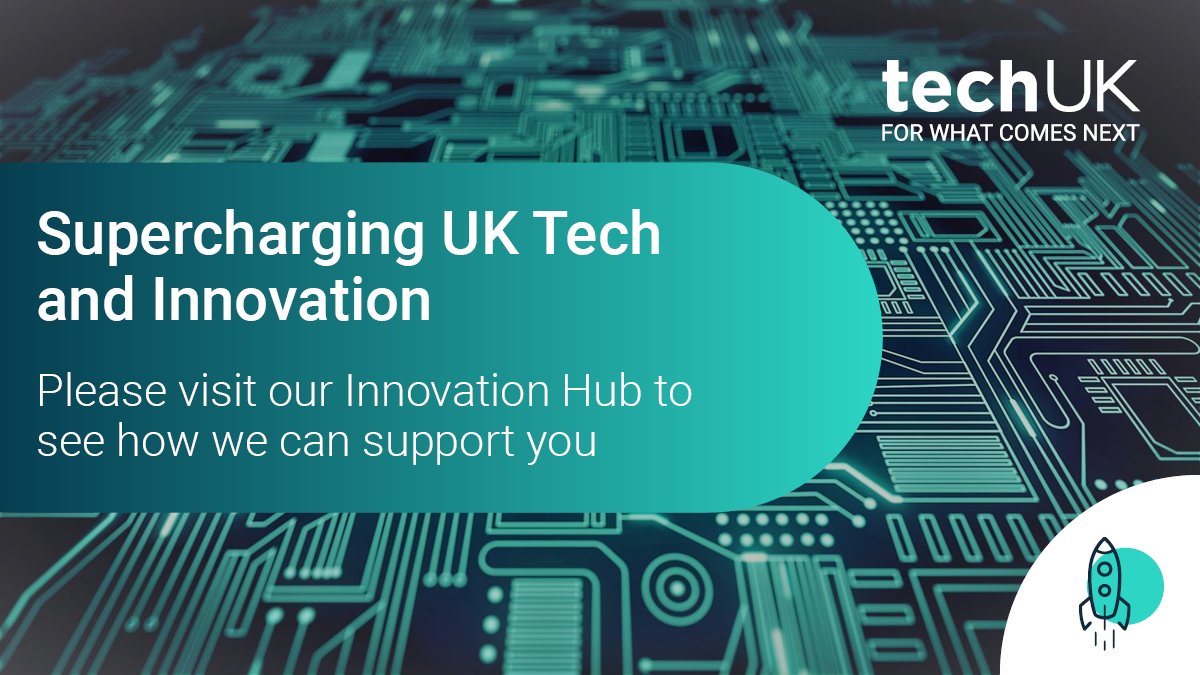 ---