How the NHS is approaching the future of XR and metaverse technologies
NHS England has been working to understand the capabilities of XR, and its current use in the NHS and healthcare internationally.
We found that XR was being used in a multitude of ways across the NHS and social care. The top four areas using XR were:
Education and training for patients and staff
Mental health and wellbeing
Physiotherapy and rehabilitation
Pain management
Other areas such as 3D visualisation of images or scans for pre-surgical planning, image guided surgeries and remote connections (for example for community nurses) were also mentioned.
The benefits associated with XR across these areas included:
Saving staff time
Improving staff experience
Increasing accessibility
Improving efficiency of services
Increased positive patient outcomes
There are multiple use cases and case studies that evidence the benefits and potential of XR across health and care, including some within the NHS. In 2019 Northumberland, Tyne and Wear NHS Foundation Trust completed a study involving immersive VR treatment of children with autism related phobias, with results showing that nearly 45% of patients remained phobia free six months after treatment.
At East Suffolk and North Essex NHS Foundation Trust trainee doctors are using virtual reality training equipment to practise endoscopy skills in an immersive and realistic way. Teachers are able to accurately assess students' progress with the aim of maximising patient safety in real operations.
However, our discussions with NHS providers, researchers and industry have also raised several barriers to adoption of XR. The most common barrier raised by NHS providers and XR suppliers was the lack of quantitative and qualitative evidence of the value that XR can bring.
Other common barriers identified by NHS providers, researchers and XR suppliers included:
High initial costs for the technology
Difficulties gaining stakeholder approval
The absence of a clear route to market
A lack of clarity on regulatory requirements, with unique challenges brought by XR particularly around clinical safety, privacy and data protection
Usability and accessibility issues for specific user groups in healthcare
Without robust data demonstrating efficacy, safety and return on investment, this can make obtaining buy-in a more difficult and lengthy process. The need for more robust data for XR in healthcare is becoming increasingly important.
In order to address barriers identified in our research, 12 recommendations were made in a discovery report. Work has already begun to address some of the short term recommendations in collaboration with colleagues across the NHS, government, research and industry.
For example, we have:
To explore all these themes and more, earlier this year the NHS joined techUK in the metaverse. You can watch this below:
techUK... in the metaverse?
Yes, that's right! As part of techUK's Making the Metaverse campaign, techUK's Laura Foster, Head of tech and Innovation was delighted to join Neesa Mangalaparathy, Programme Delivery Lead for XR and ADC, NHS England, and Chris Yiu, Director of Public Policy for Northern Europe, Meta to test out the technology that has the potential to revolutionise the workforce.
Supercharging Innovation Week 2023
techUK members will explore the emerging and transformative technologies at the heart of UK research and innovation. This week has been designed to investigate how to leverage the UK's strengths and push forward the application and commercialisation of these technologies, highlighting best practice from academia, industry and Government that is enabling success.
---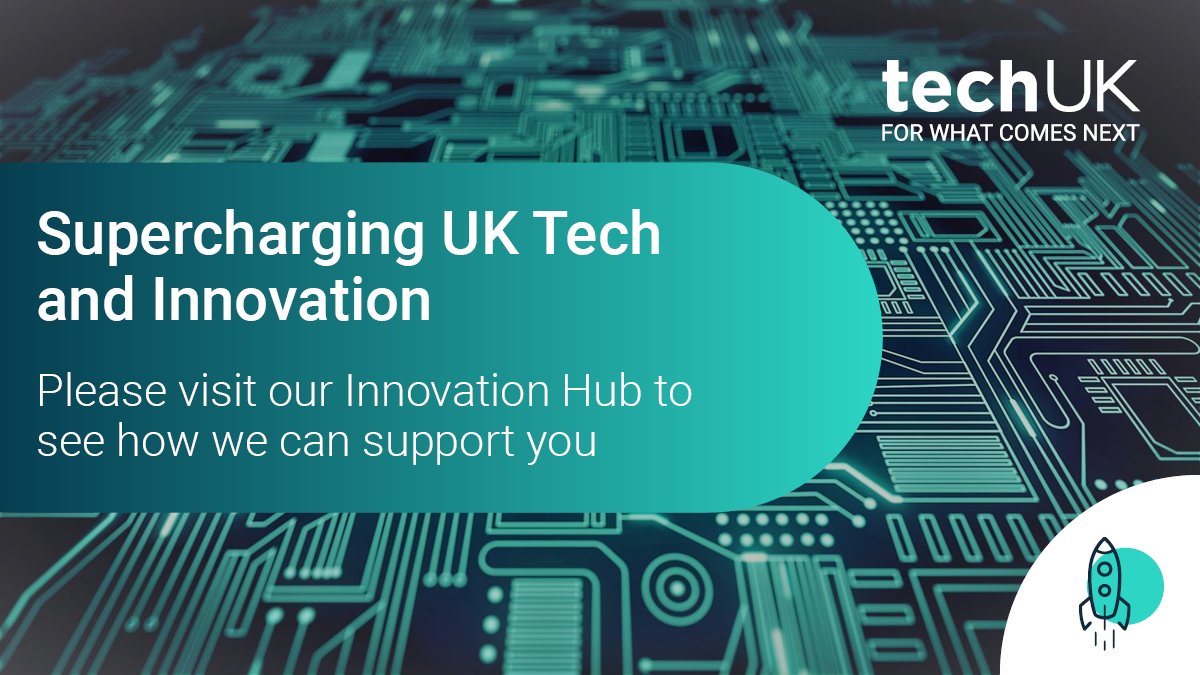 techUK – Supercharging UK Tech and Innovation
The opportunities of innovation are endless. Automation, IoT, AI, Edge, Quantum, Drones and High Performance Computing all have the power to transform the UK. techUK members lead the development of these technologies. Together we are working with Government and other stakeholders to address tech innovation priorities and build an innovation ecosystem that will benefit people, society, economy and the planet - and supercharge the UK as a global leader in tech and innovation.
For more information, or to get in touch, please visit our Innovation Hub and click 'contact us'.
---