Creating a Skills Pipeline to Supercharge UK Tech
For the UK is to be a world leader in technological excellence, then it would seem self-evident that we need more young people pursuing careers as researchers, engineers and innovators in Tech. This need is particularly true for semiconductors, which are a fundamental enabler to 'supercharge' UK Tech. Semiconductors or 'chips' are used in so many products that are now part of our everyday lives and will become ever more important to the success of the UK economy. However, a chronic skills shortage threatens the UK semiconductor industry's ability to compete on a global stage.
In the coming years, we know that semiconductors will become ever more important to the success of the UK economy, not just as an essential enabler of existing industries but also as a driver of emerging technological focus area such as smart cities, autonomous driving, electrification, and artificial intelligence (AI) as a whole.
As AI becomes embedded in people's lives, the UK finds itself at a pivotal moment - It has been suggested that AI could deliver a 10% increase in UK GDP in 2030. The Government believes that, if approached correctly, this would offer huge benefits to the economy, to recovery and resilience, the environment and for people from all walks of life across all parts of the UK. However, a shortage of skills is frequently cited as a critical challenge.
Over many years, too few UK-based students have been studying Electrical & Electronic Engineering. As a result, there are insufficient graduate engineers to drive forward innovation and progress. In 2021, according to UCAS, only 3,245 UK students enrolled on degrees in Electronic and Electrical Engineering, and of these only 335 were girls. This is less than half the number of students starting Mechanical Engineering degrees (7,050). This shortage is particularly acute in the sphere of chip design. We know through our own research that over 80% of UK companies involved with chip design have unfilled vacancies. Global competition for talent is fierce and other nations, such as the USA, are already investing heavily.
Therefore, engaging and inspiring a diverse range of students, effective engagement with schools, colleges and universities across the UK is crucial. With gender parity and greater inclusivity, we'll be far better placed to foster new discoveries and technological innovation; to create highly skilled jobs, and to be at the cutting-edge of these vital technologies. To address this skills shortage, it's clear that urgent changes have to be made. These must form part a national level long-term programme.
This is because we believe that the situation for the semiconductor industry in the UK is very similar to the one faced by the digital sector a decade ago. Then a Government's report on digital skills resulted in coordinated action, including curriculum change for computing at secondary schools and the creation of National Centre for Computer Education.
The STEM Decision Funnel, developed as part of a research programme at King's College London, illustrates students engaging with STEM reduces significantly as secondary education progresses. The evidence demonstrates that both male and female students in the final year of primary school have relatively high levels of interest in science (74% and 72% respectively).
Therefore, we believe that secondary schools should be the starting point for the semiconductor skills pipeline. This is because we need to ensure schoolchildren are more aware of Electronics and it is essential to motivate and inspire them to consider careers in semiconductors, earlier in the STEM decision 'funnel'. To begin this process, we are advocating three key priorities within secondary education: curriculum change, more engagement with the Electronics industry and improved careers advice.
First and foremost, there is an urgent need to make Electronics and semiconductors a more visible and explicit part of the STEM curriculum for secondary schools. Also, we must ensure that an understanding of 'deep tech' is woven into wider aspects of secondary education so children, parents and teachers are aware of how semiconductors and Electronics are fundamental to the modern world. From this awareness, interest and understanding can grow along with the realisation that exciting challenges and rewarding careers that pay well are available for designers and engineers in the semiconductor sector.
Beyond the curriculum, there is a need to provide engaging enrichment activities and more extra-curricular opportunities for pupils to deepen their interest in Electronics and semiconductors.
As the leading Electronics focussed STEM charity in the UK, UKESF stands ready to collaborate with Government and other stakeholders including academics, industry and professional bodies to build the skills pipeline needed to supercharge UK Tech in the 21st century.
Supercharging Innovation Week 2023
techUK members explored the emerging and transformative technologies at the heart of UK research and innovation. This week was designed to investigate how to leverage the UK's strengths and push forward the application and commercialisation of these technologies, highlighting best practice from academia, industry and Government that is enabling success. You can catch up via the link below.
---
techUK – Supercharging UK Tech and Innovation
The opportunities of innovation are endless. Automation, IoT, AI, Edge, Quantum, Drones and High Performance Computing all have the power to transform the UK. techUK members lead the development of these technologies. Together we are working with Government and other stakeholders to address tech innovation priorities and build an innovation ecosystem that will benefit people, society, economy and the planet - and supercharge the UK as a global leader in tech and innovation.
For more information, or to get in touch, please visit our Innovation Hub and click 'contact us'.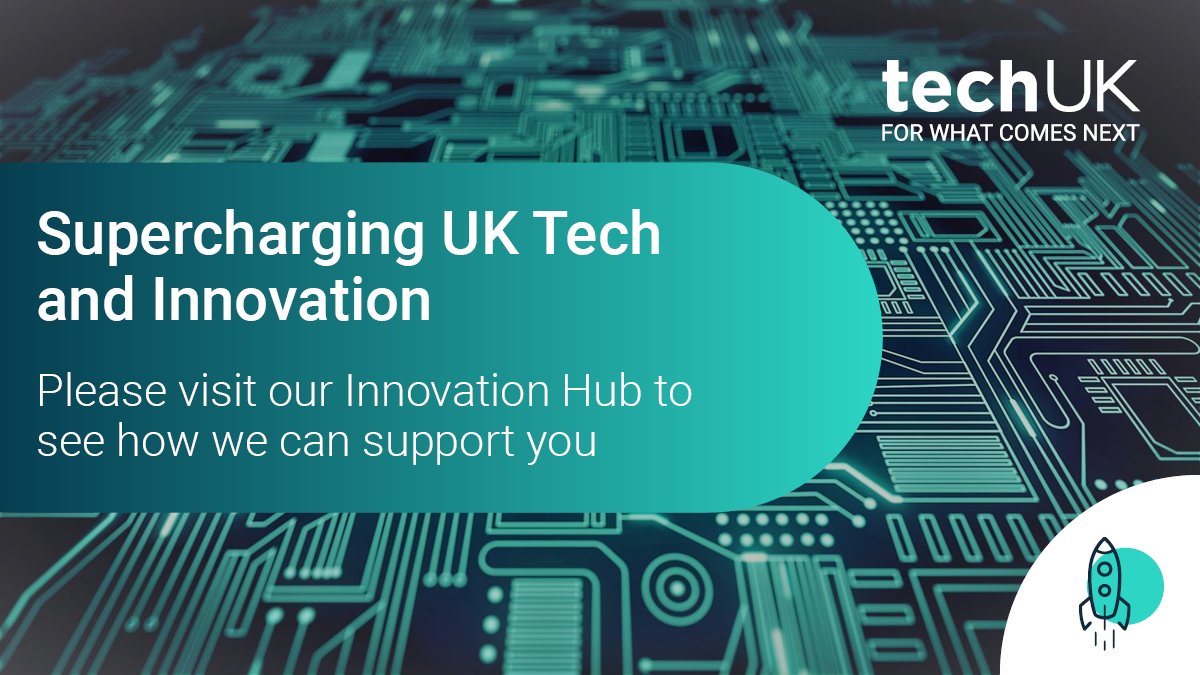 ---