This webinar took place on 13 June 2023. Click here to read the event round-up.
The Industries of the Future series explores how emerging and enabling technologies are transforming key industries around the world, assessing the challenges and opportunities for UK businesses, and considering what more we can do to accelerate digital transformation so that innovation is applied to the real economy in ways that change lives.
Digital technology can enable a fast-paced growth, improve the safety, accessibility and sustainability of the energy systems. Crucially, it can also be integral in addressing stagnant productivity facing UK industries – including the energy sector. But digitalisation is also raising new security and privacy risks. It is also changing markets, businesses and employment. The UK has an exciting opportunity to review and redesign its energy system and create a platform for economic growth, one that delivers high skill jobs and export potential, if the UK can attract investment in green Enertech production.
While it is integral for industry to lead the way, this cannot be done alone and a coherent policy framework is needed to guide and incentivise action. The current policy requires greater coherence and coordination across sectors to deliver Britain's legally binding net zero targets. We struggle to see coherent demand side policy matched with supply to ensure Great Britain's energy security. What is more, the measures required to align policy and regulation to accelerate the pace of change in the energy transition remain unaddressed. These are the areas where digital technology can play a pivotal role in delivering net zero, creating value to consumers and enabling their choices, as well as delivering economic growth.
As such, this event will convene industry leaders to understand the digitalisation opportunity facing the UK and hear insights as to how the UK can best incentivise digitalisation to achieve net zero goals. Specifically we will address:
How can the energy sector pioneer UK's ambition to become a tech and science superpower?
How does the energy sector compare in terms of productivity and resiliency to other UK industries and sectors? Is this industry a pioneer or a follower?
How can Government work with industry to identify the next generation of technology needed to achieve energy security and net zero?
---
Click below to view our other Supercharging Innovation series:
---
techUK – Supercharging UK Tech and Innovation
The opportunities of innovation are endless. Automation, IoT, AI, Edge, Quantum, Drones and High Performance Computing all have the power to transform the UK. techUK members lead the development of these technologies. Together we are working with Government and other stakeholders to address tech innovation priorities and build an innovation ecosystem that will benefit people, society, economy and the planet - and supercharge the UK as a global leader in tech and innovation.
For more information, or to get in touch, please visit our Innovation Hub and click 'contact us'.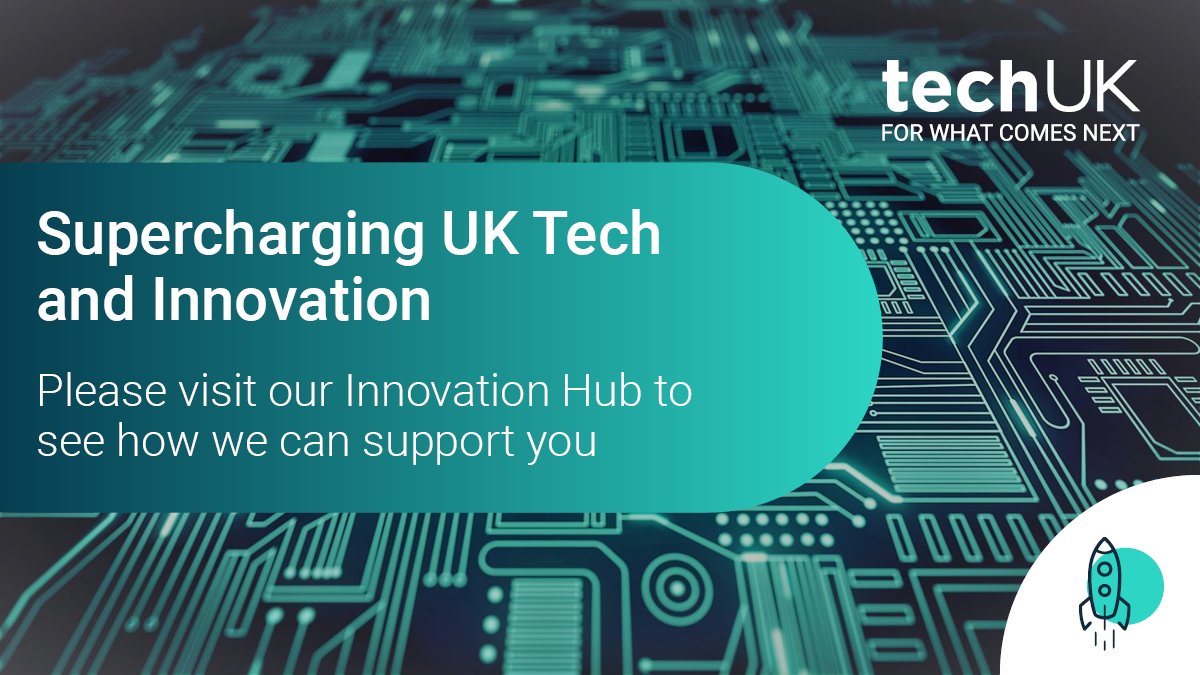 Technology and Innovation updates
Sign-up to get the latest updates and opportunities from our Technology and Innovation and AI programmes.
---
Join us at London Tech Week 2023
London Tech Week (12-16 June) is a global celebration of tech, uniting the most innovative thinkers and talent of tomorrow in a week-long festival. Showcasing how tech is transforming business and society, London Tech Week drives thought provoking conversations around innovation, diversity and transformation, providing a platform for the tech ecosystem to come together to drive change.
techUK will be running a number of fringe events throughout the week, click on the links below for more information:
6 June: Tech Policy Leadership Conference 2023
7 June: Launch of the DSIT Portfolio of AI Assurance Techniques
12 June - International Telecoms Conference – In Partnership with DSIT
13 June - How can the energy sector leverage digitalisation for long-term energy resiliency?
14 June - Recruiting top talent as an SME
14 June - UK-Vietnam Tech Workshop
14 June - Report Launch: State of the Connected Home 2023
14 June - What makes the West Midlands a leading UK location For Emerging Tech?
15 June - Connected cars in London – the key to a smart city?
15 June - Tech Trade and Sustainability Conference
15 June - Supporting SMEs to partner with System Integrators