Did you know the West Midlands has the highest number of emerging tech companies outside of London – more than both Manchester and Leeds? Or that the region is recognised as the UK's fastest growing tech sector by the UK Government? Join us to discover why international tech companies are choosing the West Midlands as their destination of choice to enter and grow in the UK market.
In partnership with techUK, West Midlands Growth Company welcomes you to, "What makes the West Midlands a leading UK location for emerging tech?"; an interactive event featuring panel discussions, networking opportunities and a cutting-edge tech demonstration held during London Tech Week.
Featuring engaging talks from tech industry experts, delegates can uncover a wealth of business growth and innovation opportunities available for next-generation tech businesses in the West Midlands, from the region's world-class universities, state-of-the-art R&D facilities and deep pool of tech talent to industry-leading business accelerator programmes.
Looking to enter the UK market? Uncover more about our game changing Global Growth Programme; an exciting initiative providing fully funded UK market entry support for international companies.
Stay tuned as we announce more speakers shortly. Spaces are limited, so register now to secure your place!
---
---
techUK – Building Stronger Local Economies
techUK champions the tech sector throughout the UK. We work with local authorities, devolved government, and local and national policy makers to advocate for the tech sector in strengthening economic growth and resilience. We provide opportunities for our members and local stakeholders to meet, build relationships, and collaborate to drive forward local projects. For more information or to get in touch, please visit our Nations and Regions Hub and click 'contact us'.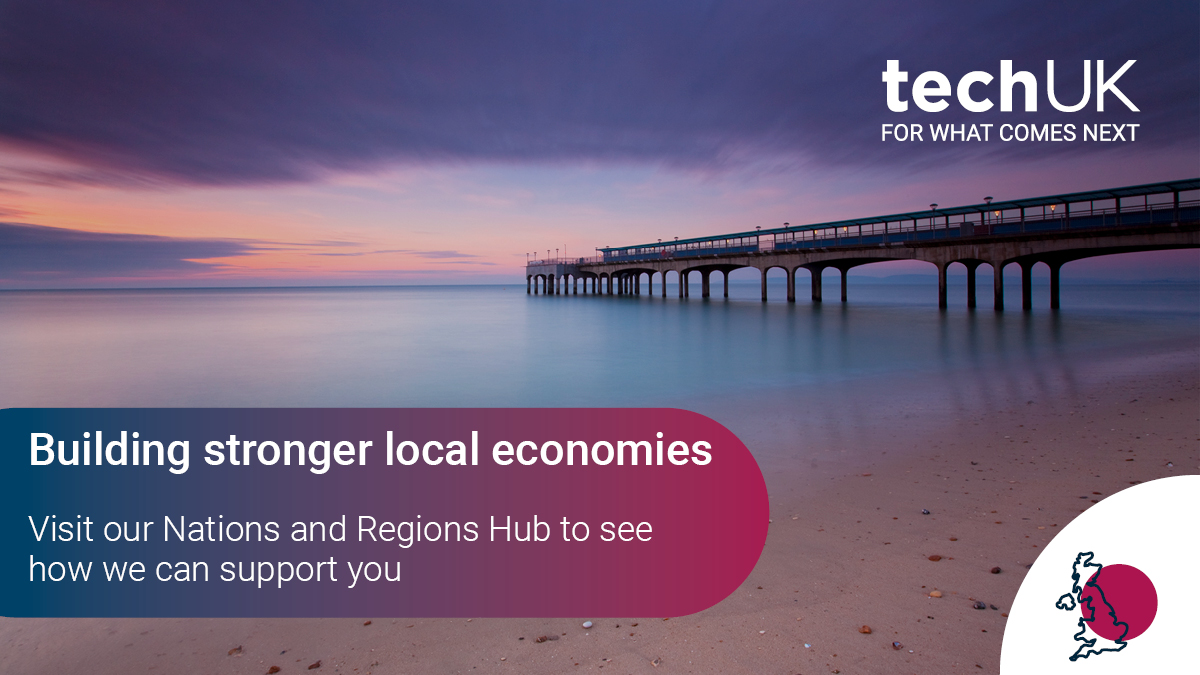 Upcoming nations and regions events
Nations and Regions updates
Sign-up to get the latest updates and opportunities from our Nations and Regions programme.
---
Join us at London Tech Week 2023
London Tech Week (12-16 June) is a global celebration of tech, uniting the most innovative thinkers and talent of tomorrow in a week-long festival. Showcasing how tech is transforming business and society, London Tech Week drives thought provoking conversations around innovation, diversity and transformation, providing a platform for the tech ecosystem to come together to drive change.
techUK will be running a number of fringe events throughout the week, click on the links below for more information:
6 June: Tech Policy Leadership Conference 2023
7 June: Launch of the DSIT Portfolio of AI Assurance Techniques
12 June - International Telecoms Conference – In Partnership with DSIT
13 June - How can the energy sector leverage digitalisation for long-term energy resiliency?
14 June - Recruiting top talent as an SME
14 June - UK-Vietnam Tech Workshop
14 June - Report Launch: State of the Connected Home 2023
14 June - What makes the West Midlands a leading UK location For Emerging Tech?
15 June - Connected cars in London – the key to a smart city?
15 June - Tech Trade and Sustainability Conference
15 June - Supporting SMEs to partner with System Integrators