Event round-up - Industries of the Future: Energy
Exploring the Intersection of Technology and Energy at London Tech Week
The recent event, held during London Tech Week and organised in collaboration with our Smart Energy and Utilities Group as part of both tech UK's Industries of the Future series and innovation policy campaign: Supercharging UK Tech, brought together industry experts and stakeholders to explore the topic of leveraging digitalisation for long-term energy resiliency. With a shared focus on enabling, accelerating, and applying technology in various industries, the event aimed to empower the energy sector to lead in tech and innovation while addressing challenges related to productivity, resiliency, and achieving netzero goals. 
The event showcased the transformative power of digitalisation, highlighting its potential to revolutionise the energy sector and pave the way for a more sustainable and resilient future. 
---
Setting the Stage for Exploration
The session began with Laura Foster, Head of Tech and Innovation at techUK, emphasising the event's primary objective: to explore how digitalisation can empower the energy sector to lead in tech and innovation, while simultaneously addressing challenges related to productivity, resiliency, and achieving net zero goals. Laura introduced the esteemed panel of industry experts who joined techUK for the discussion: 
Dhara Vyas, Deputy Chief Executive, EnergyUK 

Simon Bennett, Global Head of Research, AVEVA 

Bryan Hill, Technology Strategist, Microsoft 

Teodora Kaneva, Head of Smart Infrastructure and Systems, techUK 

Terry Harding, EECN Project Lead: Digital, Energy Systems Catapult 

Laura Foster, Head of tech and Innovation, techUK
Contextualising the Energy Sector's Challenges and Opportunities
Dhara Vyas, Deputy Chief Executive for Energy UK, provided valuable context by highlighting the profound impact of recent events on the energy sector, such as the pandemic and the recent energy price increase challenges. She emphasised the significant opportunities presented by consumer data, smart meters, and digital technologies in practical applications within the energy sector. 
Technology Partnerships for Resiliency
As the conversation progressed, Brian Hill, technology strategist at Microsoft, shed light on the company's efforts in emerging technologies and energy resiliency. Collaboration emerged as a recurring theme throughout the discussion, and a few successful partnerships were highlighted. One such example was the collaboration with Blackshark AI to leverage their technology in rendering 3D imagery for offshore wind farms. The conversation then turned to the concept of digital twins as a powerful tool for engaging communities and effectively managing concerns related to infrastructure projects.
Unleashing Energy Efficiency: Collaboration, Optimisation, Behaviour, and Security
Terry Harding from Energy Systems Catapult highlighted the energy efficiency of communication networks, and the significance of collaboration and optimisation. The project assessed the energy efficiency of telecommunication networks infrastructure sector, resulting in a white paper with evidence based recommendations. These recommendations covered diverse use cases, including emergency services, transport, manufacturing, and broadcasting. 
As the discussion turned to what the impact of consumer markets on energy demand would be, the panelists noted that operators are facing pressure to deliver more data at affordable prices. They also identified streaming services as major contributors to energy consumption, emphasising the need for education or market interventions to influence consumer behaviour. Additionally, small, and medium-sized businesses were recognised as requiring support in adapting to sector changes and effectively measuring their energy usage. 
The discussion underscored the global competition for investment in low-carbon technologies and emphasised the importance of improving low carbon initiatives. Panelists highlighted that investment in low carbon technologies should encompass the entire energy system, going beyond power generation alone. When speaking about key actions recommended for the government, they included addressing barriers, promoting behaviour change, and fostering standardisation in lowcarbon initiatives. 
Furthermore, digital resilience and security emerged as critical considerations for the energy network. Panelists agreed and deemed collaborative and risk-based approaches, as well as monitoring and securing assets across different levels of the energy system as essential to ensure digital security and modernisation. Here, initiatives such as the National Underground Asset Register were praised as effective models for data sharing enabling enhanced collaboration and information exchange. 
A Roadmap to Net Zero
The event concluded with a resounding call for a comprehensive roadmap outlining the energy vision for the country. One that incorporates different digital technologies as means to deliver net zero. Panelists recognised technologies such as data and low voltage monitoring as enablers of smart grids and new business models. Similarly, flexibility, innovation, and a clear vision were deemed essential in unlocking the energy sector's full potential and achieving the ambitious net zero target within a relatively short timeframe. The panel emphasised that the digitalisation of distribution networks plays a pivotal role in leveraging existing capabilities, promoting local generation, and alleviating pressure on the wider network. Digital assets on the grid would offer better control and understanding of the energy system, thereby improving resiliency, and identifying pain points. However, it was acknowledged that digitalisation must be carried out with utmost consideration for security, resiliency, and local level control. 
Collaboration, Regulation, and a Unified Vision
The insights and recommendations shared during the event underscored the significance of collaboration, data sharing, effective regulation, and a unified vision in breaking down barriers, achieving ambitious net zero goals and delivering sustainable solutions for a greener future. Consistency and stability from the UK government were identified as crucial factors in providing confidence to customers and the energy sector, fostering a favorable environment for innovation and investment, and ensuring long-term resilience in the energy sector.
---
Click below to view our other Supercharging Innovation series:
Click below to view our other Supercharging Innovation series:
---
techUK – Supercharging UK Tech and Innovation
The opportunities of innovation are endless. Automation, IoT, AI, Edge, Quantum, Drones and High Performance Computing all have the power to transform the UK. techUK members lead the development of these technologies. Together we are working with Government and other stakeholders to address tech innovation priorities and build an innovation ecosystem that will benefit people, society, economy and the planet - and supercharge the UK as a global leader in tech and innovation.
For more information, or to get in touch, please visit our Innovation Hub and click 'contact us'.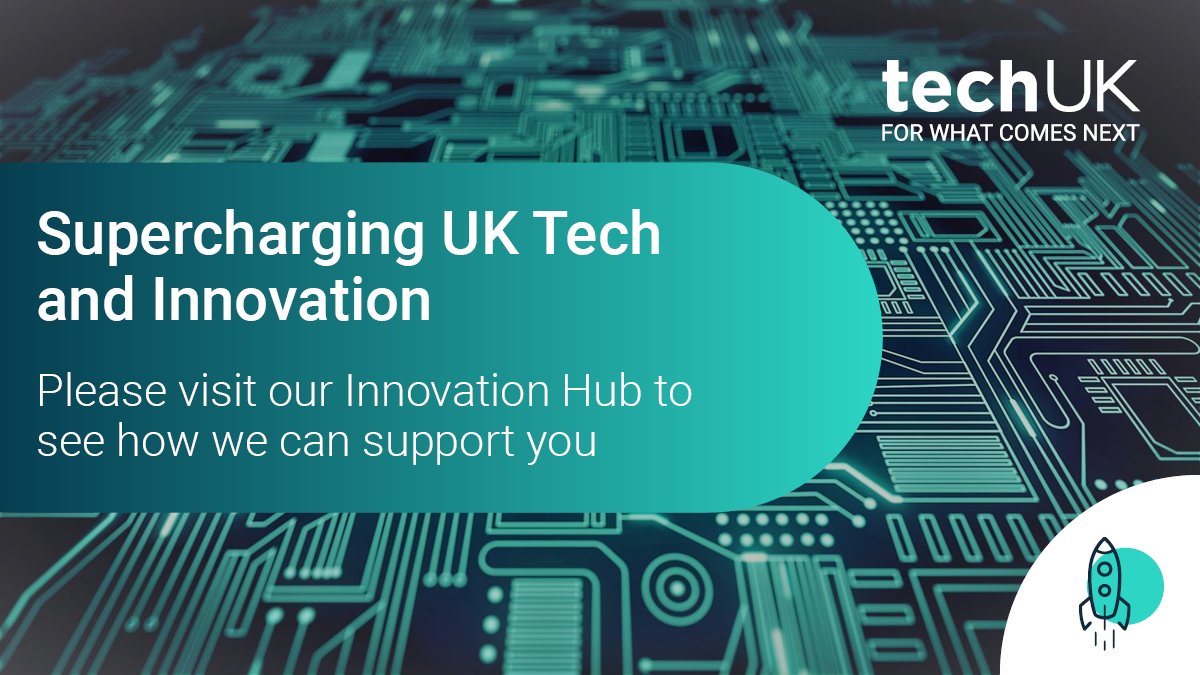 Technology and Innovation updates
Sign-up to get the latest updates and opportunities from our Technology and Innovation and AI programmes.
---
Join the Smart Energy and Utilities Group
The Smart Energy and Utilities Programme provides a strong platform of technological solutions in support of delivering a competitive, dynamic, and flexible market. The aim of the programme is to provide leadership in emerging technologies and innovation benefits with a focus on decarbonisation, affordability, accessibility and reliability.
---
---
For more information, please contact: