Professor Paul Monks is the Chief Scientific Adviser (CSA) for the Department for Energy Security and Net Zero. As CSA, he delivers independent and impartial scientific advice to Ministers and policy makers across the department's portfolio.
The Department for Energy Security and Net Zero CSA portfolio spans a wide range of policy areas, including energy (such as nuclear (fission and fusion), geothermal and hydrogen), climate change, medical radionuclides, and national security. His role also covers advising on current and ongoing issues faced by UK, with recent focus on the critical role of science in supporting sustainable, resilient and measurable Net Zero and the challenges of delivering national and global decarbonisation.
Professor Paul Monks also works closely with the Government Chief Scientific Adviser, other Departmental CSAs, and the department's Chief Economist, to strengthen the links within and across departments, encouraging effective engagement and knowledge sharing, and to support delivery of a robust evidence base to underpin policy decisions.
Throughout the COVID-19 pandemic, as an active member of COVID-19 SAGE, and as co-chair of SAGE-EMG subgroup, Professor Paul Monks has also input to developing and improving understanding of the impacts of the pandemic, including on events such as weddings, nightclubs and festivals, and advised on the development and evolution of public guidelines.
Prior to joining the department, Professor Paul Monks was Pro-Vice Chancellor and Head of College of Science and Engineering at the University of Leicester, where he remains a Professor in Atmospheric Chemistry and Earth Observation Science.
Join this briefing to hear the CSA discuss:
the role of the CSA, within the DESNZ
S&T priorities - links with UK MoD, energy security, resilience of critical national infrastructure, net-zero technology capabilities and how AI can be used to drive energy efficiencies
Role of digital in de-carbonisation and net-zero
Cyber threats in long-life sectors such as nuclear / CNI
Resilience of energy systems
The session will close with a Q&A with members.
---
techUK - Committed to Climate Action
Visit our Climate Action Hub to learn more or to register for regular updates.
By 2030, digital technology can cut global emissions by 15%. Cloud computing, 5G, AI and IoT have the potential to support dramatic reductions in carbon emissions in sectors such as transport, agriculture, and manufacturing. techUK is working to foster the right policy framework and leadership so we can all play our part. For more information on how techUK can support you, please visit our Climate Action Hub and click 'contact us'.
Climate, Environment and Sustainability updates
Sign-up to get the latest updates and opportunities from our Climate, Environment and Sustainability programme.
Upcoming climate events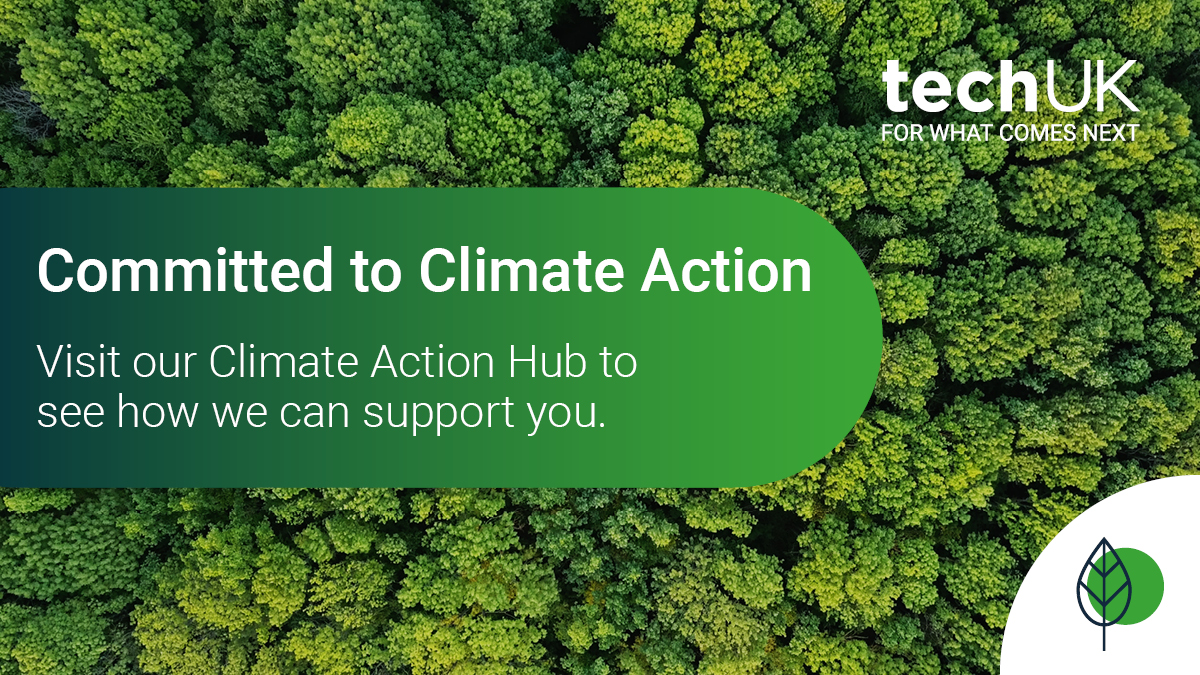 Climate, Environment and Sustainability
Learn more about our Climate, Environment and Sustainability programme, register for events and join related groups here.