Sustainability is fast becoming a priority for every sector in the UK economy. A combination of public pressure, business resilience and regulation are leading businesses to consider how they can improve their ESG credentials. This comes with many challenges which technology strives to address, but these challenges are compounded when the complexity of international trade relations are factored in.
Countries across the world are all at different stages on their sustainability journey and all have competing domestic priorities which they have to contend with. We believe that the deployment of digital technology can improve the adoption of sustainable trade practices across the world. Policy can also be designed to scale the trade in clean tech globally, helping to decarbonise other sectors like energy and agriculture.
This event will look at international trade in the tech sector through the lens of sustainability. The day's agenda will include:
Free Trade Agreements and the role of sustainable trade chapters for sustainability

Increasing the trade of clean tech between the UK and Non-EU countries

Digital transparency for sustainable trade and supply chain digitalisation.
We will hear from academics, NGOs, the business community, and Government on the current trends in these three areas and discuss implications and opportunities for the tech economy in the UK.
Agenda
13:30 – 14:30

5 mins intros

40 min panel

10 min Q&A

Panel: International Trade and The Sustainability Agenda

Review the role of Sustainable Trade Chapters in driving sustainability in new and existing FTAs.

Sustainability challenges when establishing new FTAs: Countries with poor ESG credentials, supply chain risks inc. forced labour and environmental harms.

Lessons learned in promoting sustainable trade: Tech supply chains/leveraging FTAs

Chair: Emily Reid (University of Southampton)

George Riddell (EY)

Ana Nishnianidze (Austrade)

Chris Southworth (ICC)

14:30-14:45

Short Break

14:45 – 15:15

Presentations: Tech against exploitation in the DRC

Toby Fenton (Trilateral Research)

15:15 – 16:15

5 mins intros

40 min panel

10 min Q&A

Panel: The Role of Tech in Trade Sustainability

Digital Transparency in supply chains

Tackling exploitation in country (Voice Recognition Tech)

Trade "wins" for clean tech

How can clean tech be targeted in new FTAs

Joshua Rayer (Ecologi)

Carl Kirchhoff (Turnbull.app)

Patrice Bendon (Dun & Bradstreet)

16:15

Close & Networking
For more information please contact:
---
techUK – Committed to Climate Action
By 2030, digital technology can cut global emissions by 15%. Cloud computing, 5G, AI and IoT have the potential to support dramatic reductions in carbon emissions in sectors such as transport, agriculture, and manufacturing. techUK is working to foster the right policy framework and leadership so we can all play our part. For more information on how techUK can support you, please visit our Climate Action Hub and click 'contact us'.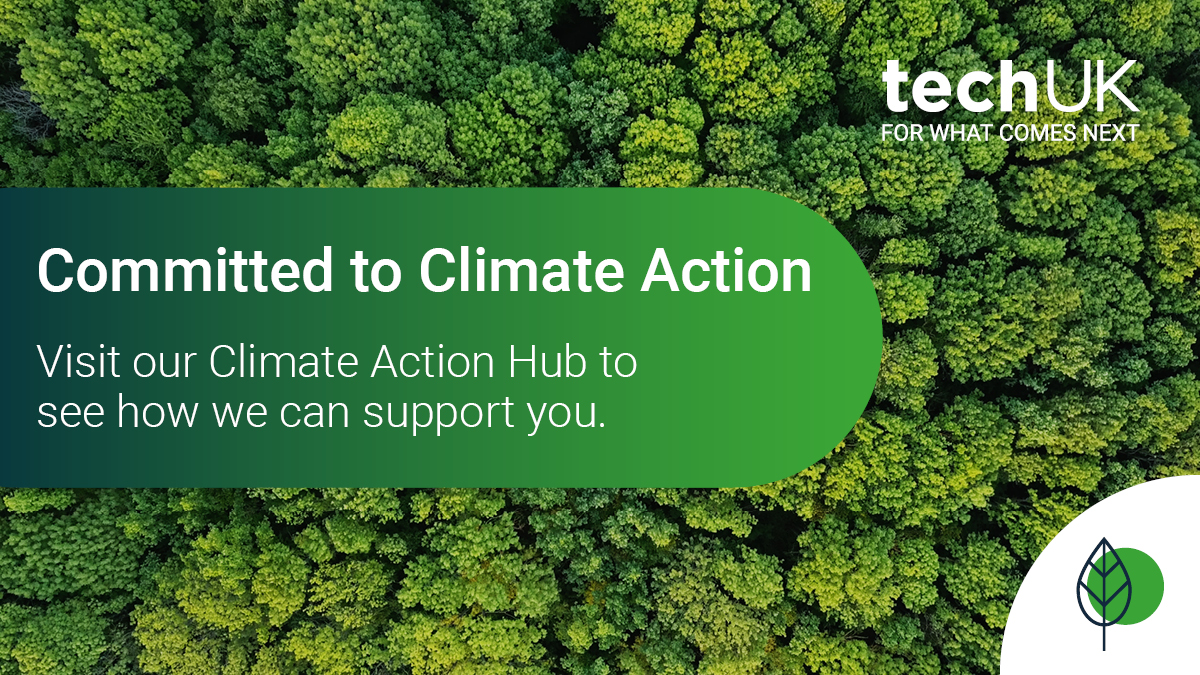 Climate, Environment and Sustainability updates
Sign-up to get the latest updates and opportunities from our Climate, Environment and Sustainability programme.
---
Join us at London Tech Week 2023
London Tech Week (12-16 June) is a global celebration of tech, uniting the most innovative thinkers and talent of tomorrow in a week-long festival. Showcasing how tech is transforming business and society, London Tech Week drives thought provoking conversations around innovation, diversity and transformation, providing a platform for the tech ecosystem to come together to drive change.
techUK will be running a number of fringe events throughout the week, click on the links below for more information:
6 June: Tech Policy Leadership Conference 2023
7 June: Launch of the DSIT Portfolio of AI Assurance Techniques
12 June - International Telecoms Conference – In Partnership with DSIT
13 June - How can the energy sector leverage digitalisation for long-term energy resiliency?
14 June - Recruiting top talent as an SME
14 June - UK-Vietnam Tech Workshop
14 June - Report Launch: State of the Connected Home 2023
14 June - What makes the West Midlands a leading UK location For Emerging Tech?
15 June - Connected cars in London – the key to a smart city?
15 June - Tech Trade and Sustainability Conference
15 June - Supporting SMEs to partner with System Integrators