Public Accounts Committee (PAC) publishes a report on support for innovation to deliver net zero
The Public Accounts Committee (PAC) has released a report on support for innovation to deliver net zero, highlighting concerns regarding the Government's lack of clear direction on green technology.
The PAC identified that the Government's current level of support for innovation falls short of meeting net zero goals. The Committee criticised the short-term nature of the Government's plans which pose a significant risk to the attraction of substantial private investment crucial for reaching net zero by 2050. The inquiry also unveiled difficulties businesses face in accessing support, a lack of attention to consumer challenges in adopting low-carbon technologies, and a fragmented oversight structure hindering progress assessment. According to the Committee, the absence of defined success criteria, tolerance for failure, and a transparent reporting mechanism further weaken the Government's net zero strategy.
The report makes a number of recommendations on how the Government could improve its support for technological development in this area, namely:
DESNZ, in collaboration with HM Treasury, should outline its plans to support priority technologies beyond the scope of the spending review period. This includes providing insight into potential funding support and explaining the implications of recent announcements regarding the deferred phasing out of new fossil fuel vehicles and heating systems.
In preparation for the upcoming spending review, HM Treasury, in conjunction with DESNZ and DSIT, should assess whether the current funding options are optimal for supporting the rapid innovation required to address various aspects of achieving net zero.
During future reviews of progress related to innovation priorities, DESNZ, working collaboratively with other government departments, should commit to an assessment of the challenges consumers may encounter in adopting new green technologies.
DESNZ, in partnership with other departments, should define clear responsibilities for overseeing the progress of net zero technologies across the Government. These responsibilities should encompass an examination of whether potential obstacles to the deployment of viable technologies are identified early enough by policy teams, regulators, the investment community and other stakeholders.
In order to facilitate the benchmarking of progress and ensure that taxpayer support is accurately targeted, the Government should articulate the outcomes, as opposed to the outputs, that it aims to achieve through each technology in the short, medium, and longer terms.
For each technology domain, the Government should publicly report on progress against its defined measures of success, making it possible to determine whether the initial expectations for each technology are being met.
The Government has until 15 January to respond to the Committee.
---
techUK - Committed to Climate Action
Visit our Climate Action Hub to learn more or to register for regular updates.
By 2030, digital technology can cut global emissions by 15%. Cloud computing, 5G, AI and IoT have the potential to support dramatic reductions in carbon emissions in sectors such as transport, agriculture, and manufacturing. techUK is working to foster the right policy framework and leadership so we can all play our part. For more information on how techUK can support you, please visit our Climate Action Hub and click 'contact us'.
Climate, Environment and Sustainability updates
Sign-up to get the latest updates and opportunities from our Climate, Environment and Sustainability programme.
Upcoming climate events
7 – 8 February 2024
ONE Tech Hub, Schoolhill, Aberdeen AB10 1JQ
Market briefing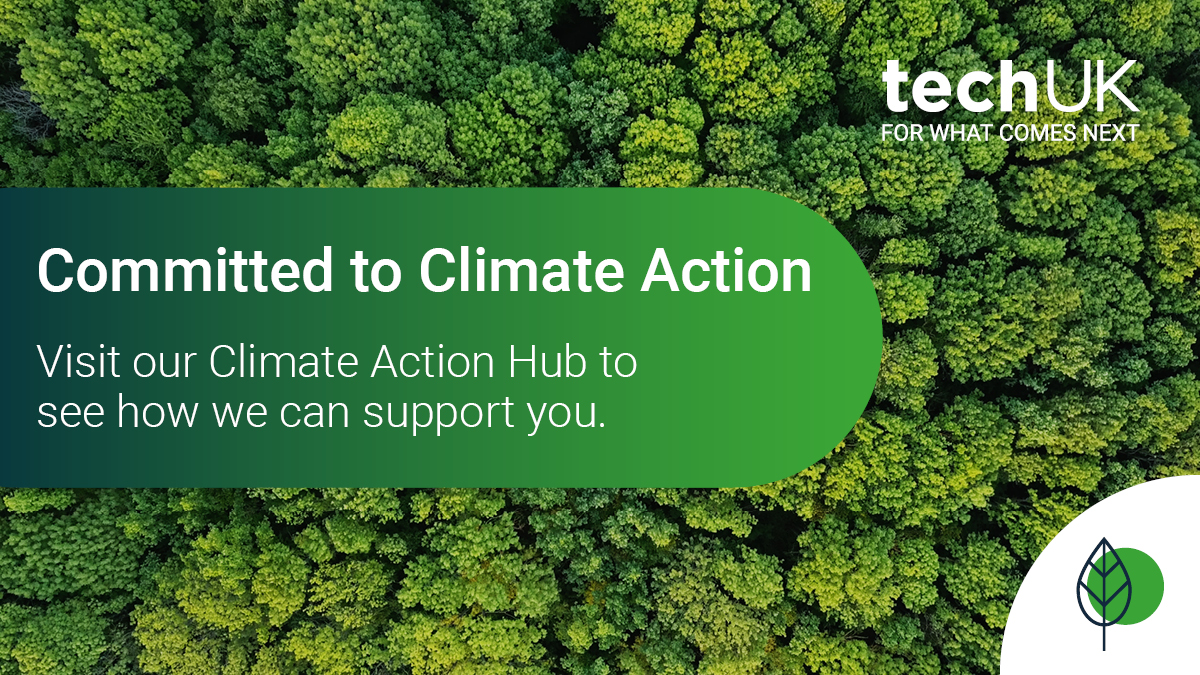 Climate, Environment and Sustainability
Learn more about our Climate, Environment and Sustainability programme, register for events and join related groups here.
Contact the team