How can we skill tech to reach net zero goals?
On 6 June, as part of its London Tech Week events programme, techUK hosted a panel discussion exploring how we can skill tech to reach net zero goals. The panel engaged in a fascinating discussion that looked at embedding sustainability principles in organisations, approaches to upskilling, and the role of the education system in fostering green, technical skills.
The panel included:
You can watch the full webinar here or read our summary of the key insights below:
---
Industry perspectives on green skills
The session opened with remarks from the panel, providing their perspective on the skills for net zero challenge and the work of their organisation.
Patrick Brodie, RPC, highlighted the Great Resignation – or 'Great Recalibration' – and present low levels of unemployment as driving new possibilities of choice amongst the workforce, with individuals driven by career fulfilment and alignment of selves with their employer's reputation. A critical element of that is an organisation's approach to the environment. He said RPC has been looking at embedding environmental obligations into employment contracts to drive individual and corporate behaviour, the importance of adequate reporting provisions for trust, as well as the diversity, equity, and inclusion dimension of changing job roles and other discrimination issues.
Elena Avesani, Oracle, noted that Oracle has been looking at sustainability for many years, with her own work focused on implementing Oracle's own sustainability strategy and working with customers to help them understand how Oracle technology can enable them to run sustainability programmes of their own. A key pillar of Oracle's strategy is centred on employee engagement, as all employees need to understand it and how they can contribute in order to help articulate Oracle's sustainability offering in conversations with customers.
Jannes Klaas, McKinsey and Company, told attendees that as organisations seek to become net zero, they will require lots of data on aspects of their business such as supply chains, as well as analytical tools to understand how processes can be decarbonised. McKinsey have been developing a growing suite of tools to support organisations in this transition. The importance of data and analytics underpins the importance of digital skills for net zero.
Deepak Malhotra, Infosys, said that many organisations struggle to report where their emissions lie and drive the right insights. In areas such as energy and utilities, tech adoption has been slow and must accelerate. Infosys itself reached its net zero target in 2019 and has been working with organisations on data and data quality to support their journeys, but in doing so has seen vast digital skills gaps in areas from data and AI to cloud.
Embedding sustainability in organisations
On the topic of supporting staff and organisations to upskill to achieve net zero goals, Patrick Brodie emphasised the importance of converting an organisation's knowledge of the skills they need into behaviours and values. By doing so, organisations can embed the approach of an individual to support and collaborate on environment and sustainability issues. Such values include integrity – which is linked to trust in organisations – and respect.
Following on this point, Elena Avesani said that the first key skill for organisations to move to net zero is change management, with roles requiring flexible and nimble people in order to drive organisational change. At the level of expertise, Elena spoke of the importance of first learning a trade – such as engineering or finance – and then bringing sustainability into the function where you are an expert.
The idea of first learning a trade was echoed by Jannes Klaas, who added that the shift towards net zero is driven by data points lots of organisations don't have, with a need for classical data skills such as data scientists and machine learning engineers. He said that the framing is important; as organisations change employees should no longer just be executing BAU, instead organisations should empower employees to seek out new opportunities and roles for their organisation to play around sustainability.
Empowering employees to play their part will be key because, as Jannes noted, it is a challenge to hire sustainability experts with no firm definition of what such a role might entail. Elena Avesani highlighted Oracle's work on champions and its Green Team programme in bringing employees along on the sustainability journey. Oracle has 45 Green Teams globally that are employee-led that have become the main channel for work on sustainability issues, sharing ideas and undertaking new green initiatives.
Upskilling for net zero
Addressing the balance between recruiting sustainability experts and upskilling current staff, Deepak Malhotra said that if organisations opt for recruitment existing skills gaps are only perpetuated, underscoring the importance of upskilling – as well as working with academia and providing effective onboarding to set people up for success in the workplace. When Infosys sought to reskill its workforce to become more digital in the early 2010s, it ran a long-term reskilling programme driven by a tech platform with personalised learning courses focused on digital services.
The upskilling journey should never end, and Jannes Klaas pointed to the key role modular online learning can play, as it is cheap and accessible for businesses to provide.
A key part of upskilling for net zero is to persuade people in organisations that it is the right direction to move in, as Patrick Brodie noted. Some individuals may resist change as it impacts their area of work, meaning it is important for ethical leadership to create security and assurance around their future whilst driving positive social change.
When it comes to government and educational policies around STEM, Patrick Brodie said that as the state position can be difficult to change, organisations must focus on creating different avenues for people to acquire those skills. Deepak Malhotra mentioned the digital divide in the UK and beyond as something that needs to be addressed by governments as a priority to give individuals the basic digital skills to become employable, and highlighted the role that international organisations can play working with regional governments and regulators.
Sustainability education in schools
Speaking on sustainability education in schools, Elena Avesani referenced an Aldersgate Group report which recommended that government include foundational sustainability knowledge in primary and secondary education, noting that this means first training teachers on these issues. Oracle has also supported students to gain knowledge on sustainability through its Oracle Education Foundation, running workshops on topics such as the circular economy to create 'change-makers' who are able to take acquired knowledge back to their schools and communities.
Patrick Brodie emphasised that when creating systems for knowledge acquisition, humans are absorbed by anecdotes and storytelling. In STEM, from children to adults, there is a level of conformity – e.g., around gender roles – that needs to be broken to build a new conformity around principles such as lifelong learning. Patrick highlighted the effectiveness of simple messages and how small changes around things like nudges and language choice can create such new conformities, encouraging more and better learning.
Taking a look ahead, Jannes Klaas observed huge uncertainty around what technologies will be built and how sectors will change as a result of the sustainability transition. This poses challenges for the conversation on skills, and it is also hard for the education system to keep pace with technological advancements. The focus for education, especially in schools, should therefore centre on the idea of adaptability and dealing with constant change.
---
techUK - Committed to Climate Action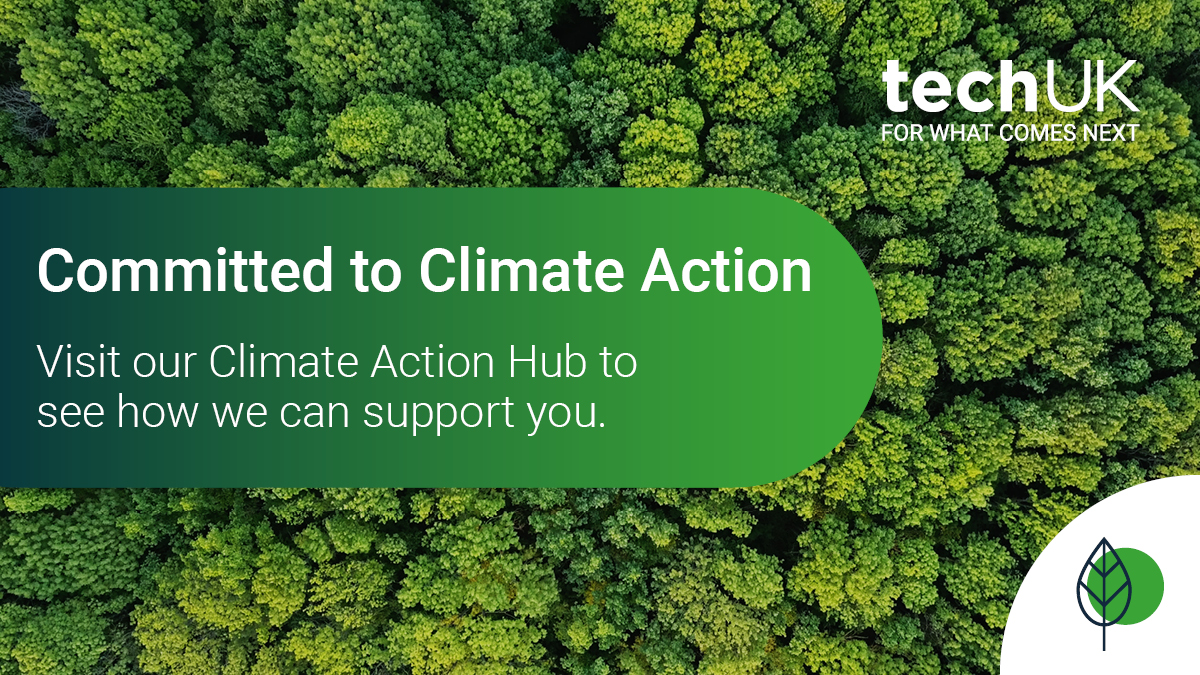 ---
Discover more techUK activity focused on ensuring the UK has the skills it needs to become a world-leading digital economy on our Jobs and Skills hub. Contact: