Event round-up - Industries of the Future: Digital Manufacturing
The Industries of the Future series explores how emerging and enabling technologies are transforming key industries around the world, assessing the challenges and opportunities for UK businesses, and considering what more we can do to accelerate digital transformation so that innovation is applied to the real economy in ways that change lives.
On 29 March 2023, techUK hosted this webinar in partnership with Make UK. It explored the role of cloud and edge computing, AI, and IoT in accelerating digital transformation in the manufacturing sector.
The panel included:
Nina Gryf, Senior Policy Manager, Make UK
Brian Lappin, Head of Product Management, BT
Julian Wiggins, Solutions Director, Rackspace Technology
Marcus Bonner, Chief Technologist, Hewlett Packard Enterprise
You can watch the full webinar here, or read our summary of the key insights below:
Please note that the below is a summary of the event, and readers are encouraged to watch the webinar to understand the full details of the discussion.
The session opened with a general discussion of how cloud, edge, AI and IoT are converging to enable digital transformation in manufacturing.
Digital manufacturing has huge potential to improve the efficiency of production processes and maintenance cycles, increase productivity, and enable better synergy with upstream and downstream partners. However, this does come with challenges like new cybersecurity risks and effectively managing the huge volume of data produced by these platforms.
Nina set out how UK manufacturers were responding to these opportunities, with increased investment in digital technologies accelerated by the pandemic, Brexit, supply chain volatility and inflation. The panel also discussed the impact of sustainability commitments and energy prices on driving cost optimisation through digital transformation.
The panel explored some of the challenges that are holding UK businesses back from securing the full benefits of digital transformation, including access to skills, access to investment, and, particularly for SMEs, understanding the compatibility between the technologies on offer and the machinery they already have. The panel agreed that the UK still lags behind the EU and US in terms of digital adoption in manufacturing, with urgent action needed on digital skills.
The discussed moved to an exploration of cybersecurity risks facing UK manufacturers, with MAKE UK and Blackberry research suggesting that nearly half of Britain's manufacturers had been a victim of cyber-crime in the preceding 12 months, and 37% of respondents citing concerns about cybersecurity risk as a barrier to adopting more connected technologies in their organisation.
Skills shortages were also highlighted as a core challenge holding back UK manufacturers. The panel explored the role of automation in the evolving workforce requirements of manufacturers at different stages of a digital transformation journey and the critical importance of ensuring the existing workforce is supportive of the transformation to avoid negative perceptions of the future undermining the success of implementation.
Finally the panel explored the opportunities of digital transformation to help manufacturers be more energy and resource efficient, lower carbon footprints while cutting costs, and operate in a way that is more environmentally sustainable. Process optimisation, digital twins, and better use of data were highlighted as huge opportunities for UK manufacturers.
Closing comments:
To fully unlock productivity, we need to tackle the adoption gap that SMEs are facing. To have a big impact on economic prosperity we need the Government to fully back and financially support the rollout of the Made Smarter programme. - Nina Gryf, Make UK
We need [UK Government] to make it easier for SMEs to go into this space and provide them with talent, skills, consulting and expertise that they might not be able to afford individually. - Marcus Bonner, HPE
Focus on a use-case that will drive real value for you. Understand what the challenges will be. Do you have the right skills, connectivity, technology? What is your security posture? Think about all the things you need in place to make this a success. - Brian Lappin BT
As service providers we need to make sure the value of our offerings are clear. As consumers we need to be realistic about payback periods that might be needed to realise the benefits. These are enormously valuable technologies for this market and for the country, so it's incumbent on us to make sure we are putting the right steps in place for this to be successful. - Julian Wiggins, Rackspace
---
Click below to view our other Supercharging Innovation series:
Click below to view our other Supercharging Innovation series:
---
techUK – Supercharging UK Tech and Innovation
The opportunities of innovation are endless. Automation, IoT, AI, Edge, Quantum, Drones and High Performance Computing all have the power to transform the UK. techUK members lead the development of these technologies. Together we are working with Government and other stakeholders to address tech innovation priorities and build an innovation ecosystem that will benefit people, society, economy and the planet - and supercharge the UK as a global leader in tech and innovation.
For more information, or to get in touch, please visit our Innovation Hub and click 'contact us'.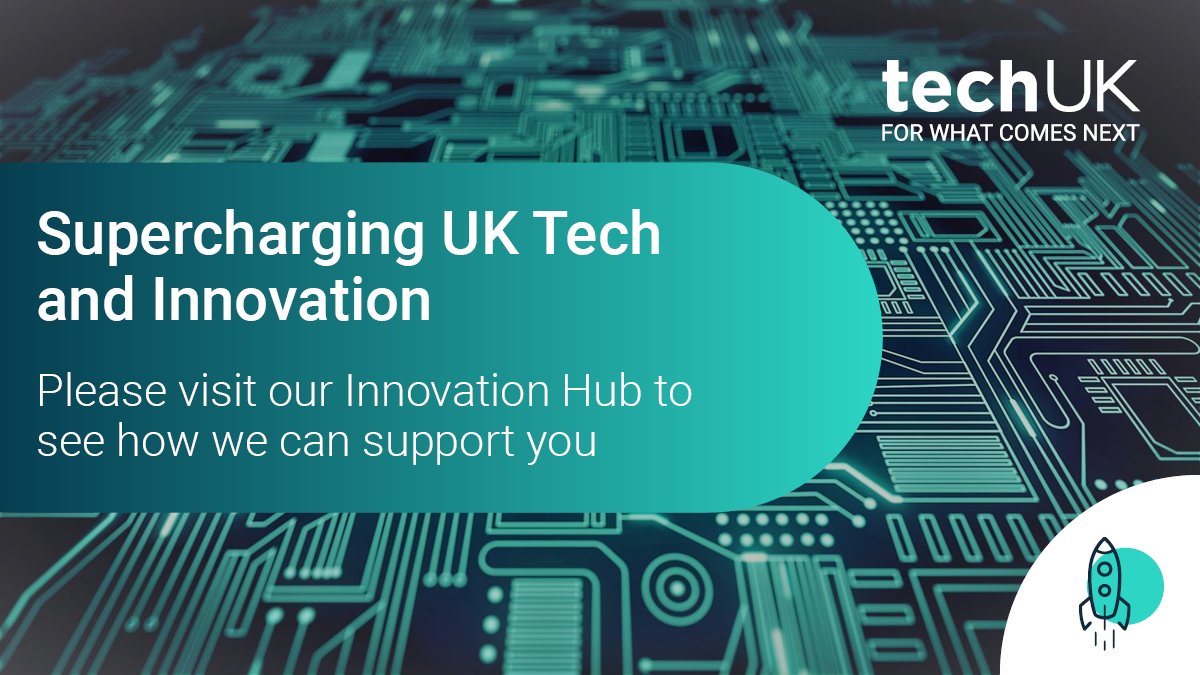 Technology and Innovation updates
Sign-up to get the latest updates and opportunities from our Technology and Innovation and AI programmes.
---
Keen to learn more? Get in touch: