Connecting the UK: driving levelling up through digital connectivity
As part of techUK's work as the Secretariat for the APPG for Broadband and Digital Communication, we hosted an event in the House of Lords on digital connectivity and the impact it can have on levelling up in collaboration with KPMG.
Speakers on the panel discussion included Selaine Saxby MP, Chair of the APPG on Broadband and Digital Communication; Matt Robinson, Head of Nations and Regions at techUK; Adam Hawksbee, Deputy Director and Head of Levelling Up at Onward; James Fredrickson, Director of Policy and Regulatory Affairs at Hyperoptic; and Christina Nielsen, Senior Researcher at Henham Strategy.
Cross-sector benefits of strong digital connectivity
Digital connectivity was highlighted in the discussion as one of the key factors that can support and improve an area's digital economy and is crucial for levelling up different regions. But the benefits that digital infrastructure can bring goes beyond simply the digital economy and often stretches into every sector affecting a local community.
For example, the Chair of the APPG Selaine Saxby MP spoke of how many students and schools within her constituency struggled during the Covid-19 pandemic with continuing online schooling and classes due to connectivity issues. This in turn has had an impact on proliferating the skills shortage and gaps that already existed within the area, in turn further affecting the wider local economy.
General misunderstanding over local digital connectivity needs
The panel discussed how many areas across the UK still struggle with basic broadband connectivity due to the misunderstanding of the local needs, especially the difference in needs faced by urban and rural areas. Considering the often-centralised nature of levelling up, the need for a better understanding of local economies and communities was raised in order to present solutions to regions that will actually bring a benefit.
The event took place the day after techUK launched its Local Digital Capital Index 2022, the second iteration of its landmark report that measures the strength of local digital ecosystems. Based on surveys of over 260 public sector, civic, academic and business leaders the report seeks to provide a detailed measure on the current state of the UK's digital economy, resources and infrastructure. techUK hopes to use the Index as a springboard to encourage investment and collaboration, bringing about further activity to different areas of the UK.
Exploring concerns and issues around digital connectivity at a more granular level allows us to provide more unique and targeted solutions to different areas of the UK.
For example, in terms of levelling up, there is the assumption that urban areas have good telecommunications infrastructure and are therefore able to access the benefits that such technology can bring. However, the Index identified that access to such connectivity was impacted by its affordability – therefore continuing to have an impact on the wider digital and local economy.
Communication around the rollout of infrastructure
When discussing the logistics of rolling out broadband it was mentioned that many areas experience duplicated infrastructure deployment whilst others receive little to no infrastructure– leaving some areas continually disconnected whilst nearby locations experience ever-improved high-quality broadband.
When discussing the logistics of rolling out broadband, communication between different broadband providers was mentioned to be a problem – and often the root cause of this duplicated rollout. Similarly, communication between those within the area and those coordinating the rollout of infrastructure was said to be a problem that worsened the deployment of vital telecoms infrastructure.
Local authorities and communities themselves have a role to play in ensuring that infrastructure rollout is efficient and effective, helping to coordinate the work that may be taking place between several different broadband companies.
Only once we improve digital connectivity in the nations and regions of the UK can we start to support and achieve thriving local digital economies – to the benefit of other sectors across the UK.
---
For more information on the work of the APPG see here.
For more information on the Local Digital Capital Index see here, and for the 2021 Index see here.
This event was hosted in collaboration between the APPG for Broadband and Digital Communication and techUK. It was kindly supported by KPMG. For more information about their infrastructure, government and healthcare practice see here.
The APPG for Broadband and Digital Communication seeks to further the rollout of broadband in rural and urban areas, and to look at digital communication across the UK. The APPG is chaired by Selaine Saxby, MP for North Devon and secretariat is provided by techUK - #APPGDigiComms
---
techUK – Building Stronger Local Economies
techUK champions the tech sector throughout the UK. We work with local authorities, devolved government, and local and national policy makers to advocate for the tech sector in strengthening economic growth and resilience. We provide opportunities for our members and local stakeholders to meet, build relationships, and collaborate to drive forward local projects. For more information or to get in touch, please visit our Nations and Regions Hub and click 'contact us'.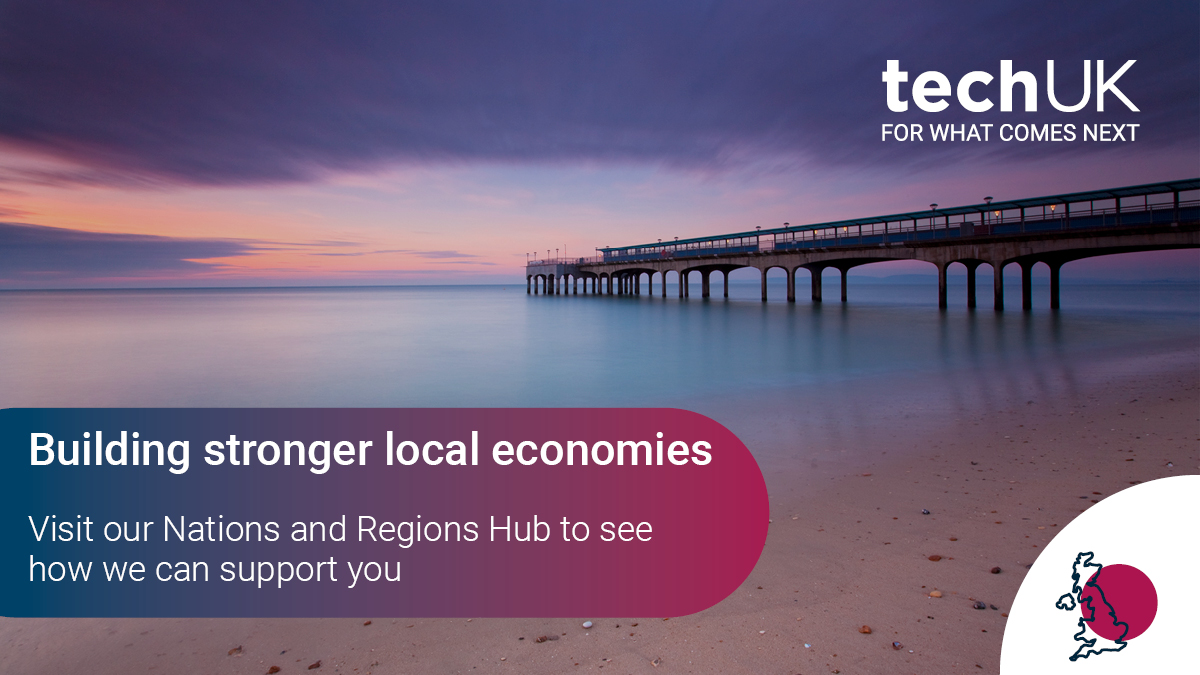 ---