Local Digital Capital describes the building blocks of strong place-based digital technology ecosystems. It does not just focus on the tech sector itself but looks outwards to assess the impact that technology is having in a locality.
Made up of eight inputs, we believe that it offers a new way of assessing the digital strengths of a nation or region, as well as offering a framework to understand tech's key role in levelling up.

Background
techUK developed the concept of Local Digital Capital from seven dialogues held over the second half of 2020. These dialogues took place across the four UK nations of Scotland, Wales, Northern Ireland, and England, including four English regions: The North East, West Midlands, Yorkshire and the Humber, and North West.
These dialogues included more than 260 local businesses, local and devolved government officials, local tech sector representatives, and start-ups, to better understand how the tech sector can help the economic recovery across the UK, solve local problems, and ensure that UK wide, national, and local policy is fit for purpose, reflecting local priorities and experiences. The clear prize that that campaign identified was a tech-savvy United Kingdom where all nations and regions can participate in, and benefit from, a rapidly digitising global economy.
Following on from those conversations, techUK released eight reports – one UK-wide report, and one from each of the devolved nations or regions: the North East, West Midlands, Scotland, Yorkshire and the Humber, North West, Wales, and Northern Ireland. Each report examined the state of Local Digital Capital in that particular nation or region, and how to strengthen each aspect of Local Digital Capital to support a return to growth.

The eight components
Local Digital Capital offers us an aggregated view that provides an understanding of the impact of digital technology in a particular area. The eight inputs that make up Local Digital Capital are a mix of tangible and intangible assets and inputs – much like the concept of human capital.

The metrics
| | |
| --- | --- |
| The eight components of Local Digital Capital | The metrics |
| Digital Skills: Digital skills range from being able to access basic public services online, to understanding the most advanced quantum computing. | Internet usage, adults using internet to access public services and basic skills. |
| Digital Adoption: The adoption of digital tech platforms, primarily software, by businesses (e.g., cloud, CRM, accounting, and team management software) – these tools allow businesses to increase productivity, efficiency, resilience, and agility, and enable future innovation and growth. | Tech jobs advertised, % of tech firm employees, businesses with essential digital skills, information and communication jobs, % of jobs in information and comms, finance, professional science and technical activities. |
| Data Ecosystems: Access to data and datasets allows governments, firms, and individuals to gain greater insights into local economies and societies. This requires better data collection and analysis to provide insight into the design of public services or new products. | Not enough data to provide a consistent metric. |
| Digital Infrastructure: This is about the physical infrastructure that creates the digital world and enables access. Greater speeds and higher levels of access allows more people to access digital tools and services, and weak connectivity and infrastructure can have a severe, highly localised effect. | Superfast, ultrafast and gigabit coverage. |
| Finance and Investment: The availability of capital and loans is key to ensure that more ideas are funded and can play a key role in boosting the attractiveness of a location for new businesses. | SME bank lending, equity finance and venture capital investment. |
| Research and Innovation: The funding and structure of investment into long-term innovation – to help new ideas and process improvements develop, as well as build towards long-term assets for the local economy like academic institutions and research facilities. | Total number of researchers, total R&I expenditure (public and private). |
| Trade Support: Guidance and information to allow SMEs and other businesses to navigate the complex requirements of exporting products to new markets. | Goods and services exports. |
| Collaboration and Coordination: Effective collaboration and coordination across and between public and private sector bodies is critical to success. This is key to delivering growth objectives and improving all other aspects of Local Digital Capital. | Not enough data to provide a consistent metric. |
The Local Digital Capital Index
techUK has worked with Henham Strategy to develop a Local Digital Capital Index (LDC Index).
There are a number of ambitions contained with this project. We are trying to create a model which is robust but also simple enough that it allows individuals in nations and regions to use it a year from now, by simply putting up to date figures into the model and seeing how Local Digital Capital changes year on year.
But more importantly, we want this to be a tool for policymakers, and a way of making the case for investing in regional digital economies as a part of the Levelling Up agenda.
We all know and understand that digitisation, digital skills and digital adoption are key drivers of productivity and economic growth. But what this LDC index will help us understand, and make the case for, is that there are disparities between regional digital economies, and to unlock economic growth in areas targeted for Levelling Up, digital and tech need to be a key part of the equation.  
In its inaugural publication, we sought to measure seven out of the eight components. We regarded Collaboration and Coordination as a "I know it when I see it" input but one that is very hard to measure across the different boundaries of devolution. The risk would be that it was always subjective and difficult to track. Of the remaining seven, in the end we only managed to measure six components, with relevant information on data ecosystems not passing our tests of measurable, repeatable and open data sources.
Local Digital Capital Index: 2021 Findings
Read our analysis of Local Digital Capital across the UK in 2021.
Local Digital Capital Index: 2022 Findings
Read our analysis of Local Digital Capital across the UK in 2022.
---
techUK – Building Stronger Local Economies
techUK champions the tech sector throughout the UK. We work with local authorities, devolved government, and local and national policy makers to advocate for the tech sector in strengthening economic growth and resilience. We provide opportunities for our members and local stakeholders to meet, build relationships, and collaborate to drive forward local projects. For more information or to get in touch, please visit our Nations and Regions Hub and click 'contact us'.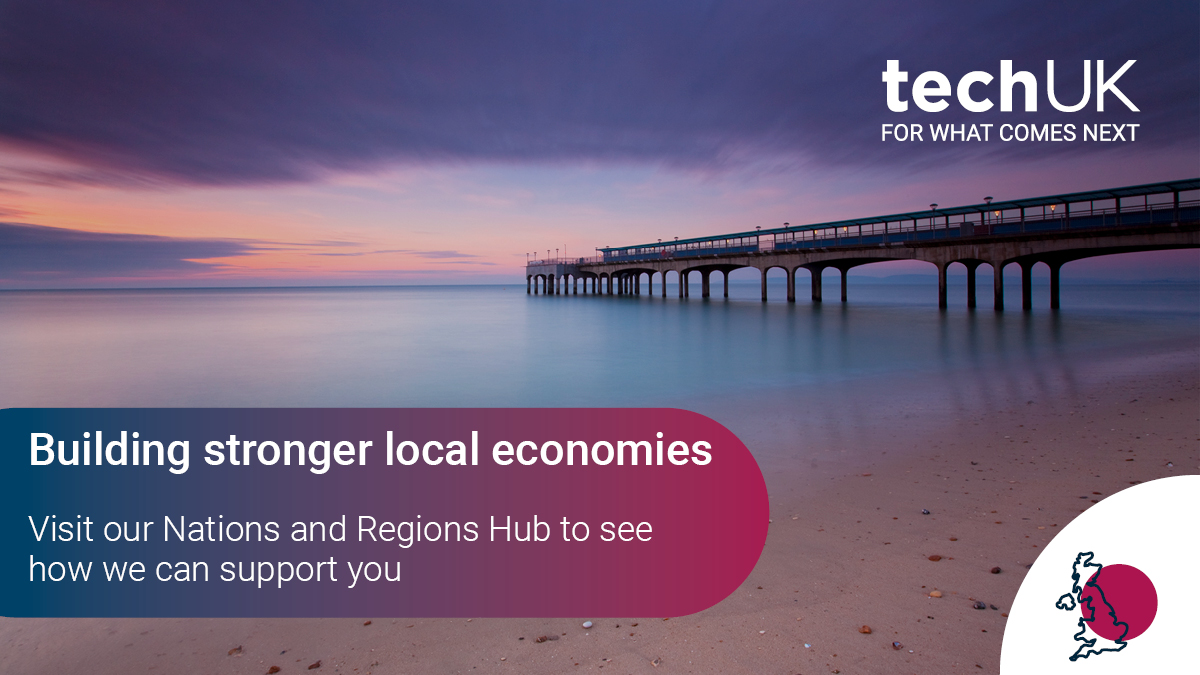 ---
For more information, please contact:
Matt Robinson
Matt is techUK's Head of Nations and Regions.
Matt is leading techUK's work with members and stakeholders across the UK to increase the Local Digital Capital across the UK's nation and regions, build communities and to ensure that digital technology plays a key part the post-COVID-19 levelling-up recovery.
Prior to joining techUK, Matt worked for several national education charities and membership bodies to develop their regional partnerships with schools, academy trusts, local authorities, and other stakeholders. He's also worked with local authority leaders and other stakeholders to engage communities, work with elected members and improve public services.
He holds a BA in Politics from the University of York and an MA in International Relations from the University of Leeds. Away from work he's a keen football fan and golfer.
If you'd like to find out more about our work in the nations and regions please get in touch with Matt:
Email:

Website: