techUK responds to PM's Net Zero and Grid Connections Announcements
Yesterday (20/09) Prime Minister Rishi Sunak made several significant announcements relating to the UK's Net Zero Strategy, Planning Policy Reform and Energy Grid System. These have created a mixture of cautious optimism, slight disappointment, and uncertainty for companies in the tech sector.

Net Zero Policies

The delay to phasing out the sale of new petrol and diesel vehicle sales from 2030 to 2035 has been met by disappointment from the clean technology sector, automotive and EV community. This move has been widely seen as a misstep in the UK's climate leadership bid, and undermines investment in the UK's clean technology sector, creating uncertainty for investors and businesses.

Rowing back on plans for gas boilers to be phased out from 2026, yesterday's announcement states the ban on installing fossil fuel powered boilers will be moved back to 2035. This is in direct opposition to the techUK recommendation to the Government (set out in our Tech Plan), that investment in home efficiency technologies be prioritised by the government. Heat pumps, smart home tech and electric boiler sales will be harmed in the short term because of this backsliding policy decision.

Easing the policy to force landlords to upgrade the energy efficiency of their properties, placing the choice with individual households, further erodes short term confidence in smart home technologies.

techUK has previously stated the importance of first movers' advantage and a stable policy environment if the UK is to reach net zero in the least expensive, and most opportunistic manner. See our insight for more on this.

Energy Connections

Conversely, the Prime Minister provided the digital infrastructure sector with some hope over ongoing energy grid issues which have been stalling projects for several years. A new spatial plan for energy infrastructure was announced, suggesting that nationally significant infrastructure projects be "fast-tracked" to completion, avoiding the controversial and increasingly unworkable queueing system, operated by the National Grid at present.

This change will also bring an end to the first come first serve system of energy connectivity.

It is techUK's hope that this announcement means that data centre, renewable energy projects and EV infrastructure connections which have been delayed due to capacity constraints on the grid will be given extra support to meet completion soon. It is, of course, of national importance that our digital infrastructure is up to a high standard , and that new, energy efficient and climate resilient digital infrastructure be built to support the boom in the adoption of new and existing digital technologies.

Innovation Funding

Accompanying this mix of policy announcements was the announcement of a Green Future's Fellowship grant. This endowment of £150 million will support leading scientists and engineers in developing practical green technologies and climate change solutions over the next five years.

We welcome the fellowship grants, as funding is essential for high-risk investment in innovation projects, it is our view that it is techUK's view that testing the viability of revolutionary technologies means little for the UK economy without the investment pathways and regulatory confidence to successfully scale these technologies.

------

Making the UK a clean tech leader in the face of increasing scepticism, the US IRA and EU Green Deal is a key focus of our upcoming techUK Tech and Net Zero conference (5 October).

This year's conference will be focused on operationalising Net Zero for tech firms, as well as looking forward to COP28, specifically the sectors' role in decarbonising the wider economy.

The agenda includes:
COP 28 keynote: UK priorities and how they are approaching the talks. Our panel of experts will look at what the COP 28 process means for UK tech.
What does COP 28 and the global stocktake mean for tech? With COP 28 being a 'global stocktake' year, this panel will discuss the risks, operational issues, and opportunities to deliver tech sector led decarbonisation across the economy.
The tech sector's own net zero journey. This panel will discuss how they are approaching decarbonisation and the problems they've faced. Topics will include transition pathways, standards, frameworks, Scope 3 / Scope 4, offsets, and leadership.
Policy and regulatory roundtables. Delegates can attend one of three breakout sessions on some of the key regulatory and policy developments impacting tech, including an overview of the latest climate related regulations, greenwashing and green claims, and disclosure requirements for tech (SDRs, CSRD, CS3D).
Making the UK a clean tech leader in the face of increasing scepticism, the US IRA and EU Green Deal. With increasing climate scepticism ahead of the General Election, this panel will discuss what needs to happen for the UK to become a 'clean tech leader'. The discussion will include the role of public funding and subsidies, green finance, and creating a market for tech.
Tech sector decarbonisation roundtables. Delegates can attend one of three breakout sessions that will look at how the tech sector itself can decarbonise, including how to procure renewable electricity, developing green digital skills, and green software development and decarbonised data infrastructure.
Building a resilient tech ecosystem. The climate crisis is already impacting communities and businesses. This panel will look at how the tech sector can become more resilient, including, how to measure and declare risk, protecting infrastructure and business critical operations, the role of insurance, and contingency planning and future risk planning.
AI and Climate. AI is set to transform all sectors. This discussion will look at how AI can make an impact on decarbonisation.
---
techUK - Committed to Climate Action
Visit our Climate Action Hub to learn more or to register for regular updates.
techUK is a crucial source of advice for decision-makers responsible for the delivery of climate and sustainability considerations into their organisation. Our climate and sustainability focused working groups and networking forums are valuable peer-learning opportunities where members can discuss current projects, consider the most pressing topics, and identify common challenges and solutions. For more information on how to get involved in our forums, please visit our Climate Action Hub and click 'Join forums'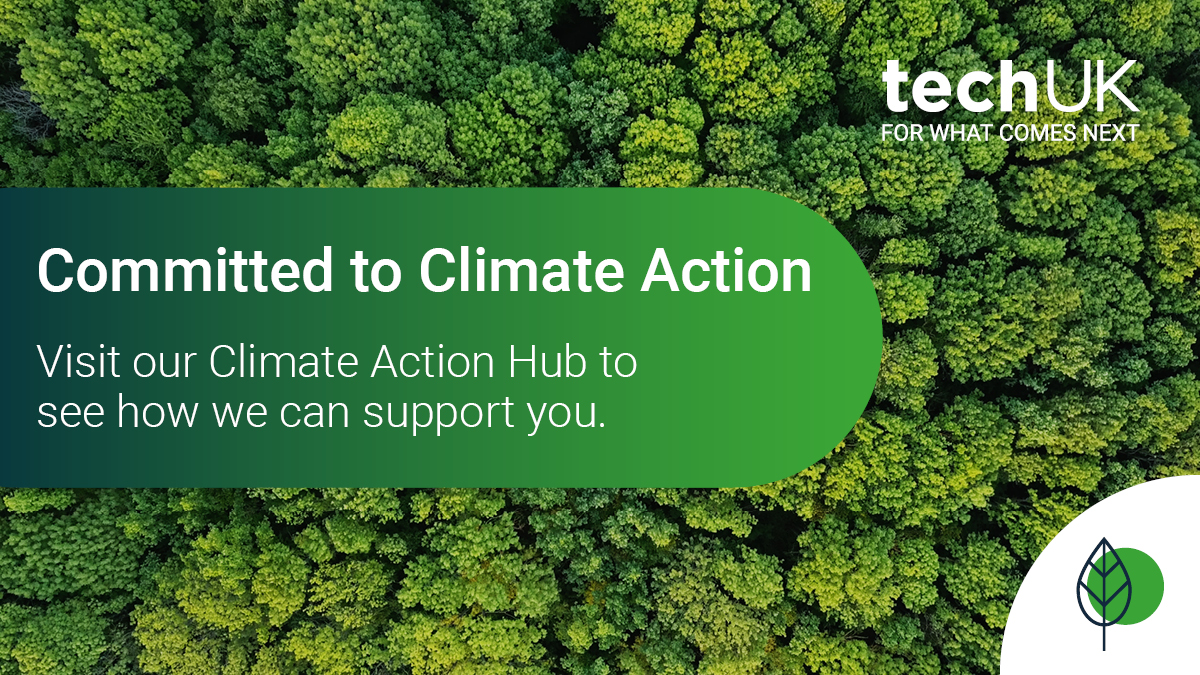 Climate, Environment and Sustainability updates
Sign-up to get the latest updates and opportunities from our Climate, Environment and Sustainability programme.