Supply chains are facing ever more scrutiny as we face multiple environmental crises, pandemic related shortages of critical materials and goods and geopolitical tensions that have caused inflation and delays. Every country and sector has had to confront these issues and understand the risks posed.
With so much focus on supply chains this summit will look at the major supply chain risks, the journey products embark on, as well as business model questions, the role of tech in improving outcomes and driving innovation.
This summit will explore the specific tech sector risks ranging from modern slavery and conflict mineral regulations to ESG disclosures and increasing due diligence. We will examine how companies have responded and adapted to change, what is and isn't working and best practice.
Agenda:
09:00 – 09:30 Registration and networking
09:30 – 09:45 Welcome, intros and paper launch

The session will begin with a presentation and launch of a new paper looking at the risks and challenges facing tech supply chains, what companies are doing about it and how tech can help.

09:45 – 10:45 Panel discussion: Human rights risks in tech supply chains

This discussion will look at the human rights risks that exist in tech supply chains looking at mineral extraction, through to forced labour in manufacturing and end of life, while also looking at how tech firms can mitigate these risks and conduct effective due diligence. Speakers:

Susanne Baker, ERM (Chair)
Benfasha Delgado UN Global Compact
Moira Oliver, Vodafone
Erika Wennerstrom, Quizrr

10:45 – 11:10 Presentation: Closer to home - Modern slavery risks in the UK

This presentation from Unseen CEO Andrew Wallis will demonstrate how prevalent modern slavery in the UK is and how firms need to be alive to the modern slavery risks in their day to day UK operations.

11:10 – 11:30 Presentation: Environmental and human rights due diligence

This presentation from White and Case will take delegates through the regulatory and due diligence requirements are evolving and how tech companies should prepare for being regulated on supply chains.

11:30 – 11:45 Break
11:45 – 13:00 Presentations and Q&A: Tech solutions to improve supply chain transparency & sustainability

These presentations will demonstrate some of the best potential technologies for supply chain transparency and making sure supply chains are as sustainable as possible. Presentations will be from Circulor, IBM, Quizzr, Stop the Traffik, Bendi.

13:00 – 14:00 Lunch
14:00 – 15:00 Panel discussion: The role of policy and trade relations in supply chains

Trade policy, whether through bilateral free-trade agreements, or multilateral treaties or guidance, has a huge role to play in supply chains. This panel will examine how trade policy and trade relations impacts the movement of goods, improves sustainability and makes for more resilient supply chains. Speakers:

Sabina Ciofu, techUK (Chair)
George Riddell, EY
Aline Doussin, Hogan Lovells
Duncan Adams, Henham Strategy

15:00-15:05 Break
15:05– 15:50 Breakout sessions

What will the future Trade Journey look like?

This breakout will be led by Peter Murphy, Future Borders Specialist, at the Institute of Export and International Trade. The 2025 Border Strategy has outlined goals to reduce delays at our borders and use digital technologies to support the reduction in paperwork. We will discuss the introduction of Ecosystems of Trust (Digital Trade corridors) and how Single Trade Windows can support the 2025 Border Strategy. Also, we will discuss what pilot journeys are being planned to support these initiatives.

Critical minerals: strategies, sourcing and circularity

In this breakout, Raj Takhar from Assent Compliance will discuss how tech firms and others can securely and reliable source critical minerals, ensure they are sourced ethically and how circular business models can assist with CRMs.

How can legislation impact exporting overseas (with a focus on US/China/EU)

This discussion led by Duncan Adams from Henham Strategy will focus on the legislation with trade. Ranging from export controls and licences, to investment scrutiny and technology transfers, this breakout will look at the increasing global legislative burden faced by companies.

15:50-16:00 Break
16:00 – 17:00 How are firms approaching supply chain resilience?
This final session will focus on supply chain resilience and security, and how tech can help deliver this with data, innovation and tech tools. As well as hearing from leading suppliers this will examine how firms themselves are building more resilient supply chains. Speakers:

Jana Psarska, techUK (Chair)
Dominic Regan, Oracle
Haydn Brooks, Risk Ledger
Ruth Voisey, Smith Institute
Julie Combette, Accenture

17:00 Close and networking drinks
---
techUK - Committed to Climate Action
Visit our Climate Action Hub to learn more or to register for regular updates.
2022 is a critical year for members focused on Climate, Environment and Sustainability. techUK is focused on helping members with their net zero transition - including implementation, compliance, and reporting. To see how we can help you, please visit our Climate Action Hub and click 'contact us'.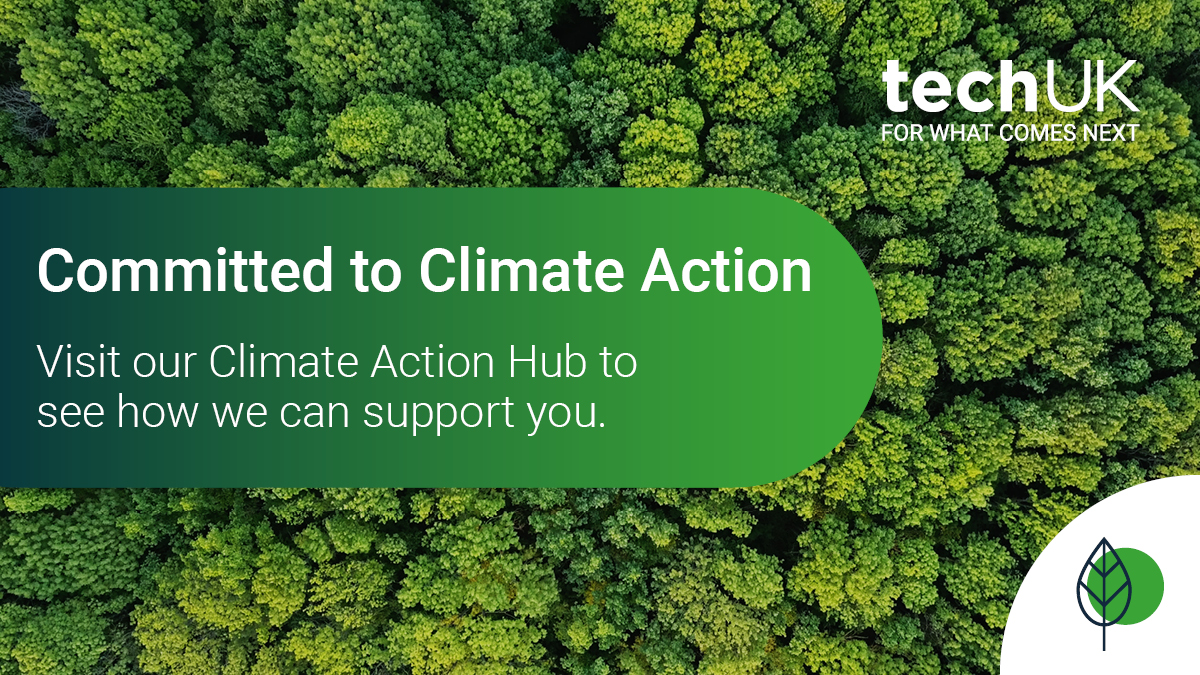 Craig Melson
Craig is Associate Director for Climate, Environment and Sustainability and leads on our work in these areas ranging from climate change, ESG disclosures and due diligence, through to circular economy, business and human rights, conflict minerals and post-Brexit regulation.
Prior to joining techUK he worked in public affairs and policy has an avid interest in new and emerging technologies. Craig has a degree in Ancient History from King's College London and spends his time watching Watford FC and holding out hope for Half Life 3.
Email:

Phone:

020 7331 2172

Twitter:

Website:

LinkedIn:

Lucas Banach
Lucas Banach is Programme Assistant at techUK, he works on a range of programmes including Data Centres; Climate, Environment & Sustainability; Market Access and Smart Infrastructure and Systems.
Before that Lucas who joined in 2008, held various roles in our organisation, which included his role as Office Executive, Groups and Concept Viability Administrator, and most recently he worked as Programme Executive for Public Sector. He has a postgraduate degree in International Relations from the Andrzej Frycz-Modrzewski Cracow University.
Email:

Phone:

020 7331 2006

Twitter:

Website:

LinkedIn: