Organisations of all shapes and sizes and in all sectors are facing big new pressures to decarbonise. Not only is it imperative as the UK and the world aims for net zero, but also for business success. Customers now expect businesses to have firm carbon reduction targets in place and clear strategies on how to get there. Investors too are now choosing to put their money into businesses who have strong environmental credentials, and regulation is making businesses disclose their credentials.
This event is to help businesses, particularly SMEs, who are new to this and do not know how to measure and reduce their scope 1-3 emissions. This showcase will hear lightning talks from 6 companies who have developed tech solutions and platforms to aid firms in their decarbonisation efforts from establishing baselines to offsetting, to becoming more circular.
The presentations and Q&A will be followed by a networking lunch and we encourage businesses who are new to carbon accounting to attend.
The agenda is:
11:00 - 11:10 Setting out the drivers for decarbonisation and why this is important
11:10 - 11:25 Microsoft Lightning Presentation: Microsoft will present on how they help their customers understand energy and emissions data from their use of Microsoft products, particularly those based in the cloud.

Presenter: Alex Staton, Azure Lead, Microsoft

11:25 - 11:40 Climate Essentials Lightning Presentation: Climax Community will present their Climate Essentials carbon management system that helps organisations streamline their climate action journey by measuring, managing, and reducing their emissions.

Presenter: Laura Mitchell, Client Delivery Manager, Climax Community

11:40 - 11:55 Circularity First Lightning Presentation: How can technology be the hero in climate change if it leaves carnage in its own wake? The broad scope of carbon impacts from tech itself and ways to mitigate, from the embodied carbon in physical products, to the role of data in increasing demand, and how software is written in compounding both.

Presenter: Anthony Levy, CEO, Circularity First

11:55 - 12:05 Break
12:05 - 12:20 Accenture Lightning Presentation: Sustainability in Technology: 5-10% of an organisation's carbon footprint currently comes from their IT estate. This presentation will focus on how to measure, reduce and mitigate the carbon footprint of technology.

Presenter: Swathi Nandi, Managing Director, Technology Sustainability

12:20 - 12:35 NovaFori Lightning Presentation: This presentation will explore how carbon marketplace and auction technology implementation helped bring transparency to an ESG offering.

Presenters: Brittany Boles and Paul Macgregor, NovaFori

12:35 - 12:50 Sage Lightning Presentation: Sage will present on how their carbon accounting solution can help businesses easily understand and reduce their environmental impact.

Presenter: Mathias Karady, Head of ESG Product, Sage

12:50 - 13:15 Q&A with presenting firms
1315 Close and networking lunch

---
techUK - Committed to Climate Action
Visit our Climate Action Hub to learn more or to register for regular updates.
2022 is a critical year for members focused on Climate, Environment and Sustainability. techUK is focused on helping members with their net zero transition - including implementation, compliance, and reporting. To see how we can help you, please visit our Climate Action Hub and click 'contact us'.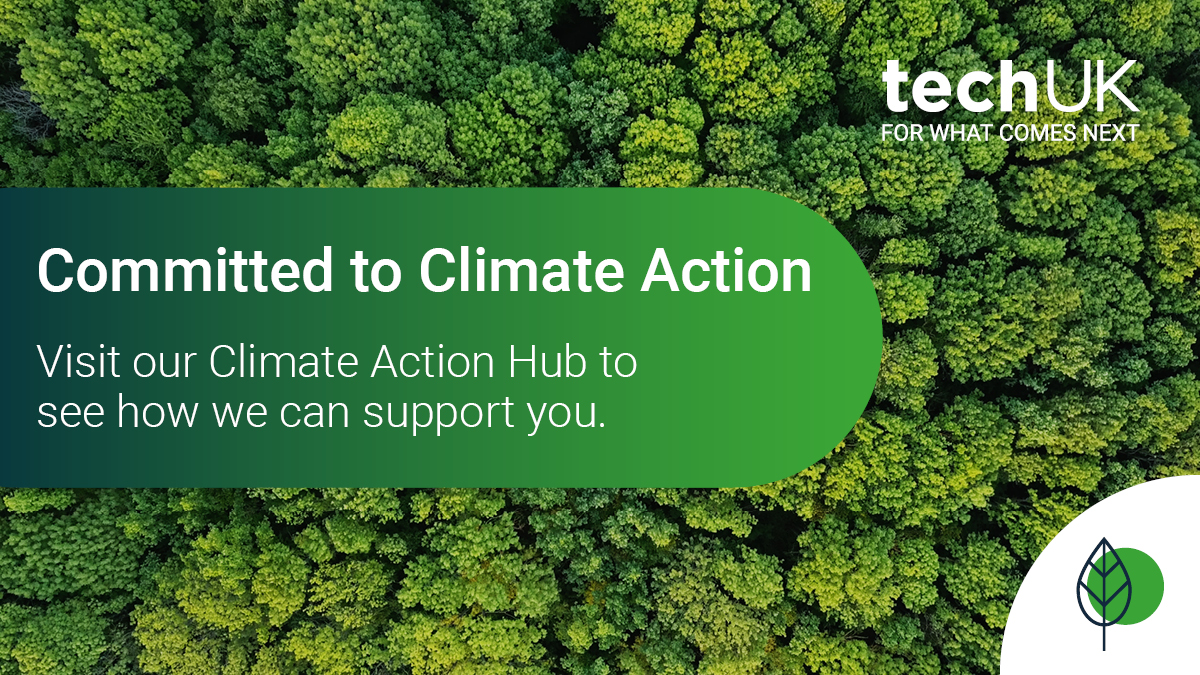 ---

Craig Melson
Craig is Associate Director for Climate, Environment and Sustainability and leads on our work in these areas ranging from climate change, ESG disclosures and due diligence, through to circular economy, business and human rights, conflict minerals and post-Brexit regulation.
Prior to joining techUK he worked in public affairs and policy has an avid interest in new and emerging technologies. Craig has a degree in Ancient History from King's College London and spends his time watching Watford FC and holding out hope for Half Life 3.
Email:

Phone:

020 7331 2172

Twitter:

Website:

LinkedIn:

Lucas Banach
Lucas Banach is Programme Assistant at techUK, he works on a range of programmes including Data Centres; Climate, Environment & Sustainability; Market Access and Smart Infrastructure and Systems.
Before that Lucas who joined in 2008, held various roles in our organisation, which included his role as Office Executive, Groups and Concept Viability Administrator, and most recently he worked as Programme Executive for Public Sector. He has a postgraduate degree in International Relations from the Andrzej Frycz-Modrzewski Cracow University.
Email:

Phone:

020 7331 2006

Twitter:

Website:

LinkedIn: