Join techUK and Linklaters on 7 December 2022 for a conference looking at how the tech sector has approached biodiversity. While climate change has taken precedence in recent years, global biodiversity is still at serious risk. Moving ahead, firms will be expected to do more to protect nature and consider their impacts on biodiversity.
As governments, conservationists and companies approach COP 15, this full-day event will look at how the sector has been factoring biodiversity and nature into operations so far, and how tech can make a difference in conservation and the illegal wildlife trade. Full information is below and we hope to see as many of you there as possible to hear from some of the leading businesses and civil society organisations working in this area. There are also some speaking slots remaining for members seeking to share their expertise in this area.
AGENDA
09:00 – 09:40 Registration and networking
09:40 – 09:45 Welcome and introductions
09:45 – 10:45 Panel discussion Living with nature: how are tech firms operationalising biodiversity?
This opening panel will explore how firms are integrating nature into their operations, strategic planning and disclosures, with an emphasis on how companies can calculate and mitigate their impact on biodiversity. Speakers are:
Amirah Khan, Deloitte
Sam Lacey, NatureMetrics
Melanie Worthy, BSI
Abby Chicken, Openreach
Suanne Baker, ERM (Chair)
10:45 – 11:00 Break
11:00 – 11:30 Regulation and policy impacting biodiversity
Presentation from Linklaters setting out the key international policy, regulations and legislations around nature and what business needs to be aware of, for example environmental net gain and the move towards TNFD.
Kim Rybarczyk, Linklaters
11:30 – 12:00 COP 15: what to expect?
This presentation will examine what the COP 15 talks are aiming to achieve, how the private sector can collaborate, and how to integrate what is decided into corporate thinking.
12:00 – 12:50 Lunch
12:50 – 13:50 How can tech work with partners and organisations on conservation?
This panel will look at how tech firms can partner with conservationists, NGOs and academia to deliver biodiversity projects that can have a real impact. The speakers will look at what has worked, not worked and how to measure and communicate impact.
Emma Oldham, Connected Conservation
Isobel Ashbey, Cambridge Consultants
Richard Pitts, Oracle
Donna Lyndsay, Ordnance Survey
Tim Webb, BSI (Chair)
13:50 – 14:50 Innovations and tech for biodiversity
This session will be made up of 10 minute 'lightning presentations' to showcase some of the best tech for conservation solutions being developed and rolled out. Presentations will be from
Emma Oldham, Connected Conservation
Geoff Carss, Wilder Sensing
Paul Watts, Atkins
Charlotte Hutchinson and Kasia Faber, Google
Swathi Nandi, Accenture
Nigel Greenhill, Insta Associates
14:50 – 15:00 Break
15:00 – 15:15 Using finance to deliver investment in biodiversity
Linklaters will present on how financial services as an enabling factor in improving biodiversity, and how tech can unlock some of the funding.
Julia Vergauwen, Linklaters
15:15 – 16:15 Using digital tools to combat illegal wildlife trade and biodiversity loss
Panel discussion looking at the different technologies and programmes that have helped prevent biodiversity loss, including better supply chain transparency for forestry and how tech can combat the illegal wildlife trade. Speakers include:
Christian Plowman, Regional Counter-trafficking Coordinator, WCS (Wildlife Conservation Society)
Mark Titley, Research Associate, GlobalCanopy
Adam Young, techUK (Chair)
16:15 Close and networking
**Please note that this event is solely in person and photo ID will be needed to enter Linklaters. If you have any dietary, mobility-related or other restrictions, please contact Linklaters at [email protected], and the they'll try to accommodate these needs**
*Linklaters and techUK are jointly hosting this event and are the so called 'joint controllers'. We will therefore need to share some of your details, specifically name, job title, company, email address and attendance details to Linklaters. Linklaters and techUK have entered into the joint controllership agreement and determined their respective responsibilities for compliance with the obligations under the data protection law.
---
techUK - Committed to Climate Action
Visit our Climate Action Hub to learn more or to register for regular updates.
techUK is part of the global Race to Zero climate campaign. The tech sector has a crucial role in driving climate action. Every tech organisation, large and small, has a responsibility to lead by example and commit to climate action. To discuss how we can support you on your decarbonisation journey, please visit our Climate Action Hub and click 'contact us'.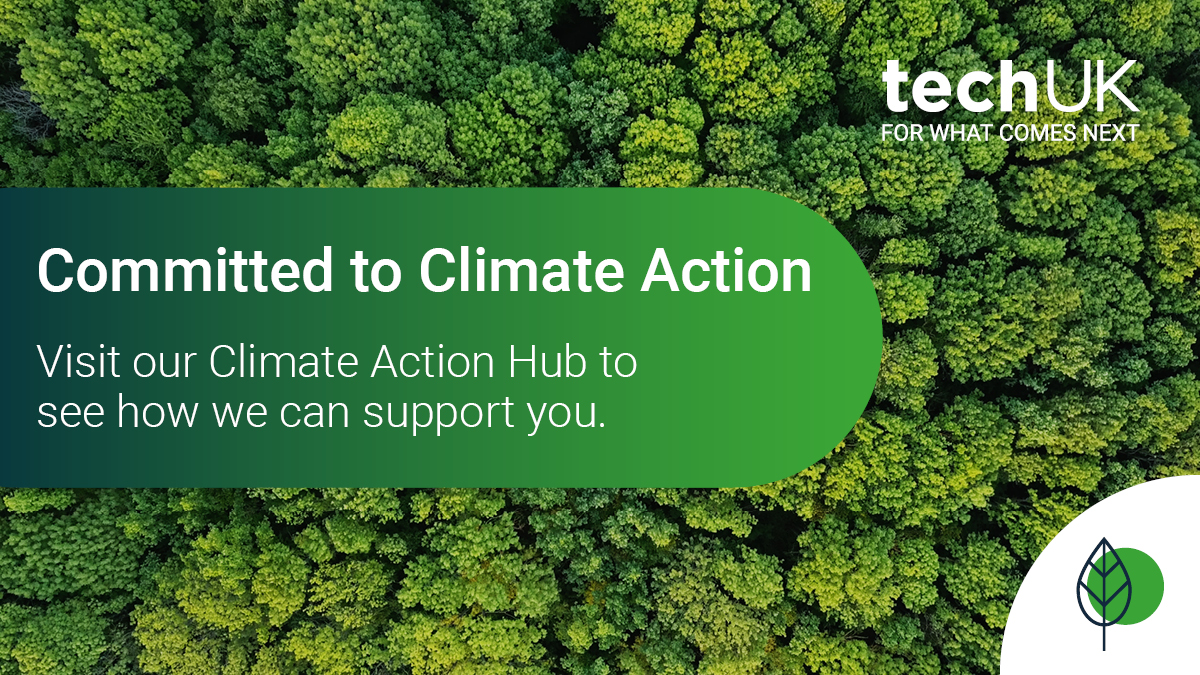 ---

Craig Melson
Craig is Associate Director for Climate, Environment and Sustainability and leads on our work in these areas ranging from climate change, ESG disclosures and due diligence, through to circular economy, business and human rights, conflict minerals and post-Brexit regulation.
Prior to joining techUK he worked in public affairs and policy has an avid interest in new and emerging technologies. Craig has a degree in Ancient History from King's College London and spends his time watching Watford FC and holding out hope for Half Life 3.
Email:

Phone:

020 7331 2172

Twitter:

Website:

LinkedIn:

Lucas Banach
Lucas Banach is Programme Assistant at techUK, he works on a range of programmes including Data Centres; Climate, Environment & Sustainability; Market Access and Smart Infrastructure and Systems.
Before that Lucas who joined in 2008, held various roles in our organisation, which included his role as Office Executive, Groups and Concept Viability Administrator, and most recently he worked as Programme Executive for Public Sector. He has a postgraduate degree in International Relations from the Andrzej Frycz-Modrzewski Cracow University.
Email:

Phone:

020 7331 2006

Twitter:

Website:

LinkedIn: