Transforming the workforce through digital skills (Guest blog by The Manchester Metropolitan University Degree Apprenticeships Team)
This week (24-28 October) techUK is running its Nations and Regions Week to coincide with the publication of our 2022 Local Digital Capital Index, a tool designed to aid discussions and decisions in strengthening local tech ecosystems across the UK.
All week we'll be featuring guest blogs from members celebrating the contributions made by the tech sector to drive forward levelling up, digital adoption, develop digital skills, connect people, and harness R&D in the UK's nations and regions
Read the latest blog below:
---
Manchester Met is the leading university provider of apprenticeships in the UK*, partnering with over 540 local and national organisations and educating over 2,400 apprentices across a range of undergraduate and postgraduate qualifications.
The University offers a number of Digital Degree Apprenticeship courses and was awarded the Digital Apprenticeship Provider of the Year award at the prestigious AAC Apprenticeship Awards in 2020.
Supporting the tech infrastructure of Manchester has been a strong focus of the University. As well as partnering with a range of Manchester-based organisations to upskill their staff, Manchester Met recently opened their new School of Digital Arts (SODA). This state-of-the-art building development is home to Manchester Met's Creative Digital Design Professional Degree Apprenticeship and the Digital User Experience (UX) Professional Degree Apprenticeship.
Developed collaboratively with employers, Man Met's Creative Digital Design Professional course is suitable for existing employees or new recruits looking to bring expertise in 3D modelling, branding and mobile first design. Through this, businesses are finding that they can benefit from well-designed digital content, communication, services, and creative digital solutions. Additionally, the University's Digital User Experience Professional course allows for new or existing employees to progress their knowledge of UX substantially.
These two courses, along with the Digital and Technology Solutions Degree Apprenticeship, and Digital and Technology Solutions (Masters) Degree Apprenticeship have led to the progression of women in STEM, with 34% of Manchester Met's STEM apprentices being women. This marks a notable improvement on the national undergraduate average of 22% reported by the Office for Students (2020).
Alissa Koupal of Pennine Events had the following to say on her experience as an employer, working with Manchester Met, on the University's Digital Marketer Degree Apprenticeship:
'It has been fantastic working with Manchester Met. Our apprentice has been fully supported and we've had regular meetings with their tutors and their mentors. We've had full updates from them. And it's just been a really smooth journey over the last few years.'
Employers interested in collaborating with Manchester Metropolitan University can contact the Degree Apprenticeships unit here.
* RateMyApprenticeship 2019, 2020, 2021, 2022
---
techUK – Building Stronger Local Economies
techUK champions the tech sector throughout the UK. We work with local authorities, devolved government, and local and national policy makers to advocate for the tech sector in strengthening economic growth and resilience. We provide opportunities for our members and local stakeholders to meet, build relationships, and collaborate to drive forward local projects. For more information or to get in touch, please visit our Nations and Regions Hub and click 'contact us'.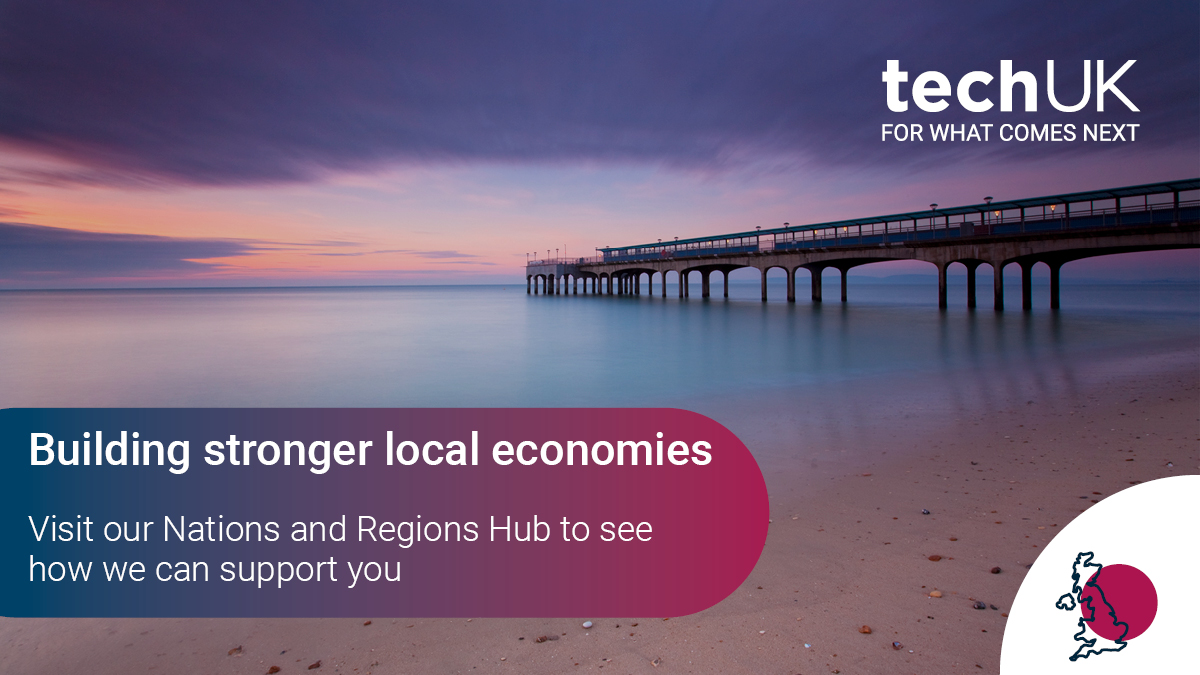 ---