techUK Cloud Insights: Cloud computing and the path to a more sustainable future
At a time when our commitment to mitigate the impact of climate change has never been more urgent, a sustainable approach to technology should be at the heart of any digital transformation strategy.
This techUK insights paper highlights the commitment of our members to a sustainable approach to cloud computing and sets out six core best practice principles for a greener future for the tech sector.
Underpinning these principles is a shared responsibility model that applies best practice at every level, with cloud providers ensuring the sustainability of the cloud and customers taking data-driven decisions to operate sustainably in the cloud.
By following this path, techUK believes we can accelerate an industry-wide transition from simply reporting emissions to actively working to reduce them at every level. By maximising the potential of cloud computing to improve business efficiency and productivity while driving down emissions, we work towards a better future for people, society, the economy and the planet.
Cloud Service Providers
1) Comprehensive and transparent sustainability data available to customers. This should include granular data regarding individual workloads and comprehensive and timely metrics relating to specific data centres or service regions.

2) Inclusion of Scope 3 emissions in all sustainability data to give confidence to customers and make it easier for them to make informed decisions and implement impactful climate strategies.

3) Continued investment in sustainable infrastructure including through renewables, energy and water efficient facilities and hardware, and efforts to reduce carbon associated with hardware lifecycles.
Cloud Users
4) Develop a culture of sustainability by embracing GreenOps practices, building on FinOps principles to put resource efficiency at the core of business operations.
5) Tackle the dark data challenge by revising and monitoring data management policies to minimise the storage of unused data in cloud environments.
6) Harness green software principles and invest in cloud native technologies to reengineer legacy applications or develop and deploy new more sustainable applications. Include energy efficiency as a performance metric for application development.
Nine more techUK members contributed to Cloud Week 2023 with thought leadership on sustainable approaches to cloud:
This techUK Cloud Insights paper highlights why organisations looking to make a positive contribution to sustainability should consider the advantages of cloud computing, and why this can only be achieved through a shared responsibility model, where cloud providers and their customers work in partnership to transition from emissions reporting to emissions reduction.
OVHcloud is proud to support and be part of techUK's ongoing commitment to driving sustainable cloud computing. We continuously champion innovation in this area, including inventing our own form of watercooling, a new hybrid immersion cooling system, and more recently, a carbon calculator that allows organisations to understand their cloud carbon footprint, including all three scopes. This focus is sorely needed, and it's only by coming together as an industry that we can balance the needs of today whilst still preserving the world of tomorrow."
At NetApp, we welcome techUK's work that sheds light on the need for best practice, well-defined sustainable approaches and accurate reporting of cloud computing. This enables the development of sustainable digital transformation strategies around cloud and hybrid cloud, which in turn can increase efficiencies and ultimately reduce technology's environmental footprint. We're proud to see NetApp's commitment to sustainability recognised as part of techUK's continual efforts in championing responsible data approaches to reduce carbon emissions. Afterall, this will help unlock a greener future for us all.
---
techUK - Committed to Climate Action
Visit our Climate Action Hub to learn more or to register for regular updates.
By 2030, digital technology can cut global emissions by 15%. Cloud computing, 5G, AI and IoT have the potential to support dramatic reductions in carbon emissions in sectors such as transport, agriculture, and manufacturing. techUK is working to foster the right policy framework and leadership so we can all play our part. For more information on how techUK can support you, please visit our Climate Action Hub and click 'contact us'.
Climate, Environment and Sustainability updates
Sign-up to get the latest updates and opportunities from our Climate, Environment and Sustainability programme.
Upcoming climate events
7 – 8 February 2024
ONE Tech Hub, Schoolhill, Aberdeen AB10 1JQ
Market briefing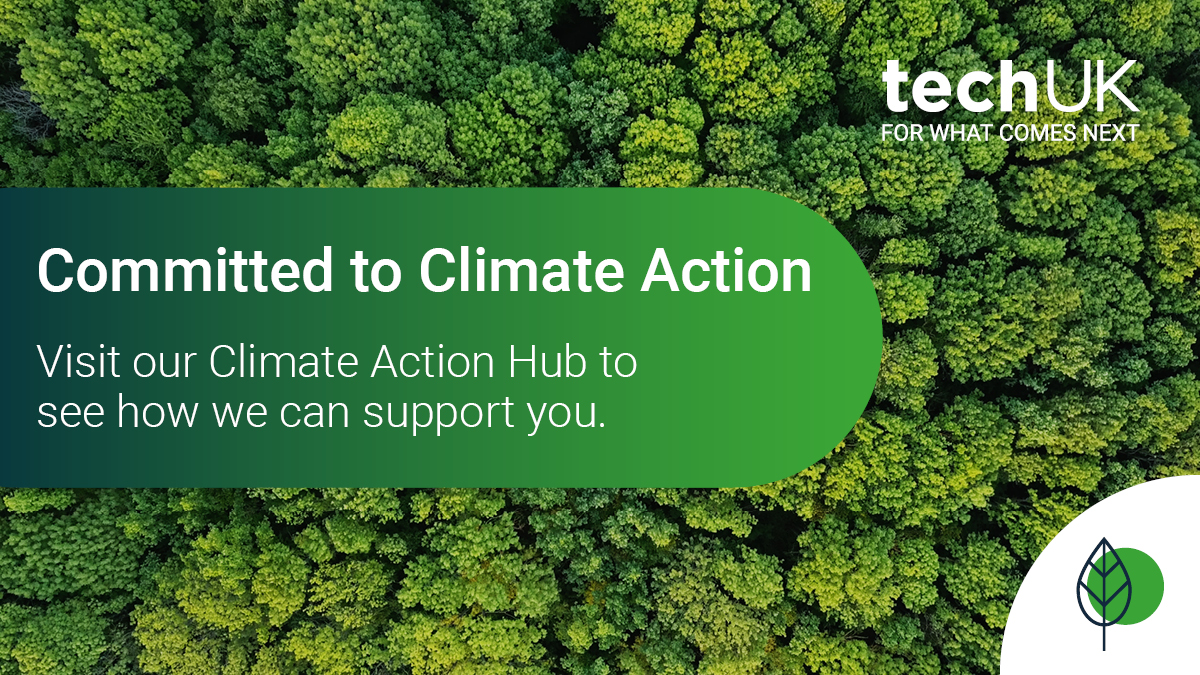 Climate, Environment and Sustainability
Learn more about our Climate, Environment and Sustainability programme, register for events and join related groups here.