Scotland is an ideal location for green data centres – and a new report pinpoints the prime spots (Guest blog by FarrPoint)
Scotland's 'not too hot, not too cold' climate and excellent renewable energy capability make it the perfect location for green data centres.
The significant carbon footprint caused by the processing and storage of data globally – and how to mitigate this - is increasingly becoming a concern for governments and data organisations alike.
Bring those two things together, and it's clear Scotland has an excellent opportunity to make its mark on a global scale in the fast-paced, developing data centre sector.
The Scottish Government has big ambitions on that front. Its Green Datacentres and Digital Connectivity Vision and Action Plan positions Scotland as a leading, cost-competitive location for data centres which are powered by our green energy.
That's why, back in 2021, Host in Scotland - the umbrella organisation for the Scottish data centre industry – commissioned FarrPoint and specialist data centre consultancy TechRE to pinpoint the best sites for green data centre development across Scotland.
The aim was to attract inward investment of major co-location facilities or hyperscale development, by making it as easy as possible for potential investors to consider Scotland as an optimal location for their data centre.
The report identified fifteen prime sites, stretching from Shetland in the north to Dumfries and Galloway in the south, each featuring potential good availability to renewable energy and access to suitable land.
The sites all had a clear, unique proposition and offered conditions that could quickly and easily lend themselves to becoming home to a new green data centre.
Recently, Host in Scotland asked FarrPoint (along with TechRE) to review and update this original Site Selection report. The new work identified five additional sites: Aberdeen ETZ, Queensferry One and Westfield Park in Fife, Millerhill/Old Craighall in Midlothian and Whitecross Innovation Park near Falkirk, bringing the list of potential sites to 20.
The updated report is likely to be of great interest to current data centre owners or operators in Scotland, as well as potential new entrants to the market, infrastructure providers and investors.
When assessing potential sites, the team used a methodology and approach that was consistent with how the data centre industry identifies sites for further detailed due diligence, so the report provides a reliable and useful starting point and guide to investigating data centre opportunities in Scotland.
The update comes at an opportune time for the country, as data centres increasingly seek out access to large sources of sustainable energy whilst plans for renewable projects, particularly major windfarms off the coast of Scotland, come to fruition.
The new report will be formally presented at a free-to-attend virtual event and question and answer session hosted by Host in Scotland/Scottish Enterprise: 'Data Centres in Scotland – A Road to a Greener Future' on 28 June 2023.
It is hoped the report will kick-start conversations about Scotland's attractiveness as a destination for datacentres, leading to more investment and economic growth for the country.
---
techUK – Committed to Climate Action
By 2030, digital technology can cut global emissions by 15%. Cloud computing, 5G, AI and IoT have the potential to support dramatic reductions in carbon emissions in sectors such as transport, agriculture, and manufacturing. techUK is working to foster the right policy framework and leadership so we can all play our part. For more information on how techUK can support you, please visit our Climate Action Hub and click 'contact us'.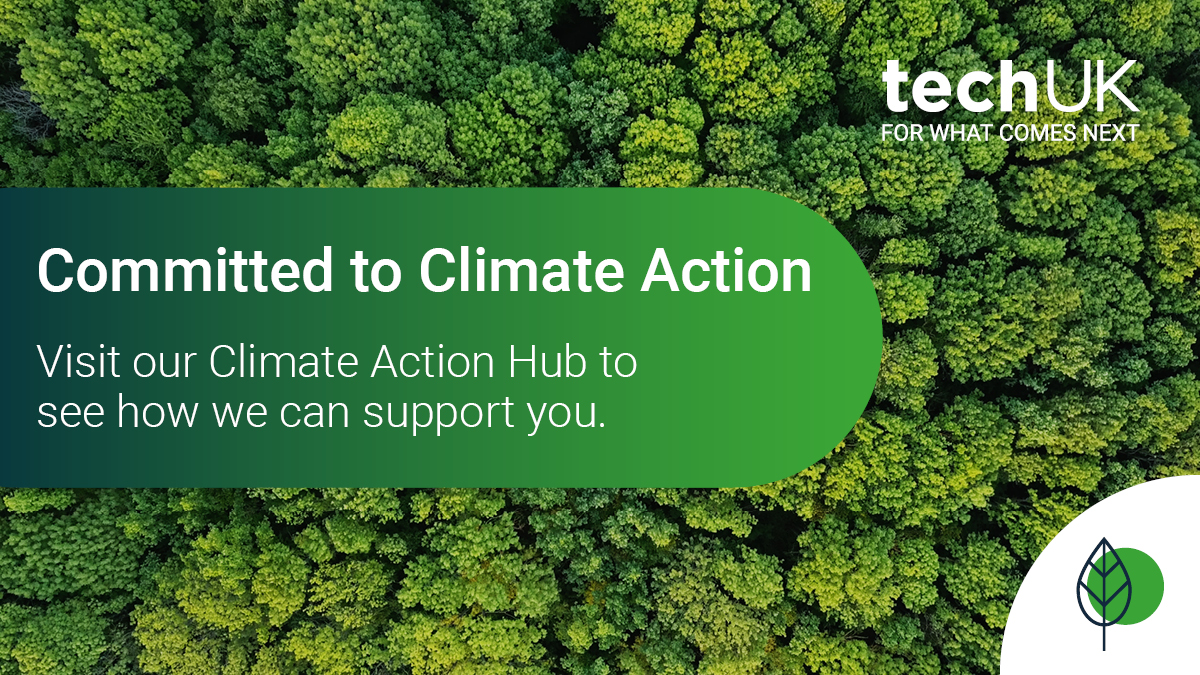 Data Centres updates
Sign-up to get the latest updates and opportunities from our Data Centres programme.
Here are the five reasons you should join the Data Centres programme.
Learn about the value members get from our work.