Video: Levelling Up Briefing with Andy Haldane
And in a briefing with techUK members, former Chief Economist at the Bank of England and Chair of the Levelling Up Advisory Council, Andy Haldane said about the Local Digital Capital Index:
It's great that you are doing this fantastic work and this is the level of granularity needed to make effective policy choices at local level on a key dimensional policy which is the digital dimension
Andy discussed the thinking behind the Levelling Up White Paper and how developing levelling up can't be defined in a single way – it means different things to different people – and that's been set out in the 12 missions.
The session also covered how Levelling Up is a genuine strategy to boost growth and "grow the pie" across the UK, but from the bottom up rather than the top down. Delivering on levelling up will help the poorest people and places especially in a cost of living crisis.
Andy also challenges the view that Levelling Up is focused on the North of England. Noting that this shouldn't be seen as an arm wrestle between North and South or cities and towns/villages. Disadvantaging those areas that are succeeding isn't Levelling Up. It's about helping clusters across the UK to grow and support that potential, and grow them across regions, and importantly not just replicating London across the UK (as people and communities don't want or see that as the answer).
Devolution was also covered – something that was clearly highlighted in the Local Digital Capital Index Report. Incentives had been established for those areas that choose to move to a Mayoral model, and the work to deliver this was to move forward. And devolution wasn't ambitious enough as the UK has a massively centralised model of governance and it would be useful to think about the tax and spend powers of regions; currently there are the powers to spend but not to tax and moving in this way could increase the work and scope delivered by Mayors but also the accountability to deliver projects.
Questions and answers also covered lessons learnt from internationally, the whole of Government getting behind levelling up, helping SMEs with red tape, effective superclusters & their leadership, a body serving as repository of local data to aid learning (e.g. an EEF concept for levelling up), should the D from DCMS be moved to another department?
We don't appear in the UK to have a particular start up problem, we do have a scale up problem. The biggest brake on the UK economy now is skills…the challenge in (skills) now is greater than in the last 50 years
---
Matt Robinson
Matt is techUK's Head of Nations and Regions.
Matt is leading techUK's work with members and stakeholders across the UK to increase the Local Digital Capital across the UK's nation and regions, build communities and to ensure that digital technology plays a key part the post-COVID-19 levelling-up recovery.
Prior to joining techUK, Matt worked for several national education charities and membership bodies to develop their regional partnerships with schools, academy trusts, local authorities, and other stakeholders. He's also worked with local authority leaders and other stakeholders to engage communities, work with elected members and improve public services.
He holds a BA in Politics from the University of York and an MA in International Relations from the University of Leeds. Away from work he's a keen football fan and golfer.
If you'd like to find out more about our work in the nations and regions please get in touch with Matt:
Email:

Website:
---
techUK – Building Stronger Local Economies
techUK champions the tech sector throughout the UK. We work with local authorities, devolved government, and local and national policy makers to advocate for the tech sector in strengthening economic growth and resilience. We provide opportunities for our members and local stakeholders to meet, build relationships, and collaborate to drive forward local projects. For more information or to get in touch, please visit our Nations and Regions Hub and click 'contact us'.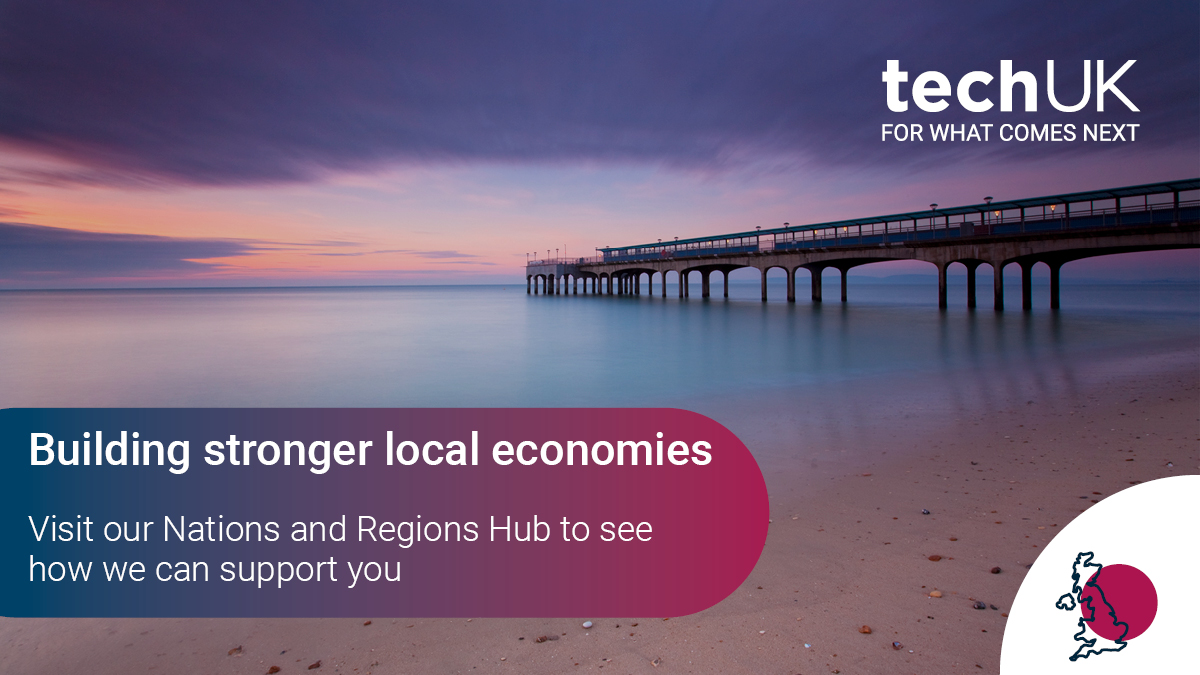 ---