Scotland's tech sector - growing the economy and improving productivity
It's through ensuring that the tech sector is at the forefront of delivering new and improved services, products, careers, companies and helping to tackle climate change that we will strengthen and grow the economy and improve productivity. On Thursday 2 February, we were delighted to partner with KPMG for the first of these sessions in Edinburgh, which took a closer look at Scotland's tech ecosystem.
Although some Scottish regions scored well in our Local Digital Capital Index (LDCI)– with areas such as Eastern Scotland thriving – the results were not consistent across the country; and so our guest speakers and attendees used the event to explore some of the challenges for tech firms in Scotland, including the current economic outlook, as well as the key opportunities and how to seize them.
We began by looking at how SMEs can capitalise on the Scottish Digital Economy, with our expert panellists – Jill DeBene from Sitekit, Chris Gledhill from PDMS, and Ed Thewlis from The Data Shed – sharing their insight on why Scotland has been a good place to grow their businesses. With the clear rural–urban divide highlighted in the LDCI, the panel noted that smaller businesses have the opportunity to innovate around solving problems that Scotland's rural communities face and then spreading the economic and social benefit. Diversity in the workforce experience is also a key part of the puzzle: indeed, by tapping into the knowledge and creativity of people who understand the geography and logistics of those rural areas, businesses can ensure that they're developing the best, most appropriate, solutions.
Collaboration, as well as physical centres where is possible to see exciting things happen and feel inspired, have been key to the success of the Scottish regions doing well. And becoming part of the community is crucial to understanding what a business's role is in the ecosystem, and then 'paying it forward' to help other SMEs coming into the market. techUK's LDC Index sets out the importance of collaboration, and that was vindicated by the panel.
Our panellists also discussed how we can ensure the SME is sustainable, touching upon points such as the importance of permanent employees who are more invested in the business; recognising that not everything requires scale; each size of business has its place; and ensuring that the focus should always be on what the technology being provided enables for the better, rather than the tech itself.
We then moved on to explore some of the impacts of the Scottish tech ecosystem with Mark Elliott from the tech and innovation accelerator CivTech and Gillian Doherty MBE from tech incubator CodeBase, which delivers the brand-new Tech Scaler programme.
These types of programmes are critical to showcasing, on a sector agnostic basis, what the art of the possible is when it comes to technology solutions. Furthermore, they help drive communities, educate and provide opportunities to collaborate. Improving collaboration remained a key theme in this discussion, too, in addition to the importance of focusing on the delivery – whether that's of the recommendations set out in the Scottish Technology Ecosystem Review (the Logan Report), or of innovative solutions that actually offer improvements.
The conversation then turned to the ever-present digital skills challenge, with excellent insight from Kelly Nicholls from TechSkills, Loral Quinn from Scotland's Digital Skills Academy, CodeClan, and Alec Harley from Leidos. Discussion focused on the challenges, including the huge education gap at school level, where some schools simply don't have computing science teachers, and the opportunities to scale up coding clubs to sit alongside school education, or to get parents involved. It was noted that there is great importance in being able to showcase what the pathways/avenues are to upskill people into tech, and giving them the (flexible) time options and resource to do this, was also highlighted as key.
We also need to inspire young people about what the possibilities are when working in the world of tech: as part of this, it will be crucial to look at how to take popular school subjects such as art and link them more clearly with digital career options such as user experience or games design and the technical skills required for those.
Furthermore, the technical skills that organisations require are changing as new technologies emerge, so our panellists also emphasised the importance of 'soft' skills such as attitude, communication, problem-solving and a willingness to learn, and maybe focusing efforts on attracting candidates with these attributes in the first place; as well as the power of nurturing and mentoring when it comes to retaining staff. All of this then feeds into the diversity piece and addressing some of the intersectional issues that prevent suppliers accessing the talent pool: employees should be able to be their authentic self at work, which will in turn benefit and enrich what the business can offer.
The session closed with a thoroughly insightful and informative fireside chat with the Scottish Government's Chief Entrepreneur, Mark Logan who outlined the progress made further to the Scottish Technology Ecosystem Review and the key areas that Scotland should be focusing upon in order to build up and futureproof its thriving technology sector.
Looking towards what techUK can do to support this activity – as an ecosystem builder and nurturer, we'll be evangelising about what it takes to deliver for our society, economy and planet. From establishing and/or expanding communities; supporting education and knowledge sharing; and helping Scotland to tap into its neighbours' talents and areas of expertise – all of which continue to be critical to its success.
Missed this event? Good news… techUK will be back in Scotland for more events soon!
Want to know if there are similar events coming up in your area, check out our Nations and Regions Hub.
To stay up to date with when and where, be sure to sign up to our Nations & Regions newsletter now.
How does your area perform in our Local Digital Capital Index? The benefits of digital innovation can be better distributed across the UK but must be shaped at the local level. Each area should have a vision of what it wants to achieve. This vision should look at how technology can transform the productivity of businesses and public services beyond the obvious levers of broadband and digital skills to encompass digital adoption and infrastructure, data ecosystems, funding, R&D, and trade support – building blocks that techUK calls Local Digital Capital. Find out how 12 nations and regions in the UK fared in our analysis of their digital ecosystems: Local Digital Capital Index - View the 2022 results
Nations and Regions updates
Sign-up to get the latest updates and opportunities from our Nations and Regions programme.
---
techUK – Building Stronger Local Economies
techUK champions the tech sector throughout the UK. We work with local authorities, devolved government, and local and national policy makers to advocate for the tech sector in strengthening economic growth and resilience. We provide opportunities for our members and local stakeholders to meet, build relationships, and collaborate to drive forward local projects. For more information or to get in touch, please visit our Nations and Regions Hub and click 'contact us'.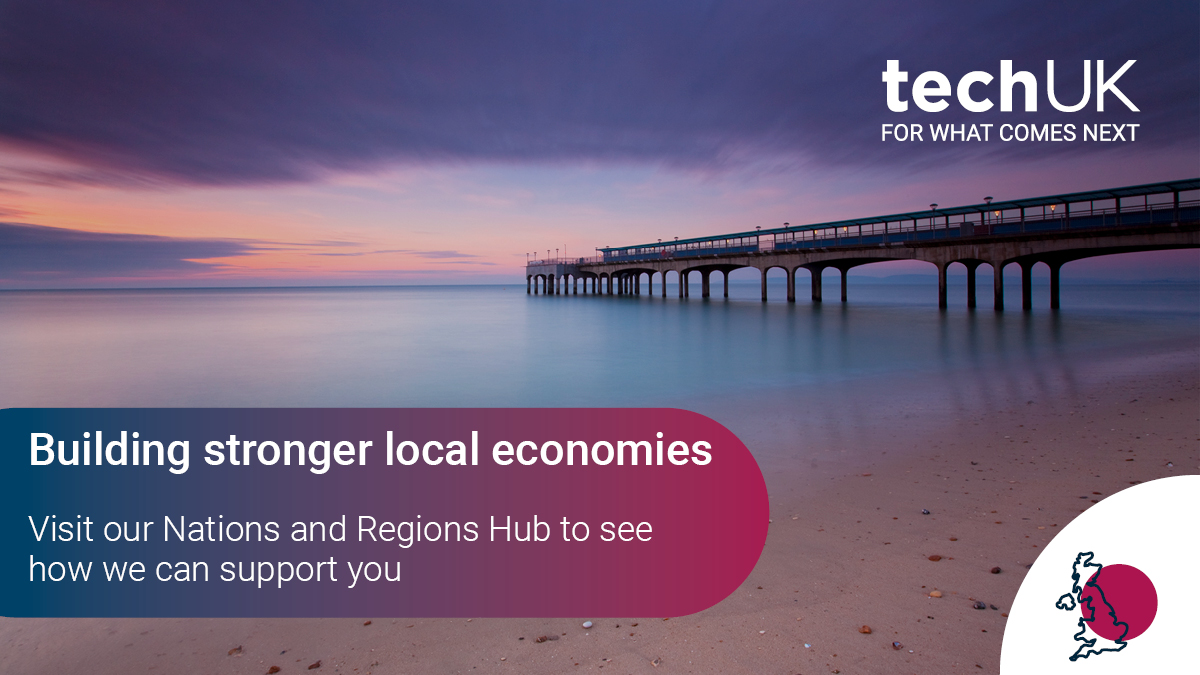 ---