DESNZ: Call for Evidence on the Scope 3 Emissions Reporting Landscape in the UK
Summary
The call for evidence will contribute to the Government's decision on whether to endorse the ISSB standards in the UK, which they are expected to do by July 2024. It will also inform the post-implementation review of the SECR framework, which requires some companies to disclose information on their Scope 1 and Scope 2 emissions in their annual reports.
Questions are organised into four chapters:
Chapter One includes general questions about organisations' involvement in Scope 3 emissions reporting and the geographical distribution of their supply chains.

Chapter Two seeks views on the approach to Scope 3 reporting within IFRS S2, any data that stakeholders feel is missing from the standard, potential consequences (particularly those that might occur due to diverging disclosure standards in different jurisdictions), as well as readiness for Scope 3 reporting. Investors are also asked about the value of Scope 3 information and how it will influence their decision-making.

Chapter Three focuses on the costs and benefits of Scope 3 reporting, challenges such as data availability and consistency, and the impact on smaller businesses in supply chains.

Chapter Four shifts the focus to the post-implementation review of SECR regulations, examining their achievement of objectives, potential unintended effects, and suitability for different types of businesses. It also investigates the format of SECR reporting and resource sufficiency.
Submissions
The call for evidence runs until 14 December 2023. techUK will be developing a response, and members are welcome to share their views during a scoping call that will take place on Thursday 26 October between 3 and 4 PM.
For those unable to attend, input can be sent to Craig Melson ([email protected]).
Members can also make individual submissions by responding to the online survey or emailing their answers directly to [email protected].
---
techUK - Committed to Climate Action
Visit our Climate Action Hub to learn more or to register for regular updates.
By 2030, digital technology can cut global emissions by 15%. Cloud computing, 5G, AI and IoT have the potential to support dramatic reductions in carbon emissions in sectors such as transport, agriculture, and manufacturing. techUK is working to foster the right policy framework and leadership so we can all play our part. For more information on how techUK can support you, please visit our Climate Action Hub and click 'contact us'.
Climate, Environment and Sustainability updates
Sign-up to get the latest updates and opportunities from our Climate, Environment and Sustainability programme.
Upcoming climate events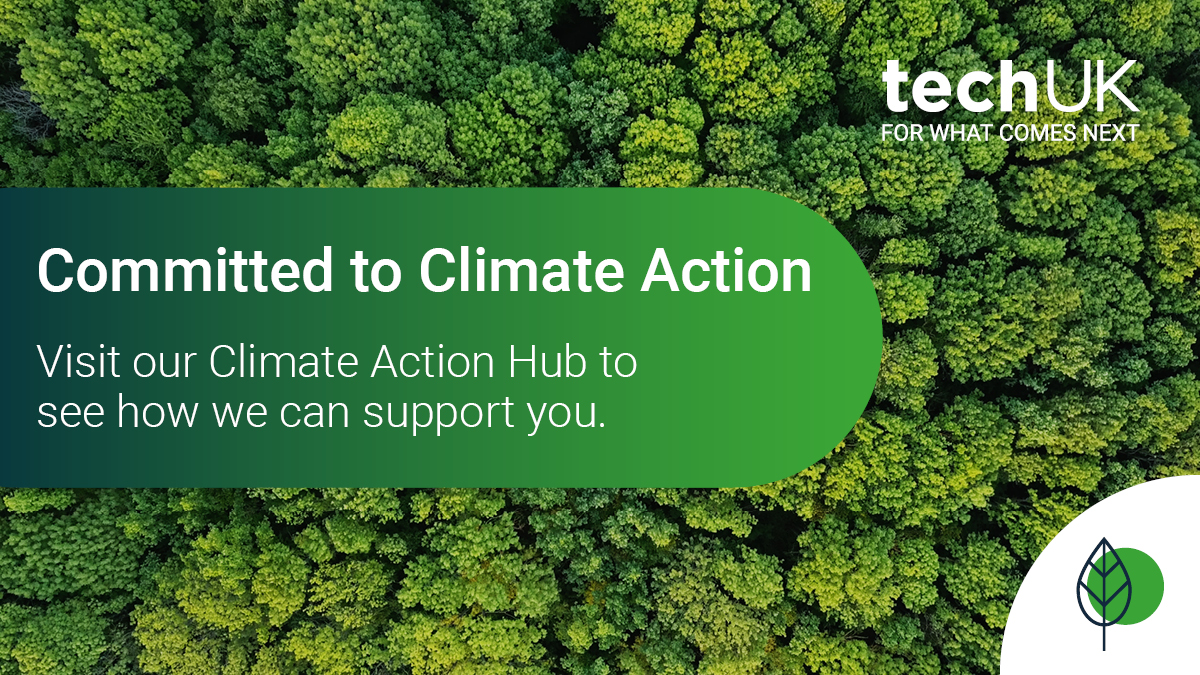 Climate, Environment and Sustainability
Learn more about our Climate, Environment and Sustainability programme, register for events and join related groups here.
Contact the team