A Private Cloud for the Public Sector (Guest blog by Vantage)
This week (24-28 October) techUK is running its Nations and Regions Week to coincide with the publication of our 2022 Local Digital Capital Index, a tool designed to aid discussions and decisions in strengthening local tech ecosystems across the UK.
All week we'll be featuring guest blogs from members celebrating the contributions made by the tech sector to drive forward levelling up, digital adoption, develop digital skills, connect people, and harness R&D in the UK's nations and regions
Read the latest blog below:
---
Moving to Vantage Data Center's CWL1 data centre campus in the UK offers SRS an affordable and future-proofed private cloud hosting environment for delivering shared digital services to the South Wales public sector
Established in 2010, Shared Resource Service (SRS) is a collaborative public sector organisation that provides technology services to the public sector in South Wales.
With a single management structure aligned to the Welsh Public Sector Technology Strategy, SRS delivers two types of service provision:
A Shared Resource Centre which is a physical presence in Blaenavon in Torfaen County Borough that houses an on-premise data centre used by the wider Welsh public sector;
The Shared Resource Service which provides an integrated technology team offering a range of standardised IT and network services to five public sector partners, four of which are Local Authority organisations; Blaenau Gwent County Borough Council, Monmouthshire County Council, Newport City Council and Torfaen County Borough Council. In total, these comprise approximately 350 sites including 120 schools.
Earlier this year, following the completion of a comprehensive five case business case, the SRS partners took the decision to consolidate its ageing on-premises data centres at Newport, Blaenau Gwent and Torfaen under one roof at the Vantage Data Centers world-class campus near Cardiff.
Some of the key objectives behind this decision were to:
Transform the SRS into an organisation that delivers the best digital services to its partners
Significantly reduce costs and complexity from owning and operating in-house data centres
Increase agility by move from being a predominantly on-premise technology provider to being a cloud delivery partner
Supporting other public sector organisations to access world class data centre services in the future
The drivers behind SRS's move to Vantage's CWL1 campus resulted from a growing dilemma of how best to efficiently and cost-effectively future proof the various digital services it provides to many thousands of users across the four Local Authorities.
From early 2022, SRS's range of shared standardised digital service offerings will be delivered to users from a single, highly secure and resilient private cloud platform. This will be hosted at Vantage's CWL1 data centre near Cardiff in a secure caged area located within one of its secure colocation halls.
The shared services provided by SRS will include compute and storage resources, firewalls, IT support/helpdesk and access to WAN services via connection to the PSBA (Public Sector Broadband Aggregation) - a service which connects Welsh public sector organisations to a private, secure, Wide Area Network (WAN).
Vantage CWL1 provides SRS with a world-class data centre solution, offering state-of-the-art critical infrastructure and cooling, abundant space and 100 percent renewable power, and multiple connectivity solutions. These criteria were key reasons for SRS's decision to select Vantage CWL1, along with its convenient location to the M4 and the high calibre of the on-site engineering and project management personnel available. Looking to the future, SRS foresees the need for housing up to a total of 30 racks in support of its growing private cloud solution.
You can find more about Vantage Data Centers on their LinkedIn page and Twitter page.
---
techUK – Building Stronger Local Economies
techUK champions the tech sector throughout the UK. We work with local authorities, devolved government, and local and national policy makers to advocate for the tech sector in strengthening economic growth and resilience. We provide opportunities for our members and local stakeholders to meet, build relationships, and collaborate to drive forward local projects. For more information or to get in touch, please visit our Nations and Regions Hub and click 'contact us'.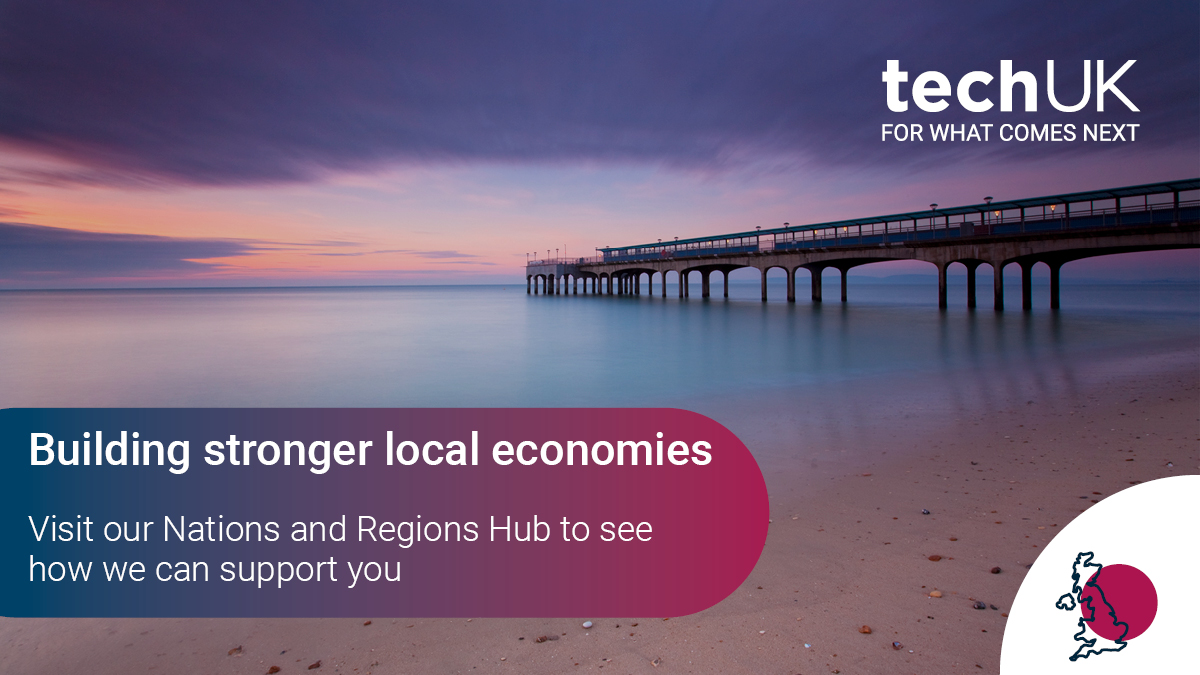 ---