techUK has launched its campaign to supercharge the UK as a global leader in tech and innovation.
The UK needs to ensure we understand ingredients that will help us to innovate. We need to ensure the UK has investment into emerging technologies that have the potential to drive growth. A strong foundation of digital infrastructure, skills and investment to accelerate the appetite for innovation. And every region of the UK must play it's part.
Join our speakers and panelists for this aftenoon of discussion, debate and insight to find out:
What the Midlands' digitial plans are?
And what this means for your business or work?
How companies are producing cutting edge research and innovation?
Where there are opportunities to work with partners?
How it will effect the tech ecosystem in the Midlands and UK?
The impacts on skills, jobs, investment and research.
And how you and your business can get involved?
13:00

Opening and Welcome with Yiannis Maos (CEO of Birmingham Tech), Sally Scott (CMO at Advanced) and Sue Daley (Director of Tech and Innovation, techUK)

13:15

techUK's Digital Dialogue with… West Midlands Tech Commissioner Martin Ward

Join techUK's Sue Daley for this fireside chat with Martin Ward to discuss his new role as West Midlands Tech Commissioner, what this new posotion means for the private and public sector in the region, how he see's the current tech landscape, where the Midlands can grow and why the region is key to the UK being a science and tech superpower.

14:15

Break

14:40

Panel discussion - 'How can the Midlands help make the UK a science and tech superpower?'

Sue Daley, Director of Innovation, techUK (chair)

Mike Lewis, Digital Lead, West Midlands Growth Company

Alex Arundale, Chief People Officer, Advanced

Brad Woodward, Managing Director & Co-founder of RiVR (Reality in Virtual Reality Limited)

Ant Morse, Head of Innovation, Virgin Media O2 Business

Our panel of leaders from across the tech sector will explore the opportunity the Midlands has to be a part of the UK's ambition to be a science and tech superpower.

From telecommunications and gaming to autonomous vehicles and the metaverse, from tackling climate change using technology to creating the workforce of the future delivering new jobs, improved productiviuty and growth. The Midlands has a significant voice and role in how a UK science and tech superpower will look, feel and operate.

15:30

Closing Speaker - Dr Andrew Smith, Strategy Manager for Digital, at the National Physical Labratory on the UK Telecommunications Lab

15:55

Close – drinks and networking
---
techUK – Building Stronger Local Economies
techUK champions the tech sector throughout the UK. We work with local authorities, devolved government, and local and national policy makers to advocate for the tech sector in strengthening economic growth and resilience. We provide opportunities for our members and local stakeholders to meet, build relationships, and collaborate to drive forward local projects. For more information or to get in touch, please visit our Nations and Regions Hub and click 'contact us'.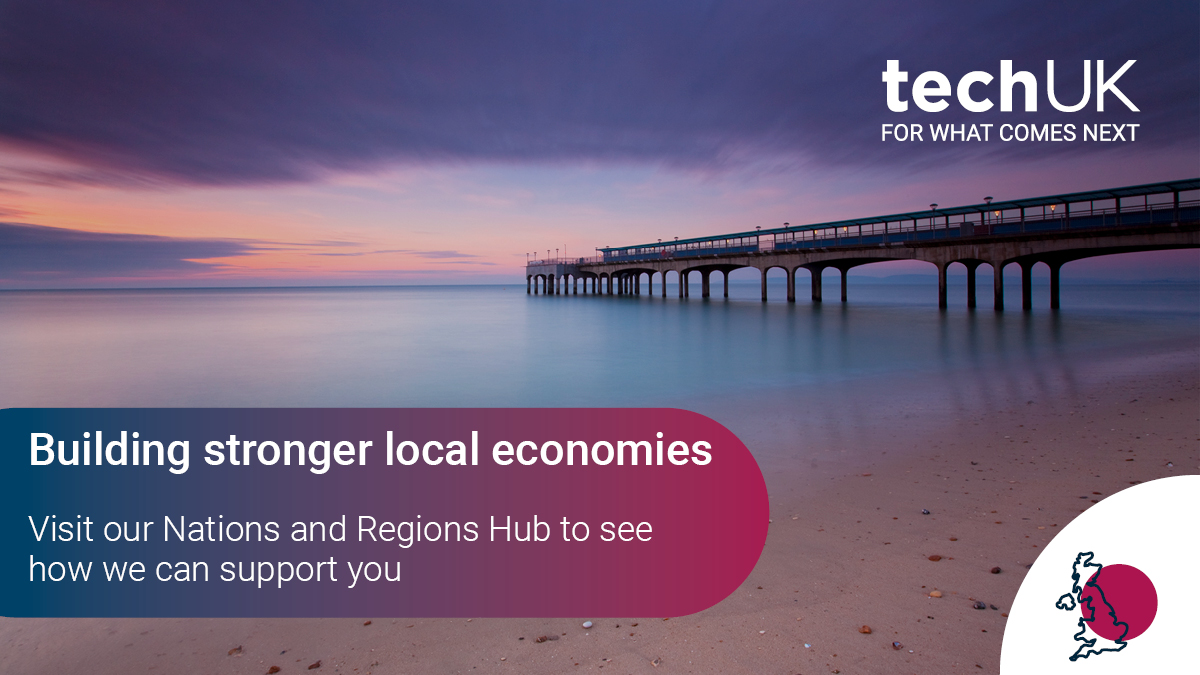 ---