UK Government unveils its approach to regulating AI with White Paper
---
Included within DSIT's press release, alongside a techUK quote, the approach laid out in the white paper 'A pro-innovation approach to AI regulation' which will enable responsible innovation, making it easier for businesses to innovate, grow and create jobs, whilst maintaining public trust. This announcement comes following the government's commitments to build an expert taskforce to develop the UK's capabilities into foundation models as well as a £2m sandbox in their recent Spring Budget 2023.
The white paper introduces an approach to AI regulation that is principles-based, agile and context-specific to promote responsible innovation. Rather than establishing a single AI regulator, the government will coordinate existing regulators to produce a context-specific approach, that is designed according to how AI is being used across different sectors.
This reflects techUK's recommendations for a pro-innovation, coordinated and context-specific approach, as well as the need to acknowledge and map current regulations. techUK calls for the government to move at pace in providing adequate capabilities to regulators and ensure their approach is interoperable with international approaches.
This will all be underpinned by a framework consisting of 5 key principles to facilitate and inform the responsible adoption of AI in all sectors:
Safety, security and robustness
Appropriate transparency and explainability
Fairness
Accountability and governance
Contestability and redress
These principles will initially be introduced on a non-statutory basis to prevent hampering innovation and will be upheld through a number of central support functions established within government. These functions will support regulators and work with actors across industry, academia and civil society to best support the ethical adoption of AI. Statutory regulations will only be implemented after careful consideration if it is seen fit, and when parliamentary time allows.
It is worth mentioning that the white paper states that this approach includes Large Language Models (LLMs), as they qualify under the paper's agile description of AI systems through two characteristics; a) autonomous b) adaptable.
On generative AI and Intellectual Property, the White Paper directs to the code of conduct the Intellectual Property Office has been tasked to produce by the summer. Please see our Spring Budget and Sir Patrick Vallance review analysis for more.
It also mentions that the government will launch a portfolio of AI assurance techniques in Spring 2023, which has been developed in collaboration with techUK.
---
Read the full AI white paper here.
---
On timelines for the application of recommendations, the white paper states:
That within six months, the government will publish a response to a consultation, alongside an AI regulation roadmap that will establish the central government function as well as a regulatory sandbox, and issue cross-sectoral principles to regulators with initial guidance for implementation.
That within twelve months, regulators will be encouraged to publish guidance, and agree on partnership arrangements with organisations and existing initiatives to deliver the first central functions and publish proposals for the design of a central monitoring & evaluation framework which will be consulted on.
That after twelve months, the first central support functions should be delivered, and a regulatory sandbox should keep on being developed. The AI regulation roadmap should be updated to reflect whether a government unit or independent body would be the most appropriate mechanism to deliver the central functions.
A consultation on the government's approach presented in the white paper will now run for 12 weeks, until 21 June. An AI regulation roadmap will also be published alongside the government's response to the consultation.
techUK will now work with its members over the coming weeks to gather views on the regulatory approach. If you would like to provide input to this work, please get in touch.
We'll also publish further insights analysing the white paper in more detail, and what it means for industry.
In welcoming the publication of the AI white paper Sue Daley, Director for Tech and Innovation at techUK, said:
techUK welcomes the much-anticipated publication of the UK's AI White Paper and supports its plans for a context-specific, principle-based approach to governing AI that promotes innovation. The government must now prioritise building the necessary regulatory capacity, expertise, and coordination. techUK stands ready to work alongside government and regulators to ensure that the benefits of this powerful technology are felt across both society and the economy.
---
techUK – Supercharging UK Tech and Innovation
The opportunities of innovation are endless. Automation, IoT, AI, Edge, Quantum, Drones and High Performance Computing all have the power to transform the UK. techUK members lead the development of these technologies. Together we are working with Government and other stakeholders to address tech innovation priorities and build an innovation ecosystem that will benefit people, society, economy and the planet - and supercharge the UK as a global leader in tech and innovation.
For more information, or to get in touch, please visit our Innovation Hub and click 'contact us'.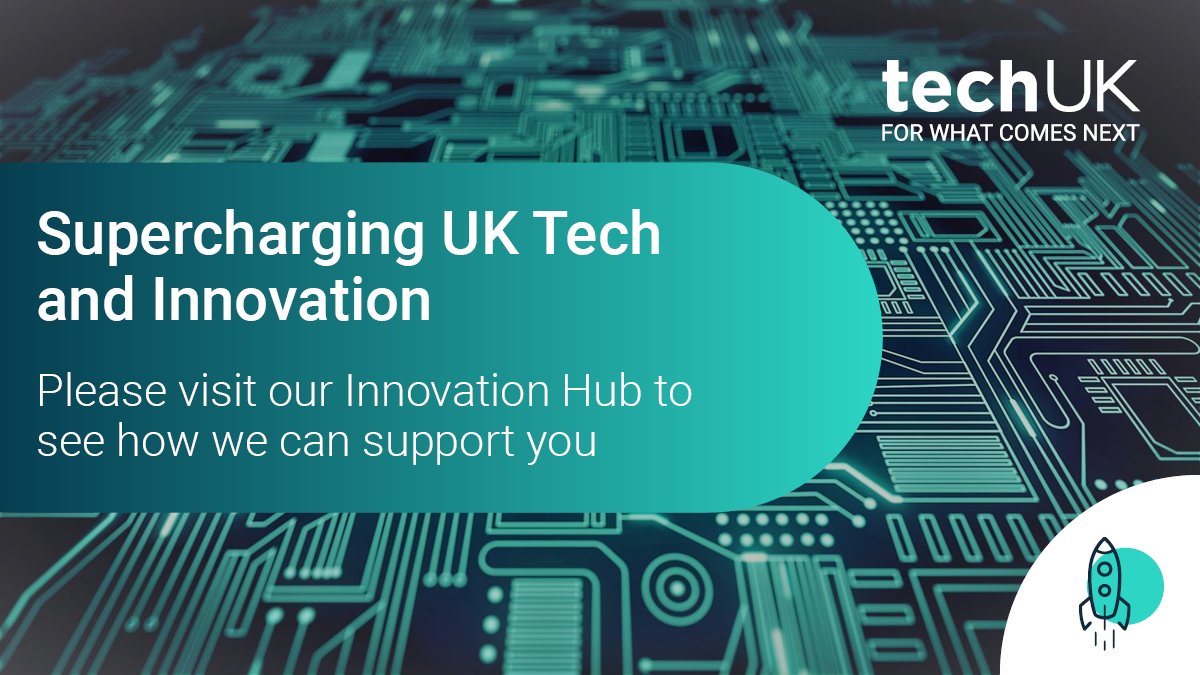 Technology and Innovation updates
Sign-up to get the latest updates and opportunities from our Technology and Innovation and AI programmes.
---
If you would like to participate in techUK's consultation response or get involved in any of our other AI initiatives, please get in touch with Carmine Greusard-Deffeuille ([email protected]).