Sunderland City Council: Sunderland – the UK's leading smart city (Local Digital Capital case study)
To coincide with the publication of our 2022 Local Digital Capital Index report, a tool designed to aid discussions and decisions in strengthening local tech ecosystems across the UK, we asked the techUK community to provide case studies to celebrate the contributions made by the tech sector to drive forward levelling up, digital adoption, develop digital skills, connect people, and harness R&D in the UK's nations and regions.
This case study is focused on digital infrastructure.
---
Sunderland is sharing a lesson in becoming the UK's leading and most advanced smart city. Through a 20-year joint venture partnership, Sunderland City Council and world leader in shared communications infrastructure, BAI Communications, are developing the world's first 'Smart City and 5G Neutral Host'.
This project aims to deliver the next generation of digital infrastructure which will enable Sunderland to become a global centre of excellence. This is achieved by using data to inform better decision-making and providing solutions for a smarter future.
"We believe no one size fits all when it comes to addressing the needs of a digital city of the future. We're building a 'network of networks' to facilitate a range of technologies that will serve the broadest possible set of social and economic needs across Sunderland – improving the lives and prospects of residents across our communities, whilst increasing the competitiveness of our businesses and the attractiveness of our city to potential inward investors."
This unique partnership has the advantage of combining public assets with private sector engineering expertise, creating an enhanced smart city infrastructure. Therefore, showing there is real value in creating digital and data solutions that make a measurable difference to residents, businesses and visitors.
A few of the initiatives developed through this public-private partnership are listed below:
Building public and private networks across the city
Ultrafast Wi-Fi (public or private)
5G technology (small cells, private networks)
LoRaWAN (City-wide low range wide area network)
Developing advanced digital and data solutions examples include:
IoT services (sensors, industrial products and gateways)
Carbon neutral solutions
Buildings management
Sensor networks
Wi-Fi messaging platform linked to a city-wide network for public information messages
CCTV solutions
Data management and analytics
To learn more about this partnership and find out how you can get involved, please contact the Smart City Programme team at [email protected]
---
techUK – Building Stronger Local Economies
techUK champions the tech sector throughout the UK. We work with local authorities, devolved government, and local and national policy makers to advocate for the tech sector in strengthening economic growth and resilience. We provide opportunities for our members and local stakeholders to meet, build relationships, and collaborate to drive forward local projects. For more information or to get in touch, please visit our Nations and Regions Hub and click 'contact us'.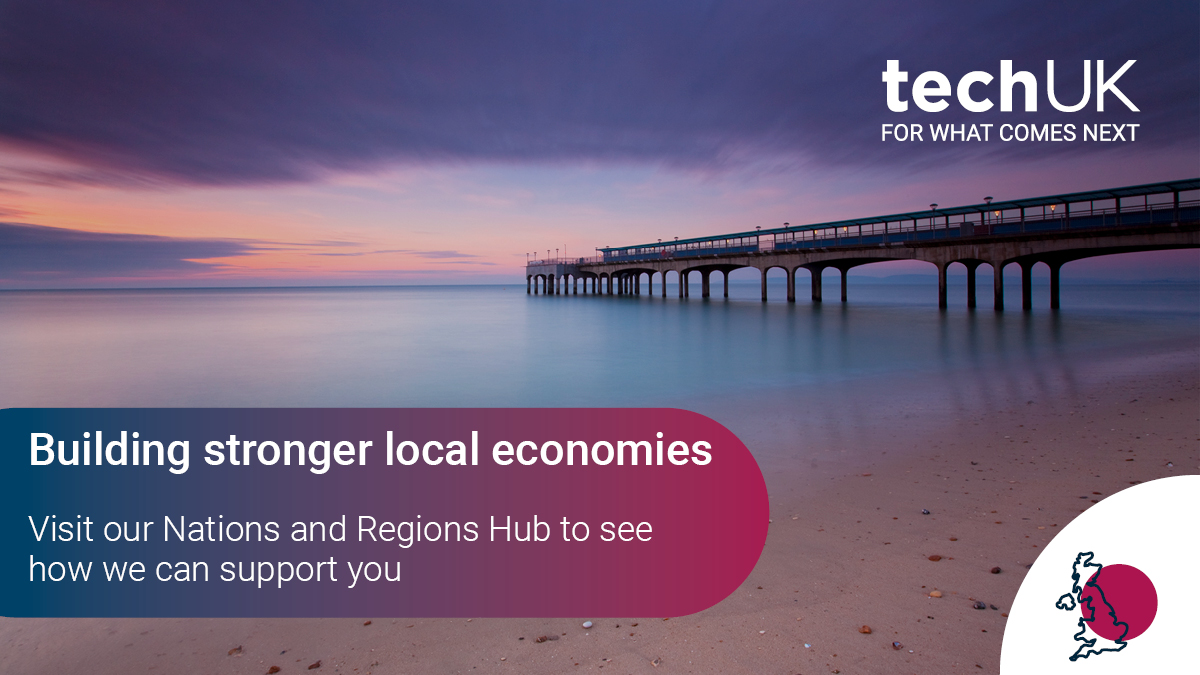 ---