Starship Technologies: Can we befriend robots? (Local Digital Capital case study)
To coincide with the publication of our 2022 Local Digital Capital Index report, a tool designed to aid discussions and decisions in strengthening local tech ecosystems across the UK, we asked the techUK community to provide case studies to celebrate the contributions made by the tech sector to drive forward levelling up, digital adoption, develop digital skills, connect people, and harness R&D in the UK's nations and regions.
This case study is focused on collaboration and coordination.
---
Starship Technologies is the world leader in autonomous robotic delivery and you can have a look at a Day in the Life of a Starship Robot here.
They operate autonomous delivery in the US, Estonia, Germany and Finland but the biggest and most sophisticated operations centre is in Milton Keynes – a city that has fully embraced their robots to the point that when Milton Keynes bid for city status, the bid was delivered in one of their robots!
The looks of a futuristic city
Starship Technologies provides a popular local service that has gone from being a novelty to a normal way of life in Milton Keynes (and in nearby Northamptonshire where they have been operating since December 2020), but there are other benefits to Starship too.
The operation of their robots is zero emission and 70% of their customers in Milton Keynes say the delivery has replaced a car journey for them. As a result, they estimate that they have reduced carbon emissions in the area by over 400,000kg. Businesses they work with report double digit increases in sales and have taken on extra staff to service demand. Starship also employs local people as Field Assistants in operations and robot maintenance.
Keeping communities at the heart of their work
As a company Starship Technologies strive to be a part of the communities they operate in, working closely with accessibility groups and schools. They love to talk about their work and why STEM matters with young people, and because robots are cool, this gets plenty of interest. As demonstrated by the successful workshop they ran for young people at the Cambourne Science Festival this summer where they revealed what their robots do and talked about the technology and engineering behind their autonomy.
Cambourne Science Festival workshop
Starship now operates in both West and North Northamptonshire, Bedford and Cambridgeshire and hopes to work with local authorities and leaders to expand their low emissions, innovative delivery method across the UK.
Last-mile delivery is the most expensive and carbon intensive of the whole supply chain. The pandemic has hastened the move towards on-demand, online ordering of (often) lower value deliveries. Air quality and congestion are increasingly important issues, and it is the responsibility of us all to lower carbon emissions and tackle climate change. Starship can – and does – play a key role in tackling the challenges of the modern world.
---
techUK – Building Stronger Local Economies
techUK champions the tech sector throughout the UK. We work with local authorities, devolved government, and local and national policy makers to advocate for the tech sector in strengthening economic growth and resilience. We provide opportunities for our members and local stakeholders to meet, build relationships, and collaborate to drive forward local projects. For more information or to get in touch, please visit our Nations and Regions Hub and click 'contact us'.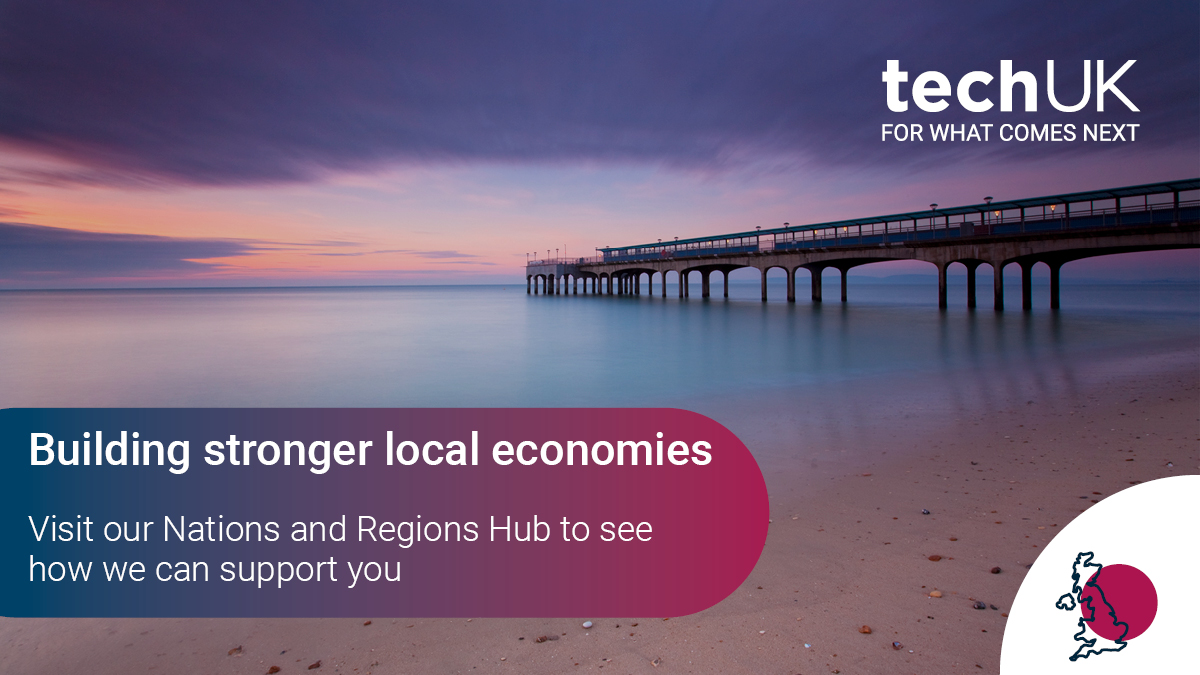 ---