Pathfinders: Report for Scottish Government on Women in Enterprise
"Women receive far less investment than men at all stages of the entrepreneurial journey from venture capital firms and related sources. For example, of the companies that received external investment in 2022, 12% were female-led and 73% were male-led. Overall, there was a 6:1 ratio of male-founded to female-founded companies that received investment. Over the past five years only 2% of institutional investment went to female-led businesses."
Tech entrepreneur, Ana Stewart, has published a new review into supporting women into entrepreneurship co-authored with Mark Logan, Chief Entrepreneur to the Scottish Government.
The full report, published on 20 February, can be found here and includes data analysis and stakeholder engagement to understand the root causes as well as informing the recommendations to help address this.
The recommendations includes:
Bringing start-up incubation, education and support to where primary carers are
The report suggests a "mobile Pop-up Pre-starts (or PUPS) model, travelling to the places near to where people in primary carer roles are most often located" to increase audience reach, maximise scare mentoring resources and improve cost effectiveness. PUPS would allow greater flexibility in terms of the time committed to each location and frequency of visits but would also help address rural needs as well as urban disadvantage where location and accessibility may be a factor.
The challenge of time constraints is something that adversely impacts women and primary carers, "the Pre-starts network (including PUPS) should provide up to one full year of financial assistance towards extended childcare costs (i.e., from 3:00pm-6:00pm, weekdays) for full members of the network." This would allow support for entrepreneurship without detrimentally impacting family and care needs.
"integrated nationwide entrepreneurial incubation, education and support platform, and one that is properly adapted to the needs of under-represented demographics."
Supporting under-represented founders through the Concept and Journey Funds
There are low numbers of women-led start-ups securing funds from angel investors and other capital funding, "even when turning to so-called friends-and family funding, only 14% of the businesses receiving this funding are female-led compared with 65% male-led."
The report suggests a Concept Fund is created as a "micro-funding scheme available to participants within the Pre-starts network, including PUPS (i.e. the pop-up variant). It is intended to encourage and support very early-stage founders in developing and testing nascent business ideas and concepts. The Concept Fund would provide small grants of up to £1,000 for this purpose to members of the Pre-Starts network, with minimum associated bureaucracy."
The report makes clear that because successful businesses grow support needs to track that journey and suggests a Journey Fund, "designed to support under-represented founders whose business ideas are more developed …(the fund) would make grants to qualifying founders in these under-represented demographics of up to £50,000. The intention is to provide a greater runway for product concept development and business growth readiness before requiring access to private funding."
Encouraging better representation during "selection events" within the entrepreneurial journey
"There is a well-established human tendency to bias in favour of selecting those people who are most like us. Investment organisations and selection panels, reflecting wider industrial demographics, tend to be heavily male-dominated, (and strongly skewed towards the country's majority ethnicity."
The report recommends that not only formally must those successful and selected participants include minimum levels of female representation but so must the selection panels making the decisions in order to tackle bias. The panels should also provide "detailed, transparent feedback to founders rejected from participation as a result of a selection process" to allow for development and growth and to improve business ideas in the future.
Further recommendations are made to ensure that over the course of a set period, allowing time for adaption, "co-investment formally becomes contingent on participating VCs having at least a minimum threshold level of women in senior-investment roles". Again helping decision making and addressing this not just in the selection process but in VCs too.
Integrating entrepreneurial education within Scotland's education system
The Pathways report isn't a report that to impact women alone, but is designed to help the whole country, society and economy.
"Entrepreneurialism is a critically important discipline in the development of the nation's economy, it is imperative that we normalise the activity within society and better equip our entrepreneurs for success."
This means that Scotland develop and integrate programmes to expose and encourage young people toward "entrepreneurial experiences and techniques" in throughout the education system in schools, colleges and universities. Project based learning that encourages experiential work will allow for greater emphasis to be placed on this in a cross curricular way in the syllabus.
An example programme is suggested where "each participating pupil start-up team would receive a small bursary to support their idea, with the best start-up ideas, and/or execution of those ideas, being publicly recognised at the end of the programme." The idea being to
Establishing Scotland as a leading nation in Femtech
The report also suggests there are growing sectors within tech that could find a successful home and be encouraged in Scotland. "Femtech start-ups already include both female and male founders, with a skew towards the former. The fund would support start-ups with high growth potential" in a market estimated to be around $50billion globally.
Addressing the underlying sexism at the heart of under-participation
The reports recommendations also go beyond just the business world and entrepreneuriship but suggest wider societal work is required to address the imbalance.
"Where an ecosystem is populated predominantly by one demographic it follows that bias will exist both unconsciously and consciously. Scotland needs to face this reality more actively, and more intensively address it.… We must move away from a position of assuming that under-participation is the fault of the under-represented, towards the reality that under-participation is the fault of society."
The report suggests further diversity and equality education at university and secondary school, with peer to peer discussion. This should be to encourage learning, sharing and understanding among students and seek to change the work and societal landscape in the future.
In a similar way to other accreditation marks given to companies, the report proposes a Fair Society Champion accreditation is introduced in Scotland and is awarded to those employers that actively encourage a fairer society. Some of this can be done through Government's own procurement and the report suggests Government could require accreditation to be help before contracts are awarded or grants received.
Clarifying Access Pathways into Entrepreneurship
Further suggestions are made within the Pathways report to establish a centralised resource "with clearly defined pathways for entrepreneurs at various stages of their individual journeys, in each case making clear all of the relevant follow-on support and mentoring options available to them". This is referred to as the 'Entrepreneurial Pathfinder' in the report.
In the same way that there is a life long learning idea there is also a life long enterprise ideas, helping individuals and businesses know what support is available and how they could support.
Establishing a comprehensive database for tracking progress towards full representation in entrepreneurship
Finally the report notes the need for a "gender- and ethnicity- disaggregated common database … accessible to all stakeholders within the entrepreneurial ecosystem". This combined public and private data (which is anonymous) and allows Government to publish trends and to track progress. The report notes "government should make it compulsory that any applicable entrepreneurial organisations receiving financial assistance and those in co-participation arrangements involving public money should make their relevant data available to this platform in an anonymised fashion.
---
techUK – Building Stronger Local Economies
techUK champions the tech sector throughout the UK. We work with local authorities, devolved government, and local and national policy makers to advocate for the tech sector in strengthening economic growth and resilience. We provide opportunities for our members and local stakeholders to meet, build relationships, and collaborate to drive forward local projects. For more information or to get in touch, please visit our Nations and Regions Hub and click 'contact us'.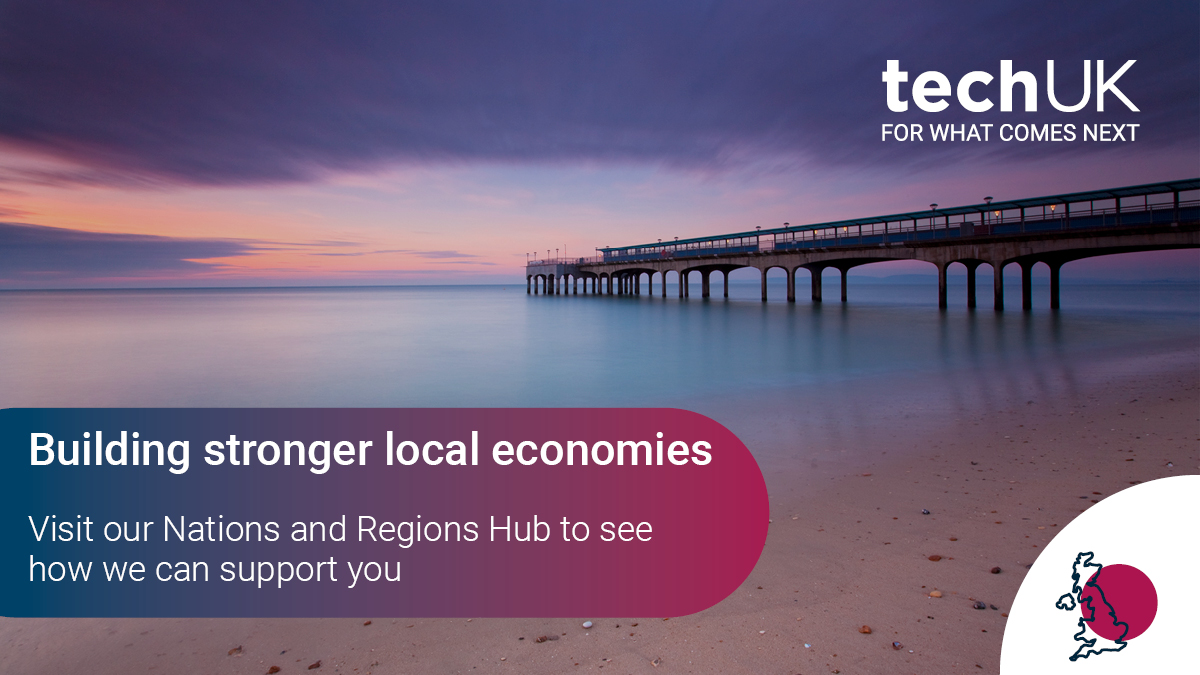 ---