Kagool: The key to Kagool's rapid growth? A culture of innovation (Local Digital Capital case study)
To coincide with the publication of our 2022 Local Digital Capital Index report, a tool designed to aid discussions and decisions in strengthening local tech ecosystems across the UK, we asked the techUK community to provide case studies to celebrate the contributions made by the tech sector to drive forward levelling up, digital adoption, develop digital skills, connect people, and harness R&D in the UK's nations and regions.
This case study is focused on collaboration and coordination.
---
West Midlands based tech company Kagool has grown rapidly, from 15 people to over 600 across the globe, all within the space of 5 years. Their focus has been on innovating with advanced technologies and data to help clients reach their business goals. No doubt, the organisation has expanded at a phenomenal rate.
So, what has driven this growth? Kagool is all about innovation. The company fosters a culture where employees are excited to be experimenting with completely new technologies, and they're not afraid to aim high and take risks. With this attitude, they can quickly build knowledge and experience on the latest technologies, including advanced analytics, mixed reality, robotics, data science, drones, and more.
Kagool has expanded massively in the Middle East and Asia Pacific regions in the past year, despite the challenges in the global economy. And it just goes to show how quickly you can progress when you're not afraid of taking risks and going for it with the right team around you.
One example of the success of this approach is Kagool's work with Microsoft to transform the engineering field. Kagool created a demo to show how mixed reality, IoT, and data science can be combined to give an end-to-end predictive maintenance and remote diagnosis solution for any physical assets around the globe.
Transforming engineering with mixed reality and IoT and effective collaboration
Adoption of mixed reality and new wave technologies is still in its infancy, but they are becoming increasingly accessible for mainstream business applications. Kagool has been working with Microsoft to create an innovative solution, demonstrating how engineering and maintenance can be made more efficient and adaptable with these technologies.
Kagool's demo involves a Lego model of a digger, representing the real-life asset, and a digital twin of the model, which can be viewed as a hologram with a Hololens, or as a 3D model on a tablet or desktop screen. The digital twin displays information in real-time from IoT sensors on the physical asset, including temperature, rotations per minute, vibrations, and any other key metrics.
If an organisation manages a large volume of globally dispersed assets generating big data sets, digital twins can be used to:
Remotely diagnose a performance problem anywhere in the world, create an inspection order, deploy maintenance personnel and order replacement parts through seamless connectivity with the ERP system.
Predict what failures are likely to occur and in what circumstances to intelligently set maintenance intervals, reduce downtime and save costs.
Develop new commercial models based on pay-per-use through continuous ingestion storage and transformation of big data at high velocity.
Centrally monitor performance against pre-set tolerances to identify problems, take preventative action and reduce downtime.
This architecture gives real time visibility of the maintenance and use of the assets to improve service levels. It also allows to carry out remote inspections, reducing travel and risk for front-line staff, whilst ensuring the machinery runs at optimum performance.
This solution is an example of how experimenting with new technologies with an open mind can lead to exciting new outcomes. This demo, first developed in Kagool's Coventry office, is now being shown at ~40 Microsoft Technology Centres across the globe, from Paris to New York to Sydney to Singapore.
Data innovation can help organisations reach their goals
From advanced analytics to Artificial Intelligence to the Metaverse – every modern organisation has some interest in data. Whether they are looking to increase efficiencies, scale their operations up, or become more resilient, organisations are always looking for technology solutions.
Kagool's strength in providing solutions largely lies in their culture. They recognise the importance of giving employees the space to experiment, leading to innovative new solutions.
---
techUK – Building Stronger Local Economies
techUK champions the tech sector throughout the UK. We work with local authorities, devolved government, and local and national policy makers to advocate for the tech sector in strengthening economic growth and resilience. We provide opportunities for our members and local stakeholders to meet, build relationships, and collaborate to drive forward local projects. For more information or to get in touch, please visit our Nations and Regions Hub and click 'contact us'.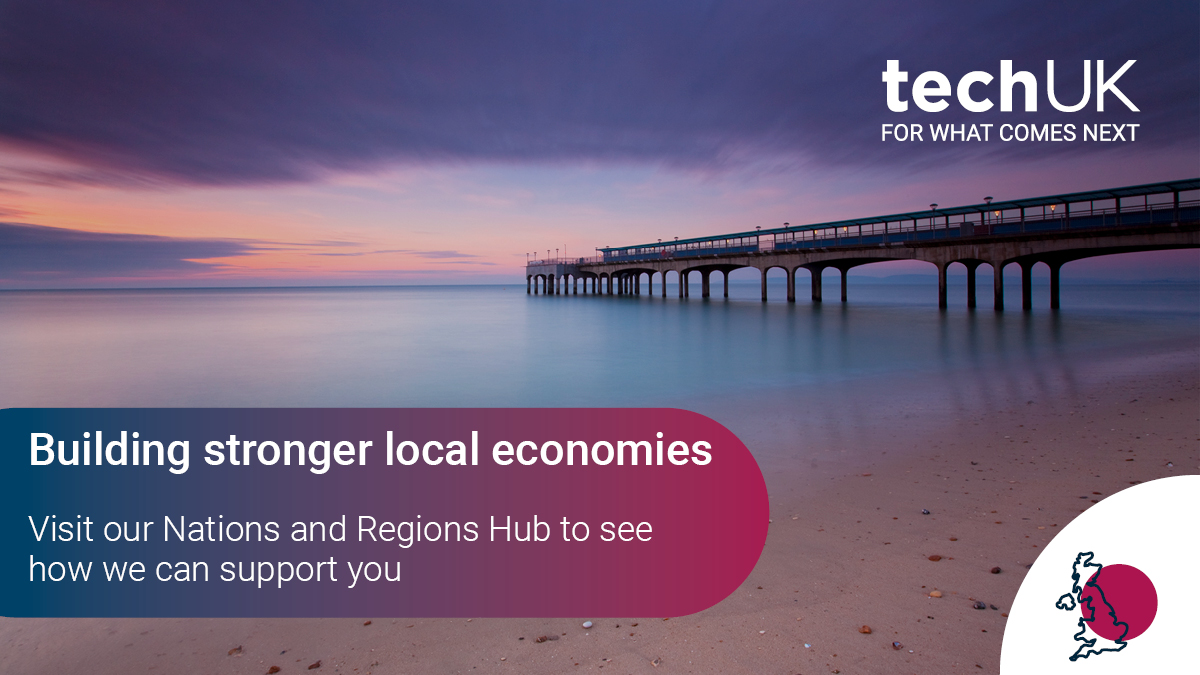 ---