Empiric: Smashing the stereotypes in the tech industry - A case study by Next Tech Girls (Local Digital Capital case study)
To coincide with the publication of our 2022 Local Digital Capital Index report, a tool designed to aid discussions and decisions in strengthening local tech ecosystems across the UK, we asked the techUK community to provide case studies to celebrate the contributions made by the tech sector to drive forward levelling up, digital adoption, develop digital skills, connect people, and harness R&D in the UK's nations and regions.
This case study is focused on digital skills.
---
The Next Tech Girls initiative, created by international tech recruitment company Empiric, aims to inspire today's girls in education to become tomorrow's women in technology. They host events, help secure work placement opportunities and give training to teenage girls to spark or nurture their passion for tech.
It's no secret that the UK tech industry is overwhelmingly male, with women making up just 26% of the tech workforce in 2022. Despite showing interest in STEM subjects around the start of secondary school, girls' interest tends to wane by their GCSE years, with a lack of visible role models as well as a wider lack of inclusion in the UK tech sector shouldering some of the blame.
Looking at computing in particular, girls only make up around 21% of GCSE class numbers. By A-level, this number drops to around 15%, and by degree level it falls to 13%. Somewhere in this academic journey girls are losing interest in tech. Next Tech Girls wants to change that.
Next Tech Girls was established to tackle the industry's underrepresentation of women at the grassroots level. Since 2016 they have partnered with more than 40 companies and 100 educational institutions to deliver tech-focused work placements for over 350 teenage girls. By providing them with hands-on experience and insights into the opportunities available at a critical age, Next Tech Girls are shaping their futures and the future of the tech industry.
How have the girls responded
Between testimonials and feedback results, Next Tech Girls have seen an overwhelmingly positive response from the girls placed and their host companies. 92% of girls said that their placement had made them consider a career in tech and 85% said that they would like to be involved in another tech-based work experience.
This sentiment was echoed in comments from the girls:
"I found the experience very valuable and rewarding as it significantly improved my programming and teamwork skills, and also boosted my confidence since the feature I helped develop was added as a permanent feature to their website.
"Next Tech Girls got me into this career route and I honestly can't give up now, forever grateful."
And from the host companies:
"The students responded well to the tasks we gave them and some of their work is now being used by our teams. They found the placement beneficial and made a positive impact in a short period of time."
Some of the girls who had placements between 2016 and 2018 are now studying Computer Science degrees or working in the tech industry. They all cite their Next Tech Girls experience as helping them make the decision to pursue careers in tech.
Planning for a diverse future
The past few months have seen several exciting developments for Next Tech Girls. They have appointed a new director - Emily Hall-Strutt, former Programme Delivery Manager and Diversity and Inclusion lead for Ministry of Justice Digital - and have been working with a design agency to rebrand the initiative to better appeal to teenage girls. They are broadening their offering to include training and workshops to reach more girls and have a wider impact and are looking for new companies to form partnerships.
Next Tech Girls will be showcasing some brilliant women in tech to make girls aware of the variety of roles and routes into the industry, as well as advertising opportunities for girls (and tech companies) to get involved with their work.
Their ambition is to reach 250,000 girls by 2030. Whilst bold, this goal allows them to really establish their vision for the future, with programme alumni feeding back to inspire the next generation. Using their international Empiric network as a base, they want to take the programme global, and inspire girls around the world to take part in creating the future of tech.
For more information, please email [email protected]
---
techUK – Building Stronger Local Economies
techUK champions the tech sector throughout the UK. We work with local authorities, devolved government, and local and national policy makers to advocate for the tech sector in strengthening economic growth and resilience. We provide opportunities for our members and local stakeholders to meet, build relationships, and collaborate to drive forward local projects. For more information or to get in touch, please visit our Nations and Regions Hub and click 'contact us'.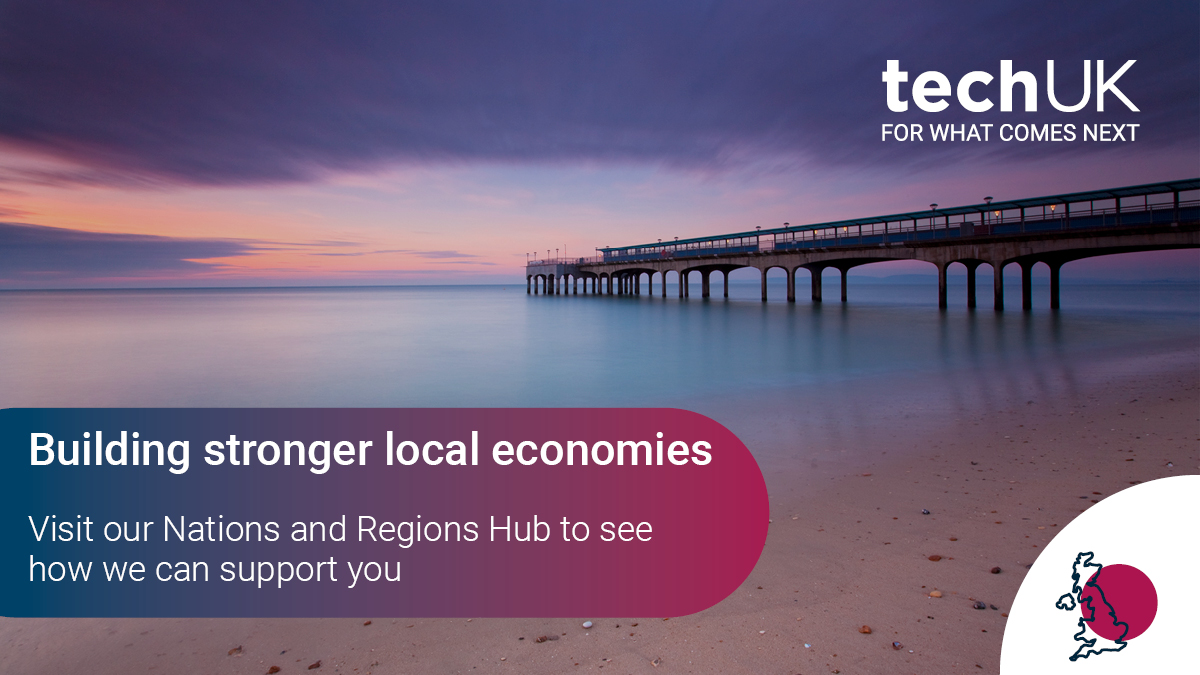 ---