5G RuralDorset - From R&D to sustainable legacy (Local Digital Capital case study)
To coincide with the publication of our 2022 Local Digital Capital Index report, a tool designed to aid discussions and decisions in strengthening local tech ecosystems across the UK, we asked the techUK community to provide case studies to celebrate the contributions made by the tech sector to drive forward levelling up, digital adoption, develop digital skills, connect people, and harness R&D in the UK's nations and regions.
This case study is focused on research and innovation.
---
The ground-breaking, multi-award winning 5G RuralDorset project led by Dorset Council and funded by the Department for Digital, Culture, Media & Sport (DCMS) and industry partners ended in September 2022 at a final project value of £9 million.
The research was designed with the needs of people in rural areas at its heart, seeking to provide innovative connectivity solutions in hard to reach and remote areas such as Dorset's beautiful Jurassic Coast.
Transforming village life
The Rural Community Accelerator research provided public 5G connectivity to the village of Worth Matravers. This tourist hotspot was previously a mobile not-spot and the site now provides essential voice, data and 999 services to residents, businesses and visitors.
The partnership approach, using public sector-owned assets to help Vodafone UK deliver its fastest ever site build in a rural area, provides a useful model for the UK telecoms ecosystem. Indeed Vodafone outlined the part the Dorset Council project played in its future network plans in this blog.
5G at Sea
Connected Coast was a workstream led by Excelerate Technology and provided private 5G connectivity along Dorset's Jurassic Coast. The network will support continuing work around 5G at sea and how next generation connectivity can support the increasingly important aquaculture sector. It will also continue to serve the Lulworth First Responders and the equipment they use to improve coastal public safety.
Like much of the project, this work has provided new jobs and has seen a number of the partners and contributors significantly grow their team. Jet Engineering for example, who designed and built the world's first 5G connected buoy, went from being a one-man-band to employing 11 members of full-time staff.
5G to support national security
The Innovation Accelerator provided both indoor and outdoor 5G Standalone networks at Dorset Innovation Park (DIP). During the lifetime of the project DIP was designated as the national NSTIx Co-creation Space for Defence Innovation. The park was also chosen as the site for the Ministry of Defence (MoD) Battlelab. The indoor network will remain in place to support the Army's investment in Future Soldier.
In April 2022 the outdoor network was transferred to project partner Kimcell, who will be investing £1m into expanding its capabilities. It will be used to support work involving Government agencies and suppliers concerned with public safety. Further R&D work, including missing persons, mmWave trials with Qualcomm, and AI at the Edge is also being explored. Defence use of the 5G networks at the park will form part of the 'deep tech' test centres supporting MoD and NATO projects. The investment will result in an additional eight new jobs.
Farming of the future
The Future of Food research led by Wessex Internet, provided several 5G private networks across clusters of agriculture and aquaculture farms. The workstream also used existing coverage to connect sensors across farms. The purpose of this research was to prove that by using next generation connectivity, modern farming can become more productive and environmentally friendly. The networks will be left in place with a view to further commercial, research and development and educational uses.
The legacy
The funding made available by DCMS and industry partners has demonstrated the role R&D projects and the collaborative innovation ecosystem they foster in realising digital and wider economic development ambitions.
The project has played an important role in positioning rural Dorset as a leading digital innovation ecosystem in the UK. Dorset now has the UK's largest 5G test infrastructure covering land, sea and air plus a private and secure technology park. This is a great place to do business and is already attracting visitors from around the world.
The project has had a profound impact on the county. From providing enhanced connectivity in remote areas to opening new avenues for employment and innovation, it really has put Dorset on the map as a forward-thinking region.
---
techUK – Building Stronger Local Economies
techUK champions the tech sector throughout the UK. We work with local authorities, devolved government, and local and national policy makers to advocate for the tech sector in strengthening economic growth and resilience. We provide opportunities for our members and local stakeholders to meet, build relationships, and collaborate to drive forward local projects. For more information or to get in touch, please visit our Nations and Regions Hub and click 'contact us'.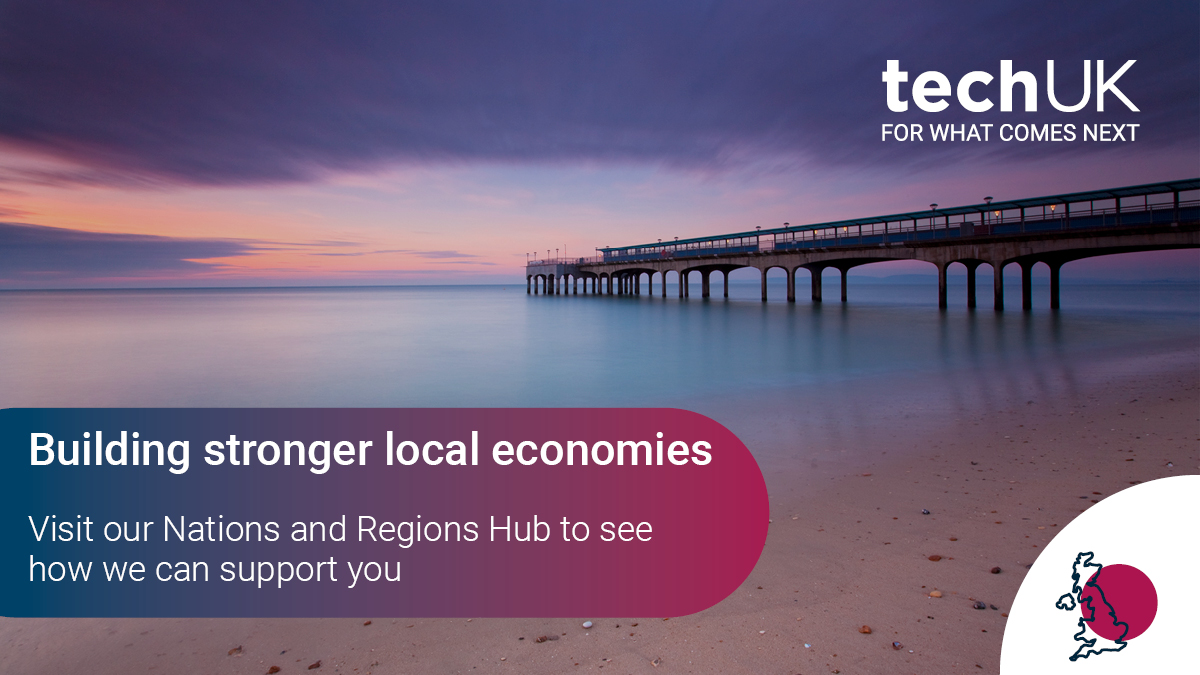 ---