Use Tech to Solve Real World Problems with the CivTech Scotland Accelerator Programme (Guest blog by CivTech Scotland)
Public and third sector organisations in Scotland have problems that need to be solved with smart, innovative and efficient solutions. Alongside this, the Scottish Government has commitments to ensure that a large part of its tech spend goes to small, innovative businesses. CivTech has become a key part of this process, as an Accelerator designed to create digital solutions to public sector problems as quickly and effectively as possible.
The CivTech Accelerator gives companies the opportunity to tackle a real life Challenge, solve it, and win contracts with a blue-chip public sector organisation. Companies work directly with Challenge Sponsors, who submit the 'Challenges,' on a close and collaborative basis. Unlike other accelerator programmes, CivTech brings the companies together with their customer at the beginning of the process so that the companies and Challenge Sponsors work together to produce a Minimum Viable Product, that both works and is capable of further development.
The CivTech process begins with a call to action to apply to solve the Challenges set, and any organisation, team or individual can respond to them. Applications are assessed, and shortlisted proposals go into an Exploration Stage where they are developed further. The chosen proposals go through to the Accelerator stage – four months of intensive work to create the solution. Through CivTech's unique business workshop system (designed by people with extensive experience of start-ups, incubation, growth and accelerators), a business capable of taking the emerging product to the world is created.
The great legacy of CivTech Challenges is that the solutions produced for them could go on to benefit even more organisations, as entrepreneurs and businesses involved can take their solutions to market at the end of the CivTech process. 2021's CivTech 6 alumni companies have already collectively received £2.5 million in follow-on contracts, and there is up to £6 million available to the companies on CivTechs 7 and 8, who we hope will go on to further investment successes themselves.
The rapid scaling of the Accelerator Programme comes as a result of a £6 million funding for Challenges announced by the Scottish Government earlier this year, with similar funds committed year-on-year until 2026. For the first time CivTech is running two full cohorts at the same time, which is set to be the CivTech Scotland annual model going forward. This evolution is boosting opportunities for innovative companies to solve major challenges facing the public and third sector in Scotland, while simultaneously growing their own business and industry profile, as well as creating more chances for public sector organisations to come to us with the Challenges to be solved.
Examples of Challenges set across CivTech 7 and CivTech 8 include: How can technology help us detect beaver burrows in the wild and assess their associated risks to public and private interests?; How can technology unlock the power of the bike, stimulating demand for cycling infrastructure and support South of Scotland communities?; How can technology reduce the impact of giving evidence in court by helping Victims & Witnesses prepare for the experience?; How can technology help to create a nature network by 2030 across all of the different areas of Scotland?
The Challenge solutions for CivTech 7 will be showcased on the 8th February 2023 at Demo Day. 2023 will also see the launch of CivTech 9 and 10 with brand new Challenges for companies to solve. We want organisations and companies from all over the world to take part in CivTech and help us find solutions to real life problems. This is Tech for Good in action and an opportunity for companies to help create real positive change.
You can stay up to date with all things CivTech by signing up to our newsletter, and the CivTech team are always keen to speak to potential companies. If you have any questions about the CivTech process, get in touch at [email protected].
---
techUK – Building Stronger Local Economies
techUK champions the tech sector throughout the UK. We work with local authorities, devolved government, and local and national policy makers to advocate for the tech sector in strengthening economic growth and resilience. We provide opportunities for our members and local stakeholders to meet, build relationships, and collaborate to drive forward local projects. For more information or to get in touch, please visit our Nations and Regions Hub and click 'contact us'.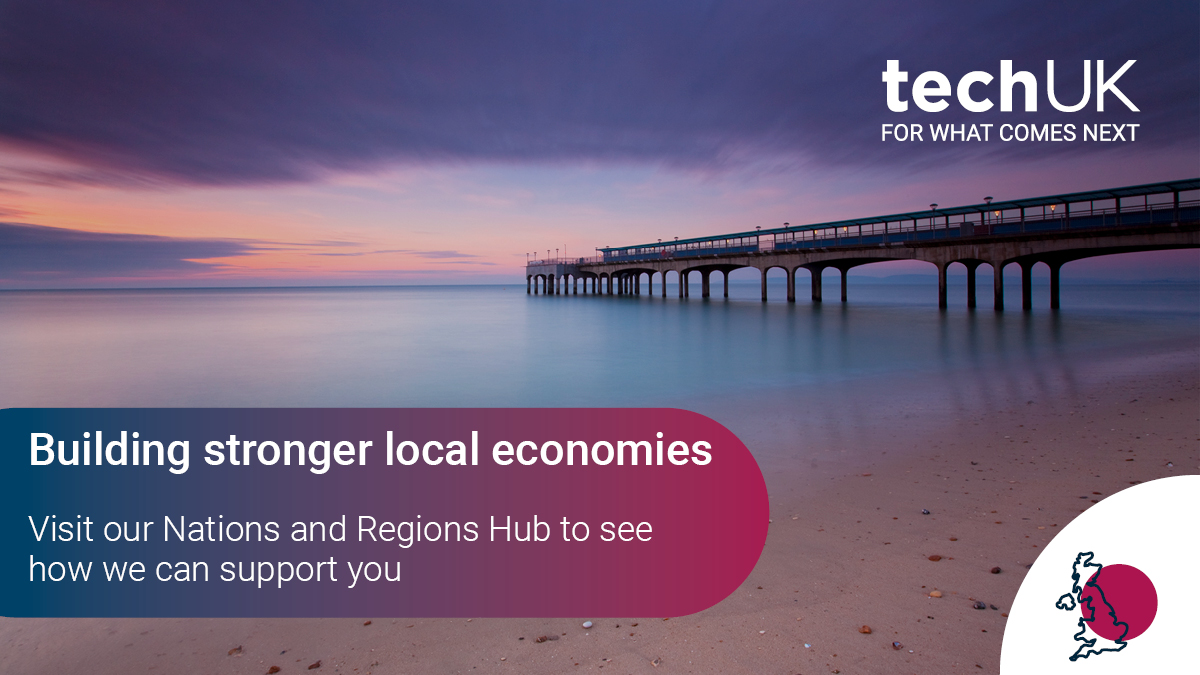 ---