Call for submissions: Local Digital Index Campaign Week 16-20 October
We are delighted to launch our third iteration of the Local Digital Index on 16 October, part of Birmingham Tech Week. The Index and report will analyse the strength on the tech sector across the UK in fields such as digital skills, digital infrastructure, finance and investment and digital adoption, as well as make recommendations for how the tech sector can be strengthened across the entire UK. You can sign up here for this important event.
From 16 October to 20 October, we are highlighting the contributions made by the UK tech sector to improve the local and regional tech ecosystems, playing a vital role in the levelling up agenda through innovation and engagement. We will bring you daily insights, articles and videos from various topics, including digital skills development, digital infrastructure, collaboration and partnership, and R&D, all showing the advances made toward strengthening local tech ecosystems.
Be part of our campaign week to have the opportunity to showcase the work you are doing in the nations and regions to drive technological innovation and bring new opportunities across the UK.
How to contribute?
All techUK members and stakeholders can submit one or multiple contributions by 22 September. We welcome a variety of formats so that you can decide what would best fit your company. Here is what you can submit and some guidelines:
Blogs
These will be published on our website as an insight page.
Between 600 – 1,000 words long
Can include images, infographics and videos/vlogs (see below guidelines about submitting vlogs)
Add links throughout your text
Vlogs
These will be published on our website as an insight page.
Between 3 to 6 minutes
YouTube link or MP4 file
Title for the video and any intro text
Examples: #1
Video Statements
These will be published on our social media channels primarily and spotlighted on our campaign week page.
Create a 30 to 90 seconds (max 2min) speaking to camera video, responding/expanding to 1 of the following questions/topics:

How are you strengthening the local and regional tech sectors?
How can we collaborate more efficiently to drive innovation?

Email us your video at https://wetransfer.com/. Instructions here.
If you would like to contribute to our campaign week, please email [email protected] to let us know the piece's title by 22 September, to ensure we can schedule this in our content calendar.
All content must be submitted by 29 September. Content submitted after the deadline may not get social promotion which is crucial to increase the visibility of the submitted work.
---
---
techUK – Building Stronger Local Economies
techUK champions the tech sector throughout the UK. We work with local authorities, devolved government, and local and national policy makers to advocate for the tech sector in strengthening economic growth and resilience. We provide opportunities for our members and local stakeholders to meet, build relationships, and collaborate to drive forward local projects. For more information or to get in touch, please visit our Nations and Regions Hub and click 'contact us'.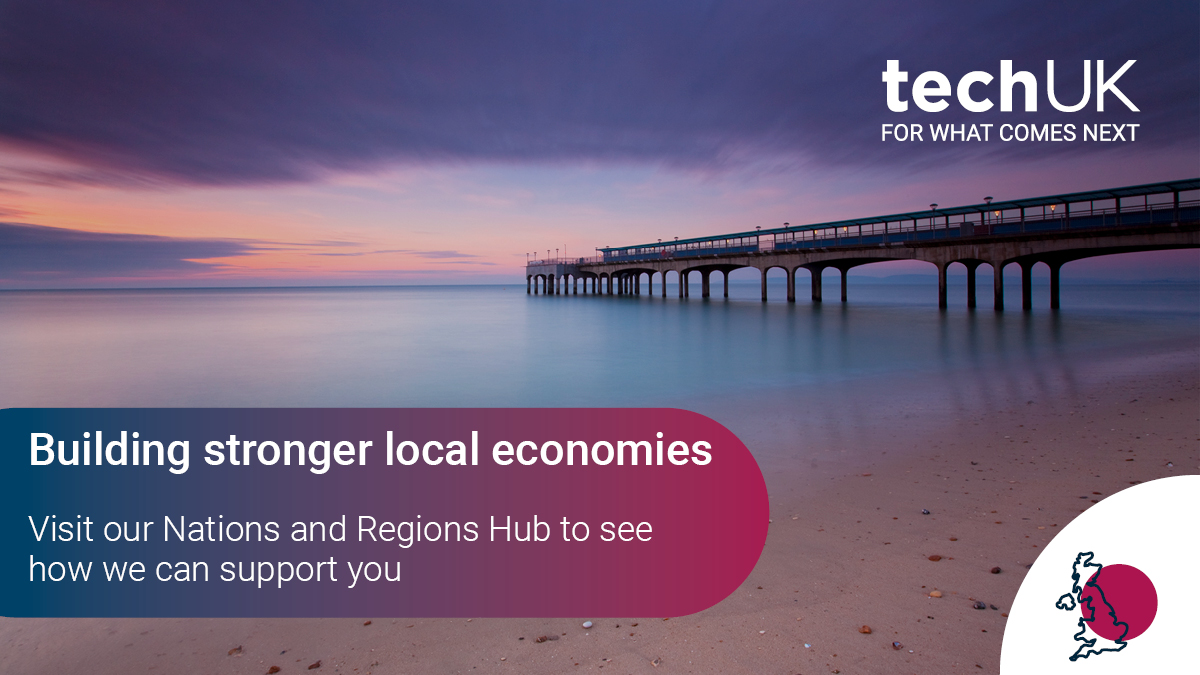 Nations and Regions updates
Sign-up to get the latest updates and opportunities from our Nations and Regions programme.