Broadway Partners: Gigabit Voucher - Bridging the Digital Divide (Local Digital Capital case study)
To coincide with the publication of our 2022 Local Digital Capital Index report, a tool designed to aid discussions and decisions in strengthening local tech ecosystems across the UK, we asked the techUK community to provide case studies to celebrate the contributions made by the tech sector to drive forward levelling up, digital adoption, develop digital skills, connect people, and harness R&D in the UK's nations and regions.
This case study is focused on digital infrastructure.
---
Having access to the internet should be a fundamental human right, much like having access to running water and electricity. Everyone, regardless of who they are or where they live, has a fundamental right to internet access.
With the events of COVID 19, it is clear that access to the internet is no longer a luxury but rather a need. Providing a digital bridge is crucial in today's society. However, millions of people are deprived of basic access to the internet because of digital inequality, especially those living in remote areas.
The good news, however, is that "Project Gigabit," a £5 billion gigabit broadband rollout funded by the UK government, is here to help. This is the kind of forward thinking we need to end the internet divide and connect those living in remote areas.
Introducing the Gigabit Broadband Voucher Scheme
In March of 2018, the UK government established a voucher program called Gigabit Broadband Voucher with the intention of expanding gigabit-capable connectivity across the country, especially in rural areas. The government has committed £210 million so far to help folks in rural areas who are experiencing difficulties due to sluggish broadband speeds.
How it works
Gigabit voucher-eligible businesses can access the program through a participating provider. To obtain a gigabit connection, those interested must locate a certified provider and sign up with them. Every UK citizen, no matter how remote their location, will soon have access to gigabit-speed broadband thanks to this government initiative. The government plans to spend £5 billion to make sure that no community is left behind, especially those in remote, hard-to-build-for areas where high-speed Internet access is not currently available.
What makes a gigabit connection so special?
Full-fibre connections are required for the fastest and most dependable broadband that can deliver gigabit speeds. Given that one gigabit equals 1,000 megabits, the gigabit connection offers a tremendous boost in network speeds.
How to qualify for the voucher program in rural areas
The gigabit vouchers are a cooperative effort that can be used to offset the expense of installing new connections in rural areas where residents and businesses meet the requirements listed below:
Current broadband speeds are below 100 Mbps.
There is little chance of a commercial gigabit-capable network being built there anytime soon.
A government-funded contract to upgrade the network has not been established as of yet, nor is one in the works.
When two or more homeowners or qualified companies band together to fund an installation, they do so by pooling their vouchers to cover the total cost of the job (a single connection will not be eligible for the program). Also, projects will have to pass BDUK's commercial and value for money reviews.
Corporate Eligibility
To get a gigabit voucher, a business must self-certify that it is a small or medium-sized enterprise (SME), as defined by sections 465 to 467 of the Companies Act 2006, which can be summed up as follows:
Must have no more than £36 million in annual sales with no more than 249 employees.
A balance sheet total of less than £18 million per year.
In addition to the voucher payment, the business must have received less than 325,000 SDRs in government grants in the last three fiscal years, which must include the current year.
The Special Drawing Rights sum has replaced the de minimis grant limit of €200,000 since the UK's exit from the European Union. Small and medium-sized businesses (SMEs) are eligible for vouchers in the same way that for-profit businesses are.
In Conclusion
The good news is that the gigabit voucher scheme is available throughout the United Kingdom. Having access to the internet is essential for any company operating in the modern world. And thanks to the Gigabit broadband voucher scheme, businesses can now take advantage of a wide variety of new online services and communication channels, including vastly increased communication speeds.
---
techUK – Building Stronger Local Economies
techUK champions the tech sector throughout the UK. We work with local authorities, devolved government, and local and national policy makers to advocate for the tech sector in strengthening economic growth and resilience. We provide opportunities for our members and local stakeholders to meet, build relationships, and collaborate to drive forward local projects. For more information or to get in touch, please visit our Nations and Regions Hub and click 'contact us'.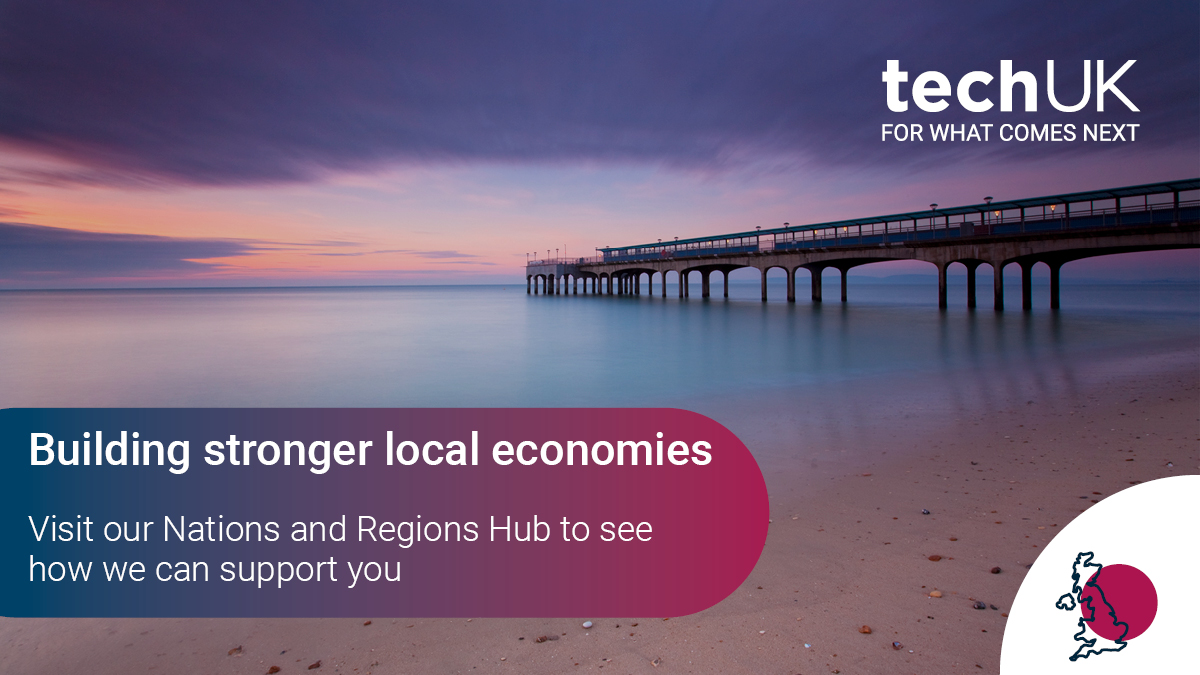 ---