techUK supports #SaferInternetDay 2023
Safer Internet Day provides a welcome opportunity to celebrate the benefits of technology while informing a global conversation around how children, young people and adults can use online spaces to have safe conversations.
The internet is a great place for people to collaborate and learn and it has played a vital role in improving connectivity, collaboration and enhancing skills for all. However, these opportunities can only be realised if people feel safe and secure to explore the online world and discover the full benefits that it can provide.
This is why techUK has been a longstanding supporter of #SaferInternetDay. It provides an important moment to focus on the opportunities to building a better and safer internet, and to showcase the range of different initiatives which are taking place across the tech sector and beyond.
We are delighted that techUK members are using technologies and innovations to enable families and young people to connect safely and securely online, and supporting the day in a variety of ways including:
Apple has today shared tools and resources to empower families and keep children safe online-from free educational sessions online and in Apple Stores, to highlighting apps on the app store that promote child safety, privacy and parental controls: Apple marks Safer Internet Day by spotlighting features and tools to protect children online

Vodafone has launched  Digital Parenting Pro, an interactive resource which provides information about what parental controls and safety settings are available across the most popular apps, games and devices. Whether it's managing screen time limits, filtering out harmful content or understanding what the latest app or game is about. Vodafone have also launched an online safety demonstration to empower parents and carers to have conversations about online safety with their kids.

Zoom is working closely with users. It has published a guide for parents on how to talk to their children about being safe on the platform: A parent's guide for talking to kids about safely using Zoom
As we look ahead to the rest of 2023 and the progression of the Online Safety Bill, techUK and its members will continue to create solutions which support safe online experiences.
Julian David, techUK CEO said:
techUK and our members are delighted to support the 20th edition of #SaferInternetDay, which marks an important day to focus on the technologies and innovations that are vital for creating safer spaces online.  We are proud to be working to ensure that young people, families and professionals alike are able to socialise, learn and collaborate online while being supported by innovation and positive technologies to stay safe.
---
techUK - Getting Regulation Right for a Digital Society
Visit our Digital Regulation Hub to learn more or to register for regular updates.
techUK forums provide members the opportunities discuss some of the biggest challenges underpinning the regulation of digital services . Our working groups, networks, and events - including our annual Digital Ethics Summit and Tech Policy Conference - enable cross-sector collaboration and are crucial sources of insight and thought leadership. Get in touch to see how we can support your policy work. Visit our Digital Regulation Hub and complete the 'contact us' form.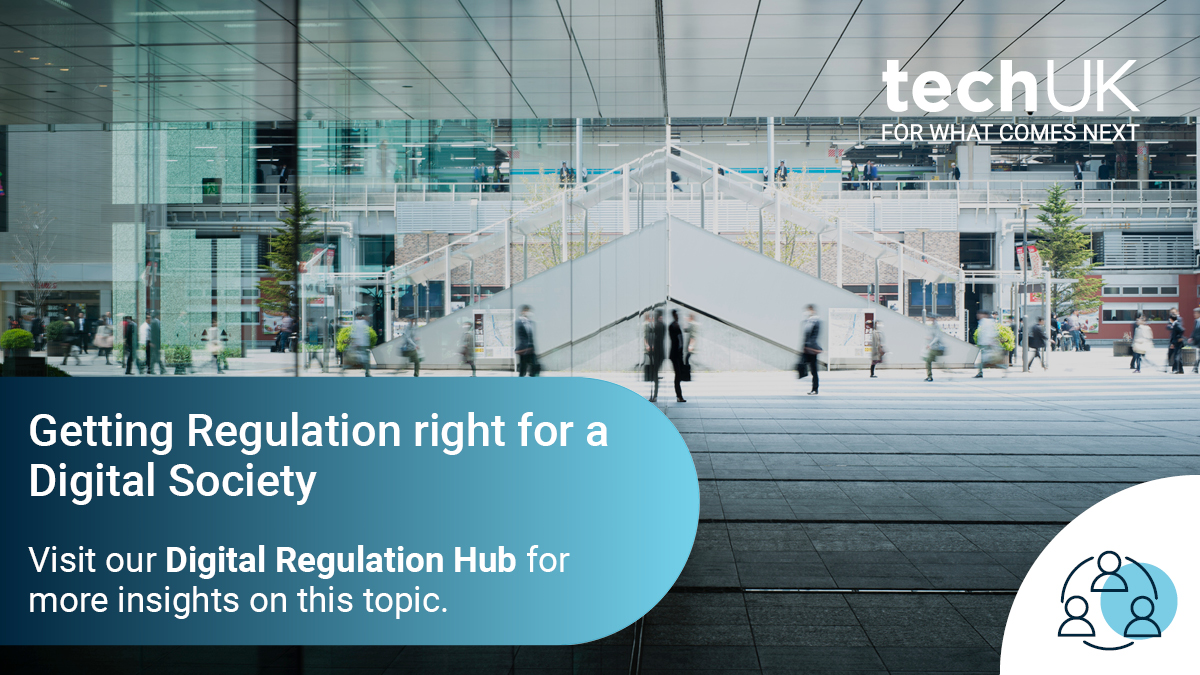 Policy Pulse Newsletter
Sign-up to get the latest tech policy news and how you can get involved in techUK's policy work.