Greater Manchester's ICT procurement has grown by more than 20%
---
On 27 March techUK kicked off its new regional spotlight series. In this series techUK will shine the spotlight on different regional tech ecosystems to help our members understand what the local govtech opportunities are. We were delighted to be joined by Tussell, Greater Manchester Combined Authority and DAC Beachcroft who kindly hosted us too.
This event was part of the Digital City Festival where we learned about the current tech landscape, latest technologies, and procurement trends for Greater Manchester.
Gus Tugendhat, CEO of Tussell, started off the session by looking at what the data is telling us about Greater Manchester's public sector procurement and the tech space.
We learned that Greater Manchester's ICT procurement has grown by more than 20% per annum since FY 2018/2019 driven by NHS bodies, as wider public sector bodies in Greater Manchester spent £433M on IT in FY21/22, of which £104M was by Local Authorities. Only London and West Midlands spent more on ICT last year than Greater Manchester.
It is interesting to note that Greater Manchester makes less use of frameworks to purchase IT than the Local Govt average and G-cloud is the most widely framework for ICT procurement by local authorities in Greater Manchester since 2020, making up over 1/3 of the total value of call-offs. Also, the proportion of Greater Manchester ICT spend directly with SMEs has doubled over four years but is still only 12% of the total.
At a national level, in FY21/22 the wider public sector spent £17bn on ICT, maintaining the high levels of spending reached during the pandemic and the local government portion is a large and stable market accounting for about 4% of its total third-party procurement spend.
We also heard from Phil Swan, Director for Digital at the Greater Manchester Combined Authority, who described the Greater Manchester cyber cluster formed of businesses, academia, government, and other initiatives as well as their growth journey. In 2023, their priorities are focused on digitally enabling a greener, fairer and more prosperous city-region for everyone by building digital skills and literacy, strengthening their digital talent pipeline, extending their world-class digital infrastructure, tech and data and harnessing academia, testbeds and research.
It was also great to hear from Chris Air, Partner, Technology and data protection and Oliver Crich, Partner, Public Procurement at DAC Beachcroft LLP. They spoke about the data protection within the public sector procurement and the problems and potential in the public sector tech space.
What region would you like us to feature next? Get in touch!
Interested in upcoming similar opportunities? Stay up to date by signing up to our newsletters!
---

Ileana Lupsa
Ileana Lupsa is the Programme Manager for Local Public Services and Nations and Regions, at techUK.
Ileana studied electronics, telecommunications and IT as an undergraduate, followed by an MSc in engineering and project management at Coventry University.
She refined her programme management expertise through her most recent roles working in the automotive industry.
Ileana is passionate about sustainability and creating a positive impact globally through innovation.
Email:

Twitter:

Website:

LinkedIn:
Matt Robinson
Matt is techUK's Head of Nations and Regions.
Matt is leading techUK's work with members and stakeholders across the UK to increase the Local Digital Capital across the UK's nation and regions, build communities and to ensure that digital technology plays a key part the post-COVID-19 levelling-up recovery.
Prior to joining techUK, Matt worked for several national education charities and membership bodies to develop their regional partnerships with schools, academy trusts, local authorities, and other stakeholders. He's also worked with local authority leaders and other stakeholders to engage communities, work with elected members and improve public services.
He holds a BA in Politics from the University of York and an MA in International Relations from the University of Leeds. Away from work he's a keen football fan and golfer.
If you'd like to find out more about our work in the nations and regions please get in touch with Matt:
Email:

Website:
Georgina Maratheftis
Georgina is techUK's Associate Director for Local Public Services
Georgina works with suppliers that are active or looking to break into the market as well as with local public services to create the conditions for meaningful transformation. techUK regularly bring together local public services and supplier community to horizon scan and explore how the technologies of today and tomorrow can help solve some of the most pressing problems our communities face and improve outcomes for our people and places.
Prior to techUK, Georgina worked for a public policy events company where she managed the policy briefing division and was responsible for generating new ideas for events that would add value to the public sector. Georgina worked across a number of portfolios from education, criminal justice, and health but had a particular interest in public sector transformation and technology. Georgina also led on developing relationships across central and local government.
If you'd like to learn more about techUK, or want to get involved, get in touch.
Email:

Phone:

020 7331 2029

Twitter:

Website:

LinkedIn:
---
techUK – Building Stronger Local Economies
techUK champions the tech sector throughout the UK. We work with local authorities, devolved government, and local and national policy makers to advocate for the tech sector in strengthening economic growth and resilience. We provide opportunities for our members and local stakeholders to meet, build relationships, and collaborate to drive forward local projects. For more information or to get in touch, please visit our Nations and Regions Hub and click 'contact us'.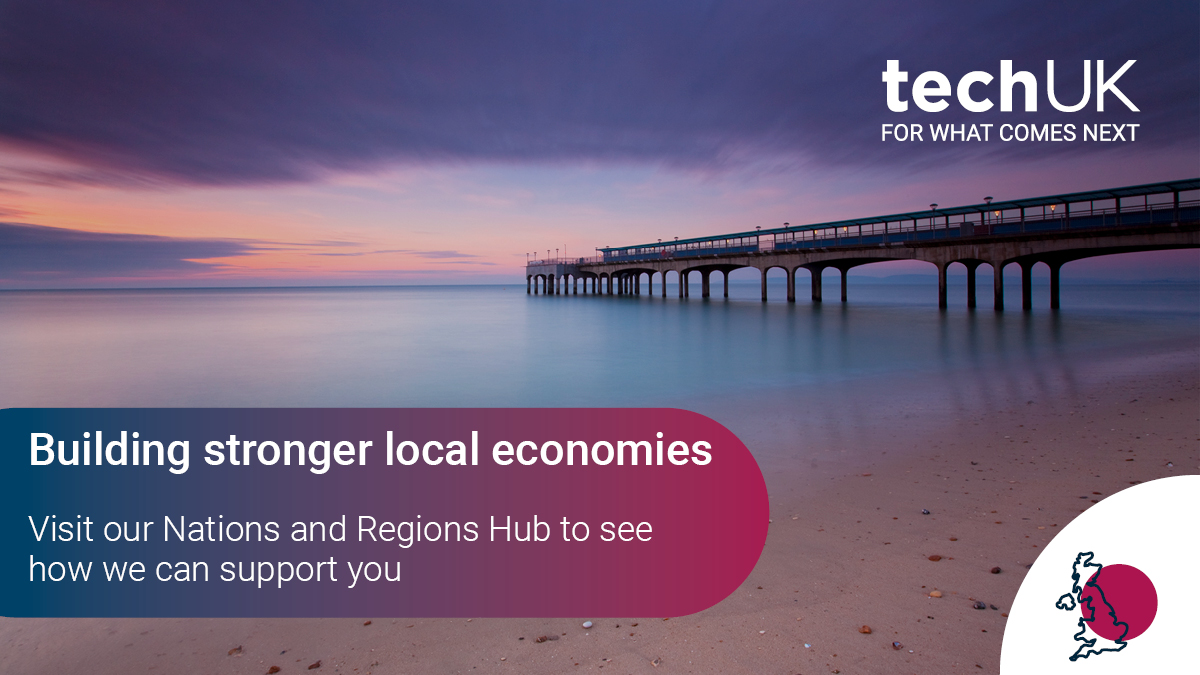 Nations and Regions updates
Sign-up to get the latest updates and opportunities from our Nations and Regions programme.