Event round-up: How can the Midlands make the UK a science and tech superpower?
Yiannis Maos, CEO of Birmingham Tech, kickstarted the session and set the scene showing the importance of tech development in the area, followed by a fireside chat between the new West Midlands Tech Commissioner, Martin Ward, and Sue Daley, techUK's Director for Innovation. During this chat we learned more about Martin's vision for the Midlands, what some of the opportunities and challenges are and how to capitalise on them. He highlighted the need for strategic direction when it comes to funding and investment in tech and ensuring we have a good relationship with businesses abroad which might be interested in locating their operations in the region. We also need strategic acceleration play in region to take businesses from early stage start up to scale up phase and make sure we have access to funds earlier to be able to carry businesses support. The focus is also on community building and providing scaling-up businesses the mentorship they need and supporting them to remain in the Midlands.
The skills topic also took centre stage in this fireside chat, understanding that we need to know where have digital skills gaps, what the macro demand is, and needing to map the ecosystem in order to train people for the right area and create the skills needed for businesses for the future, as well as encouraging more women into leadership roles, as we are seeing the effects and disruption that emerging tech can bring, therefore adaptability will be key.
Collaboration and bringing everyone on board to create connections, learning from other regions, amplifying the work we are doing in the region and understanding the next steps to support the development of key technologies are also an important components of Martin's work in his role as Tech Commissioner of the West Midlands!
Sue also chaired a very insightful panel discussion being joined by Mike Lewis, Digital Lead, West Midlands Growth Company, Sally Scott, Chief Marketing Officer, Advanced, Alex Harvey, Creative Director & Co-Founder, RiVR (Reality in Virtual Reality Limited), Ant Morse, Head of Innovation, Virgin Media O2 Business. The conversation dove deeper into the need for every business to have an innovation mindset, taking responsibility and encouraging it in their workforces. We also need to be able to create an inclusive and diverse workforce, with the right culture that supports passionate people who are keen to make a difference, so we need to foster the concept of innovation in order to progress.
They also discussed the strengths and opportunities in the Midlands and how tech and digital progress can shape its future, from telecoms, AI, quantum, machine learning to cutting edge research. The panel highlighted that growth is more likely to come from AI and quantum tech, complemented by IoT, as this will drive solutions that make us more efficient. The West Midlands Growth Company is also working with exciting international tech companies, such as Tata Technologies, Goldilocks and Kagool. Sally Scott from Advanced, also mentioned the amazing work they do with bootcamp programmes to deliver a diverse and passionate workforce, achieving massive reductions in the diversity pay gap and creating a fair and equitable workforce.
Meredith McMurray, Principal Project Manager, at the National Physical Laboratory on the UK Telecommunications Lab shared an update on the announcement of the new UK Telecom Lab in Solihull including progress update, what this means for the region, how it can deliver new innovation and what this means in the context of the UK being a science and tech superpower.
Stay in touch with us and sign up to our newsletter to find out when our next interesting discussion will take place in your region!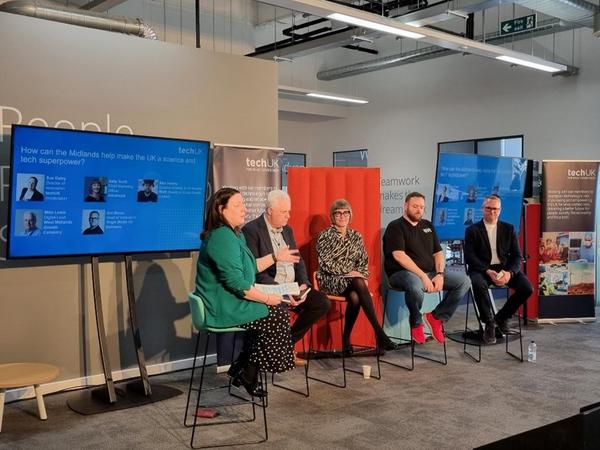 ---

Ileana Lupsa
Ileana Lupsa is the Programme Manager for Local Public Services and Nations and Regions, at techUK.
Ileana studied electronics, telecommunications and IT as an undergraduate, followed by an MSc in engineering and project management at Coventry University.
She refined her programme management expertise through her most recent roles working in the automotive industry.
Ileana is passionate about sustainability and creating a positive impact globally through innovation.
Email:

Twitter:

Website:

LinkedIn:
Matt Robinson
Matt is techUK's Head of Nations and Regions.
Matt is leading techUK's work with members and stakeholders across the UK to increase the Local Digital Capital across the UK's nation and regions, build communities and to ensure that digital technology plays a key part the post-COVID-19 levelling-up recovery.
Prior to joining techUK, Matt worked for several national education charities and membership bodies to develop their regional partnerships with schools, academy trusts, local authorities, and other stakeholders. He's also worked with local authority leaders and other stakeholders to engage communities, work with elected members and improve public services.
He holds a BA in Politics from the University of York and an MA in International Relations from the University of Leeds. Away from work he's a keen football fan and golfer.
If you'd like to find out more about our work in the nations and regions please get in touch with Matt:
Email:

Website:
---
techUK – Building Stronger Local Economies
techUK champions the tech sector throughout the UK. We work with local authorities, devolved government, and local and national policy makers to advocate for the tech sector in strengthening economic growth and resilience. We provide opportunities for our members and local stakeholders to meet, build relationships, and collaborate to drive forward local projects. For more information or to get in touch, please visit our Nations and Regions Hub and click 'contact us'.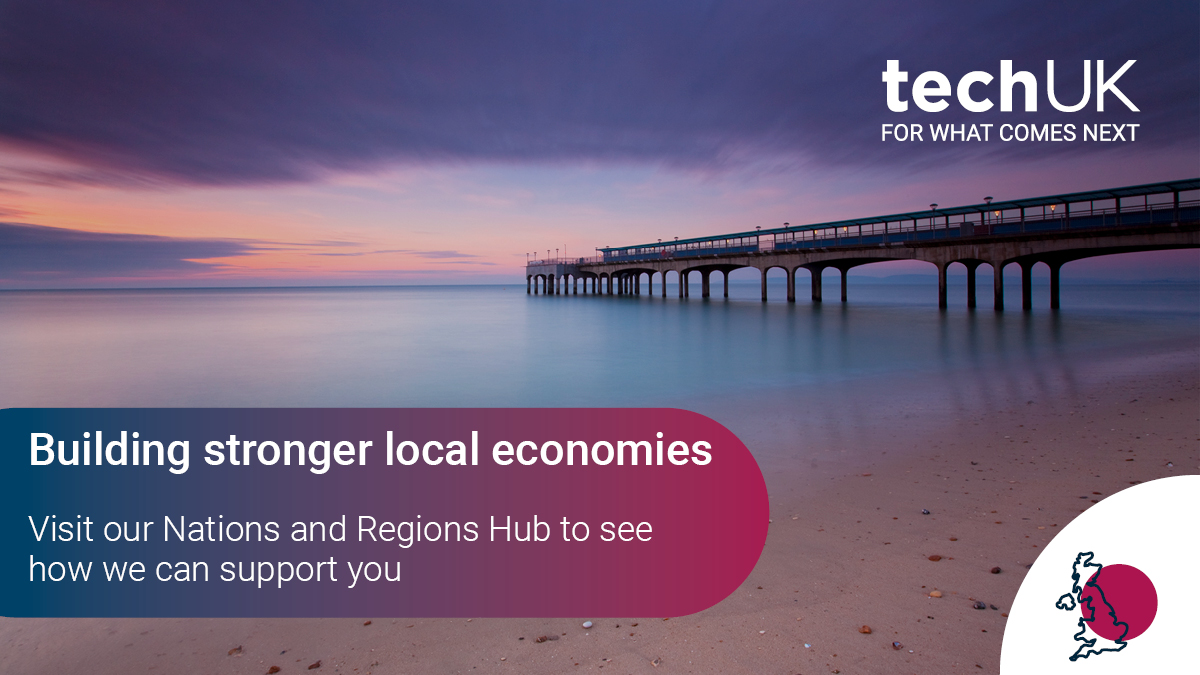 Nations and Regions updates
Sign-up to get the latest updates and opportunities from our Nations and Regions programme.